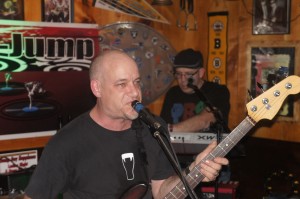 Puddle Jump put on one heck of a show at Boondocks Tavern & Country Grill last Saturday night. The tight four piece offered a fun, danceable original called "Problems" that indicated a possible future for themselves in the originals rock scene. They also delivered, at the popular Weare, New Hampshire nightspot, a mix of modern, classic, and pop rock covers with driving precision and flair.
Opening with Matchbox 20's "Real World," drummer Greg Taccini laid down a persistently tight, punchy backbeat that would keep the band kicking for three solid sets. Grounded by influences from technical drummers, Taccini drew people onto the dance floor all evening. Swiftly segueing into Bare Naked Ladies' "Old Apartment," Puddle Jump showcased the rangy talents of the rest of band over that driving madness coming from the drum set. A visible chemistry between the players, that you just don't find among every band, marked every number.
The chorus to "Low" by Cracker let the boys strut their harmony vocals, a strength they would display throughout all three sets. "Troublemaker" by Weezer was another they breathed fulsome life into with their harmonies. "How You Like Me Now" by The Heavy found bass player and lead vocalist Scott Neesen displaying his soulful, raw punky tone that gave this song its needed edge. Neesen easily switched gears to the 1980s Men At Work class "Down Under," finding his appropriate place among the playful melody. It helped to have keyboardist Gary Taccini playing the flute melody on his synthesizer.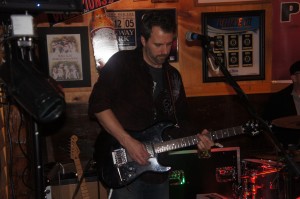 Neesen moved things in yet another vocal direction with his rhythm approach to Ben Harper's "Steal My Kisses," bringing it to a warmer place than the previous songs. Neesen also locked into a heck of a groove with drummer Taccini. "Pumped Up Kicks" by Foster The People" showcased more of keyboardist Taccini's skills. He introduced the number with a wild melodic frenzy that reminded of Pink Floyd's "Run Like Hell." Neesen's whistling skills, too, were a plus.
Warm brotherly harmonies on Mumford And Sons' "Little Lion Man" made an impact. Tom Petty's "Last Dance With Mary Jane" found the boys conjuring that perfect blend of roots and pop styles. Keyboardist Taccini put a nice swirl of organ chords over it and guitarist Sean Delisle took off on his own flight of fancy and killed it with his frenetic phrasing. Steve Miller Band's "Swingtown" got its kick from drummer Taccini who carried it like a charm with plentiful smacks over his double time backbeat. The Puddle Jump vocal harmonies came off well too there.
In an even larger display of talent, soulful vocals, wiry guitar leads, tricky keyboards, and tight drumming made Peter Gabriel's "Sledgehammer" come alive. That number pulled an additional bunch onto the dance floor. Dizzying energy abounded from all four members when they launched into their rendition of The Dropkick Murphy's "Shipping Up To Boston." Before you knew it, Puddle Jump went right into the rhythmic snap, crackle, and pop of Cake's "Never There."
The Puddle Jump vocal harmonies came in very handy on Kenny Loggin's "I'm All Right" and during their rocked up version of Eddie Rabbit's "I Love A Rainy Night." Unleashing their original "Problems" revealed what they can come up with on their own. Meshing riffy guitar work and bristling organ over a slap happy rhythmic groove made it a winner. Their lyrics described the kind of person whose life always revolves around an issue. The guitar phrase gave it an edge and the lead vocal upped the fun meter by not taking it too seriously.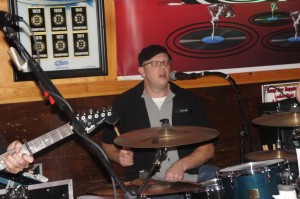 A synthesized sax sounded really cool on Wang Chung's "Dance Hall Days." Frenzied vocals and wild organ work dominated "Hush" as done by Kula Shaker. Rollicking fun and exotic keyboard sounds abounded in Squirrel Nut Zippers' "Hell." Electronic sounds pulled out of slide guitar and keyboards enlivened The Gap Band's "You Dropped A Bomb On Me."
The Johnny Cash classic "Folsom Prison Blues" was turned into a brisk, spunky rocker with a hopped up guitar line and Sublime's "What I Got" too got itself a screaming phrase, courtesy of Mr. Delisle.
Puddle Jump opened their final set with Marshall Tucker Band's "Can't You See," which they learned special to play at Boondocks. Soulful vocals and gritty musicianship brought this country rock ballad to three dimensional life. Delisle's guitar was on fire during the bridge, recreating that huge mountainous sound.
It was no surprise Puddle Jump nailed the thumpy groove from Modest Mouse's "Float On," since they were nailing various grooves all night long. Their bouncy, up tempo version of "Stuck In The Middle With You" had the dance floor packed and hopping before tightening up for Dead Eye Dick's "New Age Girl."
Punchy guitar within a rhythmic framework made Billy Joel's "You May Be Right" another ear tugging moment. The Time's "Jungle Love" kept the danceable bounce and trippy guitar phrasing going before they brought everybody down memory lane with Neesen's Beatlesque vocal timbre on "The Ballad Of John And Yoko."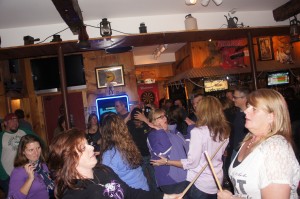 A few more hits from the 80s and 90s kept the party going until the boys finished, finally, after endless calls for encores, with a rocked up version of "I Will Survive."
Puddle Jump is certainly a tight, talented band that can keep a party going. After proving themselves in their local New Hampshire cover scene, the boys are ready to record original music. Things should get interesting real soon.