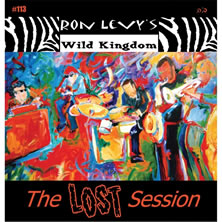 Ron Levy's Wild Kingdom once recorded an album's worth of music in a north shore night club called The Red Room. It was a space they could use in the daytime before playing their nightly gigs a few blocks away at Salem's Dodge Street Bar And Grill. There were also some other recordings made at live shows in Detroit. Those recordings, lost and forgotten after the horn section left the outfit and the band changed musical directions, were eventually found and now they are being presented as The Lost Session and released on the Levtron.com site. Keyboardist/composer Levy was in top form back in those days, as was his Wild Kingdom players, and these songs, finally seeing the light of day, jump out of the speakers with startlingly good quality.
Like most of Levy's compositions, every track on The Lost Session has a lot going on at once. Keeping numerous musical instrument lines boiling and in sync with one another is a challenge the maestro keeps presenting to himself and his players. Meeting that challenge results in a lot of fun, interesting music.
"Groovelatin' Acid Blues" opens the album with two keyboard melodies chirping away simultaneously. A dense, heavy organ sound rides over a lighter sprawl beneath. The contrast creates an additional sense of movement and conjures a party vibe. It forces the mind to look around the room to see how large a place it is and how many people are in attendance, dancing, talking to one another, and having drinks. Levy along with saxophonist Henley Douglas Jr. and trumpet player Garrett Savluk (of Boston Horns fame) exchange blaring blasts of notes, making their biggest splash when all three hit a chord in unison. Any listener would appreciate the vibrancy and elasticity of horn and keyboard lines that so joyfully erupt in this piece.
"Duke It Out" glides in with a nudge of drums, low end, and a light, jazzy organ flight. Levy's organ tinkling gives off plenty of luster as his notes skate by. A dazzling trumpet melody spirals over all, and the combination of airy melody lines create a thicker texture without changing dynamics or tempos. The peaks and valley here are all dug and erected with a tangle of light touches on the melody instruments. Soon, the horn takes off on its distinctive flight of fancy with organ notes darting around beneath. Skillful playing is plentiful here, but it is the architecture of this song that most inspires.
"Likita's Laugh" gets its groove from a tasteful snappiness in the organ and horns. Here, keys and horns are all fulsome and vibrant while the rhythm section serves up an action packed groove. Drummer Benny Benson smacks his skins with an alluring pattern that draws one in with its primal call. Guitarist Tim "The German" Wiechman presses out a rangy, sweet melodic line that travels through this piece like he owns it. Not only can you dance to this piece, you can also daydream to it. There's plenty of melodic twists and turns floating freely and or spiraling sprightly from each instrument to inspire one's imagination from blank canvas to museum masterpiece. To label this tune as funk would be an unfair understatement. It goes beyond its association with heavy 1970s grooves to arrive at a place in the jazz strata. These musicians inspire and push each other to improv some sophisticated expressions of what they were feeling in the studio that day.
A fun, entertaining number called "Chicken Fried Snake Boogaloo" will have people on the dance floor with its initial offering of jumpy lead guitar notes. Drummer Benson plays a clever backbeat that inspires the feet to move. Hip organ progressions and a funky saxophone line wrap around that groove and then rise above it progressively, making the groove an all encompassing thing that pulls people onto the dance floor with a centrifugal force. That guitar comes back into full expression mode to strut its stuff next to the horns and keys. You get the feeling the players were engaging in some good natured competition over who can funk the coolest. Who wins in this type of competition? The listener. The bouncy energy here will put wind under anybody's sails and make them feel like they're the king of cool.
A Latin tinge flavors "Funky Fiesta." The horns press out a Mariachi influenced melody while Levy taps out brisk organ line over Benson's frisky percussion. Wiechman unfurls a speedy melodic guitar line that remains sweet in tone while cutting forward sharply. It's the way these instruments are rubbed briskly together that makes the song's energy speak to the listener. Douglas's sax line darts around with precision to dazzle in its own light while finding it niche within this tightly woven number. The cleverness here lies in how these adept players can strut their stuff, wildly uptempo, while remaining in lock step. There is also a Benson drum solo that combines mastery of dynamics and tempo while offering a variation on the tune's colors.
"Sookie's Be Bop Boogaloo" is a thick bulbous offering of organ and horns. Here, the players play it big and blare their melodies with a bit of attitude. Weichman's guitar line, as sprightly as ever, also gets more of an edge here. He's playing a lot of notes in each measure and that makes you hear the attitude, a man getting a lot off of his mind by putting it out their with a furious offering of expression. Weichman soon forges it into more of a funk feel, with plenty of accented single notes dancing alongside a healthy dose of horn shots and melodic excursions. Levy eventually chimes in with a more accented line of his own. His simmering keyboard notes begin with a self-restraint that keeps the tension building just below the surface until he takes it higher and force his more expressive chords to flow over the top in sudden bursts of exuberance.
"U Rockin' Me' turns a simple down tempo blues structure into something with a lot of musical fruit growing on its branches. Benson keeps the beat steady but fulsome. Weichman picks off a tender expression with a plentiful offering of notes. Levy coaxes a gentle but sprawling organ line out of his keys. The horns play it mellow but wide. The tree never grows tall but it offers a lot of apples. This is the track you want to play when you're slowing dancing with that special someone in a low lit room after the party is over. It's easy on the feet but heavy with numerous melodic expressions that reflect the numerous things going on in the mind, body, and soul when one is in the moment.
Levy and his crew close out with "Baila Teresa Baila," a piece with many shimmering moments in the melodic lines. There's also a bulbous low end keyboard line that will make people want to move. It's one of the smoothest bass lines that can be played, full of flowing momentum that gives the horns and organ a wide stage to dance around on. Savluk's trumpet vibrant trumpet line sounds ever more full of life with that foundation. It shows how well Levy composes lines that, whether supporting or contrasting each other, build into something hugely likeable from the sum of all parts.
Ron Levy's Wild Kingdom offers a Kaleidoscopic conglomeration of colors, tones, instrumentation, melody lines, groove, and much more in The Lost Session. A reviewer could return to this album six months later and write an entirely different review because one could easily find a whole other set of qualities to focus on in each number. Suffice to say it's another collection of fun, danceable tunes and impressive arrangements from one of Boston's brightest stars in blues, funk, and R&B.