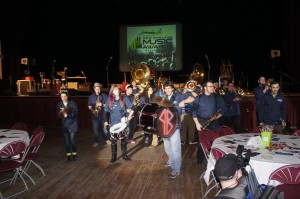 Last night's New England Music Awards ceremony at Lowell Memorial Auditorium in Lowell, Massachusetts offered some fine acts from around the six states. But, nothing could have prepared anyone in attendance for the furious talents of The Party Band, a full marching band with horns, drummers, and a melodica player. They opened the talent part of the show with their horns blaring and their drummers smacking those skins like nobody's business. That marching band set the vibe for the evening's entertainment, and the night never lost steam. Comedian Steve Sweeney was the master of ceremonies and he made sure that the moments between performances and presentation were filled with laughter. He was particularly adept and colorful at poking fun at we New Englanders.
Worcester's own bluesy folk-rock outfit Nemes(Best in Massachusetts nominee) jumped right into their electric fiddle driven sound with their song "Blues." Frenetic fiddle bowing and ruggedly individual rhythms grabbed the audience's attention and never let go. These bad boys from Wormtown also went into a "slow dancing song" that showed what they can do when they take their time, like offering a slow boil, inner tension number that was driven and rangy at cruising speed.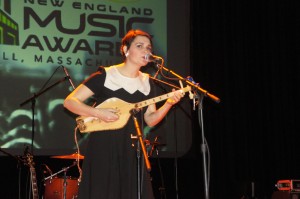 Next up was the charming Hayley Sabella(New Act nominee), a singer-songwriter with ethereal vocals and unique, exotic instruments. Her voice was sweet and pretty while being effusive, projecting a larger than life quality that made all take notice. Her "Easter Song" proved her voice to be the epitome of purity, range, and tone. She let off bits of sweetness with each brief verse she sang. Her persistent start-stop acoustic guitar strums were almost hypnotic in their ability to express much with only a small offering of notes. Sabella will be the featured co-host on Cat Wilson's radio show The Cheap Seats.
New Hampshire's own Dressed For The Occasion(Best in New Hampshire nominee) performed their single "The Simple Life" with a nice blend of acoustic and electric guitars. Nimble picking styles created a flowing wave of embraceable folksy notes. Vocalist Addison Chase belted out the ode to New Hampshire with a hearty vocal while lead guitarist Pat Hopkins ground out a lean, mean, fiery phrase. Dressed For The Occasion went straight into "Devil's Rodeo," a gritty acoustic guitar paving the way for Chase's huge, booming vocal to soar across the auditorium. Rugged, raw, rootsy, the tune had a driving momentum that pulled people in with the suction they created as they roared past at the speed of sound. Hopkins played a solo line like he meant business. His phrasing was hot enough to peel paint off the walls.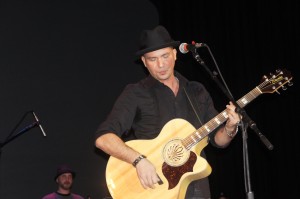 Josh Logan Band(Winner Best Male Performer) came on a bit later in the evening with his song "Bad Decision," a fun, bombastic funk number that allowed this top soul singer to belt with hip assurance. His crack band weaved a hefty brew of rhythms around him, especially percussionist and senior citizen Paul Costley. Mellowing things out a bit with "Daydreams," Logan and his boys let the persistently knobby groove do much of the talking. That voice, which recently held its own on the television competition, The Voice, offered its emotive force with caringly measured soul.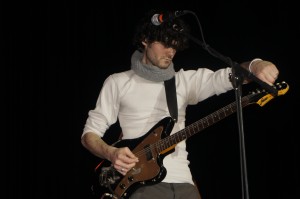 Boston's hugely popular indie rocker Will Dailey(Male Performer nominee) came up next to do his thing, singing and playing his electric guitar to create a stripped down, old time juke joint vibe. Dailey picked off some heavy duty roots riffs, a crunchy guitar sound with only a drummer to accompany him. Together, the two hit enough heavy notes to make up for not having a bass player, and it felt like a full band. A faux ska beat carried his second tune, with a voice that projected a wide, colorful timbre that made its presence felt through out the auditorium.
Nobody who hasn't already heard her could have been prepared for the tumultuous rock and roll experience of Sarah Borrello(Winner Rock) and her Sarah Borrello Band. Starting her set with only primal drumming for accompaniment, Borrello showcased her rangy, powerhouse vocal, projecting her cagey lyrics with a force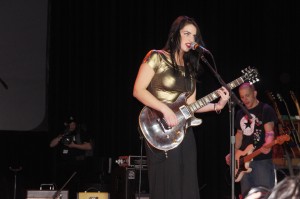 that can't be denied. And boy, can she hold a vocal note. Soon, her band erupted into a multi-dimensional rocking sound alongside her. She doesn't just have a mastery of dynamics. She dominates dynamics, making her music suddenly increase in volume and intensity. Borrello also rocked the keyboards last night too. Her thick swirl of organ melody went toe to toe with her hard rocking guitarist, bassist, and drummer. "Stranglehold," always one of her crowd pleasers, yanked the audience right into her dramatic piano melody and bossy, stomping groove. There was also a distinct urgency in her vocal prowess. She's only 23 and could still get signed to a major label.
Dual winners, Album Of The Year for their CD Land and for Band Of The Year. Portland's The Mallet Brothers Band closed out the show with their kick ass concoction of classic, country, and roots rock. Lead guitarist Nate Soule unleashed a wiry phrase that wound it mellifluous way around a thatch of mandolin, acoustic guitars, and lap steel. A myriad of melody made its larger than life presence felt. These boys don't just play their instruments on stage and in the studio. They make a sound that is more like their instruments are corn fabbing with each other, like an easy going conversation, with each person standing around getting an equal amount in edgewise. "Ice Fishing," a song about the real purpose of that winter time activity, was their most rollicking of their set. Wally Wenzel applied his raspy voice to this whimsical outdoor tale that illuminated everyone in the room. The Mallet Brothers finished off the entire event with a lively rendition of the late, great Pete Seeger's "Pay Me My Money Down." They called up all of the nominees and most of them did come up for a huge jam version of this folk classic. The Party Band, too, came up to join in on the fun, and their blaring horns and pounding drums turned this folk classic into some Seeger himself may not have ever imagined.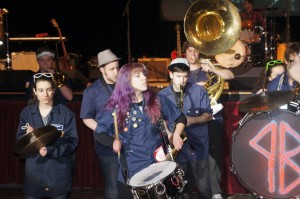 The entertainment for last night's New England Music Awards show was over the top. They were all clearly selected for their high octane talents and rangy knowledge of their genres. Those artists did an outstanding job punctuating the suspenseful moments when none of use were ever quite sure who each award was going to.
Here is a list of the nominees and winners:
Nominees
Nominees Band of the Year The Mallett Brothers Band – WINNER! Gentlemen Hall Della Mae Deer Tick Kingsley Flood
Song of the Year All R's/Spose Sail Into the Sun/Gentlemen Hall Shiver/Sarah Blacker The Dream's in the Ditch/Deer Tick – WINNER! Drugstore Animal/Love in Stockholm
Album of the Year Land/The Mallett Brothers Band – WINNER! My Independence/Erika Van Pelt Battles/Kingsley Flood Negativity/Deer Tick Dankonia/Spose Producer of the Year Jason Dunn Brian Coombes Nick Tirrell – WINNER! Adam Jensen Floyd Kellogg
Female Performer of the Year Daphne Lee Martin Anna Lombard Lori McKenna – WINNER! Heather Maloney Marina Evans
Male Performer of the Year Josh Logan – WINNER! Jesse Dee Tracy Walton Connor Garvey Will Dailey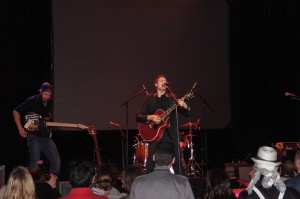 Songwriter of the Year Kate Callahan Amy Allen Sarah Blacker Anna Lombard Chris Ross – WINNER!
New Act of the Year Hayley Sabella Sarah Barrios – WINNER! Francesca Blanchard Canyon Daemon Chili
Live Act of the Year Funktapuss Echo and Drake North of Nashville Frank Viele – WINNER! Coyote Kolb
Blues Act of the Year Erin Harpe and the Delta Swingers Gracie Curran and the High Falutin Band Sugar Ray and the Bluetones Jeff Pitchell and Texas Flood – WINNER! Poke Chop and the Other White Meats
Country Act of the Year Ashley Jordan Katie Perkins Sharon Buck The Shana Stack Band – WINNER! AJ Jansen
Americana/Roots Act of the Year Old Soul Hayley Jane and The Primates – WINNER! Dusty Gray Band Joe Fletcher and the Wrong Reasons Hilton Park/
Pop Act of the Year Darling side – WINNER! Coke Weed Erica Van Pelt EMMARIE Dan and the Wildfire
Hip Hop Act of the Year Young Kaii Joey Batts & Them Spose – WINNER! Reks Moe Pope & Rain
Jazz Act of the Year Airborne Fog cutters – WINNER! President Soup Revolutionary Snake Ensemble Isaac Young Quartet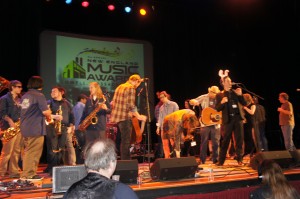 Hard Rock/Metal Act of the Year A Simple Complex Mindset X Cometa Leaving Eden – WINNER! Mellow Bravo
Rock Act of the Year Sarah Borrello – WINNER! Love in Stockholm Sparks The Rescue Ula Ruth The Gang Of Thieves
Best in State: Connecticut Violent Mae Jennifer Hill and Co. Little Ugly – WINNER! Porcelain Clocks Elison Jackson
Best in State: Maine The Band Apollo The Veayo Twins The Ghost of Paul Revere – WINNER! The Other Bones Monumental Drive
Best in State: Massachusetts You Won't The Field Effect Tall Heights Nemes Bad Rabbits – WINNER!
Best in State: Rhode Island Santa Mamba Last One Out Consuelo's Revenge The Low Anthem – WINNER! Satellites Fall
Best in State: New Hampshire Dressed for the Occasion Gone for Days Tan Vampires Black Eskimo Aldous Collins Band – WINNER!
Best in State: Vermont The Pilgrims Jatoba Dwight & Nicole Waylon Speed – WINNER! The DuPont Brothers
https://www.facebook.com/nemusicawards?fref=ts
Share on Facebook

Follow me on Social Media!