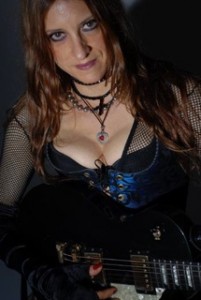 Karen DeBiasse has been fronting her hard rocking Girl On Top band for several years now. Picking up more gigs of late, Girl On Top will be playing a gig this Friday night to benefit the Aids Action Committee. Her band will play from 7:00 to 7:30 p.m. this Friday, February 28, at T.T. The Bears in Cambridge. DeBiasse got on the bill after the headliner, New York and New Hampshire-based Temptress, asked her to perform. DeBiasse had once used her songwriting talents to inform her listeners about AIDS prevention so the idea made perfect sense to her.
Aside from DeBiasse on vocals and rhythm guitar, and her husband David Simmons on lead guitar, Girl On Top also features bassist Mike Tofalo and drummer Nick Zervas. DeBiasse received tremendously good feedback for her latest Girl On Top CD, Live For It. Aside from this zine's high praise, Live For It was widely praised by reviewers.
"Metronome Magazine named us one of the top bands of 2013 and they said our CD was one of the best CDs of the year," DeBiasse said. "They even listed us with national acts, so I was pretty happy about that."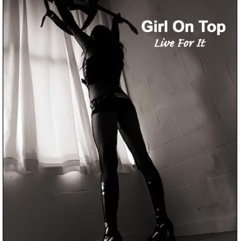 Their Live For It CD took five years to complete because their drummer at the time, Ray Fernandez, was an on and off again member of her band, and they were recording it at his house. DeBiasse eventually had to take the recordings to Woolly Mammoth Studios to finish her album. The straight forward rock album with influences from 1970s hard rock bands and punk rock bands jumps out of the speakers with clarity and purpose in the guitars and drums. DeBiasse's vocal maintains a solid balance between girlish rock and roll purr and precise musical delivery.
We were kind of going for that rockier sound," she said. "We're all from the 70s era. Me and Dave, my husband, are more into that kind of music. So, I would say that's what were going for."
When asked about her creative inspiration, DeBiasse maintained that she doesn't even think about what she's going to write. "I wish I could say there was more inspiration," she said. "But, I really can't say there was. The songs just come out with doing really much planning."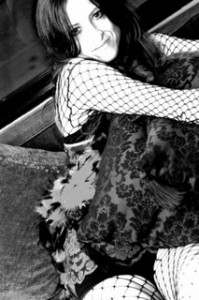 The title track to Live For It is not about anything in particular. "I wrote that in my sleep," she said. "It's actually a great thing but at the same time it's bad that I come up with all these songs ideas in my sleep because it's really hard to get out of bed." She keeps her guitar beside her bed and she brings her I-phone to bed with her because it has a recorder and a note pad she can use to document her nocturnal ideas.
"I find that writing in your sleep is a very natural way to write," she said. DeBiasse said she hears the songs in her dreams. "I'll just be hearing it. I'll be hearing the melody or the line, then I'll wake up and write the song." DeBiasse thinks that if she didn't have to work for a living, she could probably do it every day. He long work hours puts some stress on her system, otherwise she'd be a songwriting machine.
For another song from the CD, "Crucify Yourself," she had to put words to a chord progression that her husband came up with. "The words came out," she said. "I just wrote that, and I didn't really have much thinking about it besides that."
Her other song , "Superman," off of the new album, was written several years ago during an earlier carnation of Girl On Top. It just never got recorded until last year's album. That song "Superman" was written 13 years ago when the late Jack Rootoo and the late Manuel Smith were in the band. Smith will also be featured on the upcoming Girl On Top album title Army Nation.
"That was written back in the old Girl On Top days," the singer said. "A lot of the songs on that CD were not necessarily the newest songs. They might have been songs, some of them, from back in the old days that I just never recorded."
DeBiasse, again, does not know what made "Superman" pop into her head. Sometimes, she just needs to put a song around a rhythm guitar riff. "It just comes out and I say 'How come I wrote that?' I would say that in my whole career writing, only two or three songs have I written because I wanted to write something. All the rest, just come out, popped into my head. I come up with a hook, and I have to work on the rest of it."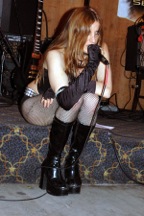 Title track "Live For It" has a wiry guitar line that compels the listener to follow the song closely. DeBiasse's guitarist/hubby comes up with his own interpretation without her ever telling him what she wants. "I just love everything he does. I take a lot of his riffs and I write songs for them as well. Like with 'Crucify,' he wrote the riff and then I wrote the song."
There is a girlish purr in DeBiasse's vocal timbre that sounds feminine and tough at once. When asked if it comes naturally or if the balance comes from her training, she gave complete credit to her late vocal coach Dante Pavone. She taught his method for ten years while she was still his student, and she's been teaching it after he passed away. "If I didn't do Dante's exercises I wouldn't be able to sing," she said. "No way. I wouldn't be able to sing good. I'd have no range and my throat would hurt."
DeBiasse is also a very successful vocal coach and vocal therapist at her day time business, Karen DeBiasse Voice And Instrument School. She teaches all musical instruments that people commonly want to learn. She can cure all vocal damages and she could coach anybody to sing. She has students who are tone deaf and within four weeks they can have a great voice and sing in tune.
"I'm teaching all over the world via Skype now," she said. "Anybody can study with me. It doesn't matter where they live. If they go to my website, and read my story, they can learn all about Dante Pavone. I give him all the credit."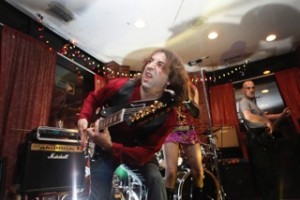 DeBiasse's voice has a distinct personality in each verse she sings. Yet, she says there is no trick to it. "The great thing about the Dante Pavone method is that you develop your own style and you don't sound like anybody else," she said. "It was an honor to study with him and to be a part of his life for 15 years. You can express the tone the way you want. You have full expression of your voice and full expression of your range."
DeBiasse began a music academic career at Berklee College Of Music as a voice major, but she wasn't satisfied with what they had to offer. So, she found, after searching around, Dante Pavone. She remained at Berklee but changed her major to Guitar Jazz Composition And Arranging, graduating with honors. She said that having to write so many songs at Berklee helped her become someone who could write songs in her sleep. "But I just really wanted it," she said. "I tell my students really it has to do with desire, how bad do you want it? If you want it, you'll do it. I have the desire to write a lot of songs."
For the foreseeable future, DeBiasse would like to continue spreading the Dante Pavone method to her global students via Skype. Her future goal for her band, she'd like to get a serious record deal and tour. "There would have to be enough money to pay me so that I could pay my bills," she said. "I hope that happens."
Girl On Top performs at the Foreplay For Heroes benefit at T.T. The Bears this Friday, February 28. Doors open at 5:30 p.m. Also featuring Poets & Madmen and Temptress.
Share on Facebook

Follow me on Social Media!