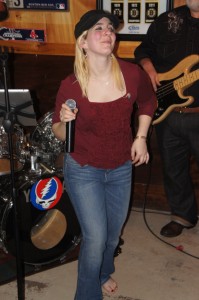 The Jenni Lynn Band kicked serious ass at Boondocks Tavern & Country Grill last night. The Weare, New Hampshire nightspot saw the five person band force themselves to overcome sound issues caused by the weather. Despite a few uneven moments that took place while their equipment was warming up, the group knocked it out of the park with several tunes that reflected not only the band's talent but also their ability to rearrange a song and make it theirs.
Opening with "Proud Mary," vocalist Jenni Lynn Sperberg carried it with her strong voice as the band played a smooth, speedy rendition. Next tune, "Hard To Handle" proved that "Proud Mary" was only a warm up. The Jennie Lynn Band had much more fight in them for the rest of the evening. Sperberg's husband, Jay Sperberg, pressed some mean lead lines out of "Chain Of Fools" while Mrs. Sperberg brought up the soul with her ever so soulful voice. Just when her voice started to get lost in the enfeebled sound system, she overpowered it with her throaty roars. Second guitarist, Aaron Dallman, served up the main melody line with fire in his belly, his high notes full of spark.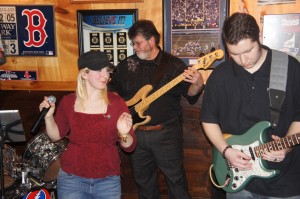 Grace Potter's "Paris" let Ms. Sperberg strut her stuff even more at the microphone. The band played the rhythmic smacks, driving the groove home in each measure. Led Zeppelin's "The Immigrant Song" gave this singer a chance to show some vocal power on the banshee screamed introductions to each verse. Segue into Susan Tedeschi's "It Hurts So Bad" the band pumped up hearty slabs of groove, making its rhythms jump out at you. Ms. Sperberg belted out the raw emotive lyrics with surefire power. Mr. Sperberg, meanwhile, cranked out a feisty lead line, jacking up the way this song speaks to a listener.
This kind of music isn't for sissies, and it works out well for this band that Mrs. Sperberg isn't a polished, trained singer, She goes for the gut wrenching feeling inside each song, and her voice is strong enough for her to find her way around by ear and instinct. "Pride And Joy" was marked by guitarist Aaron Dallman's raw, mean, down and dirty phrasing, making his guitar bark out its chords and sing out his bluesy high notes.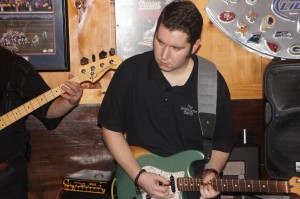 Mrs. Sperberg sang prettily on Ben E. King's "Stand By Me," controlling the tender emotion that slowly worked its way out of this number. The two guitarists, Sperberg and Dallman, rocked up "One Way Out,." contrasting the comfortably familiar rhythm with the exciting lead and slide guitar magic. The rhythm section of the band, bassist Earl Rinker and drummer Carlos Avellan, placed the percolating groove in the right places. Until this number they had held their own, but they had played in sublime fashion, never intruding. Here, they became more prominent, playing a whole pile of blues thumping action. The four musicians gelled magically on ZZ Top's "Tush." Dallman paid out an incisive lead line as Mrs. Sperberg belted it like a tough mama on a butt kicking mission.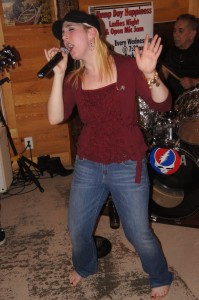 The Jennie Lynn Band went to the original source material for J.J. Cale's "Cocaine." Crunchy guitar chords and a blistering hot lead line made an indelible impression. Dallman's mellow lead guitar line drew everyone right into the band's dynamic-shifting version of "Gimme Shelter." Mr.Sperberg tossed in a few tasteful lead lines during the shifts to down tempo mode. JLB turned "All Along The Watchtower" into a driving, straight-forward rocker. Echoes of Bob Dylan and Jimi Hendrix could be heard inside it all. Yet, it was mostly these five adventurous souls letting it rip.
JLB paid "Respect" to Aretha by keeping that famous groove in the pocket while Mrs. Sperberg applied her rangy vocal to nuance the word. The five piece played Bad Company's "Can't Get Enough" with an appropriate oomph. Next tune, "Piece Of My Heart," as popularized by Janis Joplin, began with Mr. Sperberg's explosive burst of lead guitar. Mrs. Sperberg, milked every verse of this belty hit, her monster size vocal tearing into it like nobody's business. The band sashayed through "Feelin' All Right" before playing a hopped version of "Johnny B. Goode." Mrs. Sperberg sang prettily on Van Morrison's folksy ballad "Into The Mystic," showing a self-restraint and control over dynamics as her band mates hit their mellow notes with understated sophistication.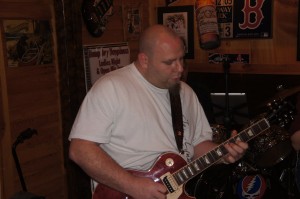 A heft rhythm and a thatch of muscular guitar marked "Folsom Prison Blues." The Doors' "Roadhouse Blues" was a crowd pleaser, especially when Sperberg unleashed a fierce interpretation of Robbie Krieger's original guitar phrase. The Jenni Lynn Band should've placed The Georgia Satellites tune "Keep Your Hands To Yourselves" earlier in the show. The musicians handle it well and Mrs. Sperberg hit its sweet high notes and managed its mockingly staunch attitude chorus well. The guitars, too, added some spark, trading off coolly on the lead line.
Another crowd pleaser was "Bad Case Of Loving You," originally written and recorded by Moon Martin before the more popularly known version from Robert Palmer. Before you knew it, Jenni Lynn Band was knee deep into The Allman Brothers' sweeping, bluesy classic "Soulshine." The band then turned The Beatles' "Don't Let Me Down" into a slamming mid-tempo blues song before they went deeper into the 1960s with Jefferson Airplane's "White Rabbit." Mrs. Sperberg delivered the slow boil intensity, belting with measured power, while the rhythm section built up its strident groove. JLB moved over to 60s soul with Otis Redding's "I've Been Loving You Too Long." Mrs. Sperberg restrained her vocal power well while her hubby unfurled its tender guitar line. They made you feel it.
Considering the JLB doesn't have a horn section, they managed to pull off Chicago's "25 Or 6 To 4" with dual guitars. The two guitarist gave each other plenty of room to have fun with this Terry Kath monster guitar work out. "Rocky Mountain Way" was given a wide, forceful rhythm guitar sound and a rollicking bass line kicked things up a bit. AC/DC was another fun barroom crowd pleaser and "Come Together" was a thumping, jiving low end joy ride with its smacking drum set shadowing.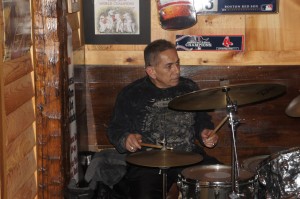 The Jenni Lynn band shined brightly on John Prine's "Angel From Montgomery," playing it much better than most local area bands, raising it above its bar band cliché status. Tasteful guitar work from Dallman and tasteful touches from Mr. Avellan's drum set were added treats as Mrs. Sperberg sang it beautifully, making each of her vocal notes mean something. Speaking of Dallman's tasteful guitar work, he played perhaps the prettiest lines on "Can't You See," another tune this band seemed to dust off and make shiny again after being worn out in too many bars.
JLB intended "Me And Bobby Magee," as written by Kris Kristofferson and popularized by Janis Jopin, to be their close out song,. Mrs. Sperberg handled it well, down to each and every vocal note, leaving the Boondocks Tavern audience something to remember her by. The musicians, too, handled the sweet country blues nuances this song offered.
Called back twice for encores, Jenni Lynn Band redid Grace Potter's "Paris" and Led Zeppelin's "The Immigrant Song." Since their amps and PA system were plenty warm by then, the sound quality had improved ten fold and they aced these numbers with wild abandon.
The Jenni Lynn Band is easily one of the best bar bands around, mostly because they're much more than a bar band. A classic rock venue cannot go wrong booking this act. Boondocks Tavern was an especially good room to showcase JLB. It's rural crowd have a true appreciation for good singers and good musicianship. It also has a different kind of cool vibe, being so far into rural New Hampshire that some patrons were pulling into the parking lot on their snowmobiles.
https://www.facebook.com/JenniLynnBand?fref=ts
Share on Facebook

Follow me on Social Media!