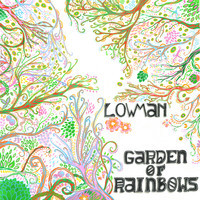 Lowman's latest CD Garden Of Rainbows is, indeed, an amazing growth of colors, tones, and many other special things. Sure to be included in many "Best of 2014" lists and in many awards shows, the album has a lot to offer to even the most discerning listeners while enticing people to get up on the dance floor. The title track is a sweet, Beatlesque confection of warm vocals and jaunty, fun keyboards. The album soon follows with a hip, mid-tempo rocker with a clever rhyme scheme. The remainder of the album comes across like more of this sweet variety of nuances, shadings, and outstanding instrumentation and vocals.
The title track sashays right into the listener's consciousness with joyful organ chords and a persistent push from the rhythm section. Vocalist Greg Loughman, who is also dispensing an easeful bass line, sings in a mid-tempo cruise with a richness in his voice that reminds of Elvis Costello. Just when you think the song has you in its grasp, it pulls you in even deeper with its fetching, effusively hooky chorus. Alongside it all is a brittle, pretty electric piano line adding another layer of sweetness.
"Dyads" is easily one of the hippest songs likely to hit local radio this year. Loughman sings in a deeper timbre with a worldly swagger. His lyrical imagery conjures a whimsical beef between some long time historic rivals. While each takes on his rival, Loughman and his crack band lay down some seriously smoking good rock and roll. His bass playing becomes the locomotive for this number, pumping out a bossy groove while keyboardist John Funkhouser blazes a trail across the rocking landscape with bracing chords. The irresistible backbeat will have people cutting a rug on dance floors and on rooftops all summer long. The entire synergy of the band will make even the stiffest person want to loosen up and shake it. Did I mention there's some blistering hot guitar phasing going on too? It's a fun, busy song with a lot of energetic playing, instrumentalists crisscrossing each other madly.
"Hot House Flower" is the kind of rocker that knocks your door down to get your attention moments before offering a hefty groove, enticing guitar phrasing, and a winsome vocal that's become your new best friend since the first two songs. Loughman brought a horn section into the studio for this one, and it pays off in spades. Fulsome horn lines turn this danceable rocker into pure dynamite when they explode with joy during the memorable chorus.
"Prime Directive" is clearly inspired by the Star Trek terminology for one people minding its own business and not interfering with another people's culture, society, way of life. A breezy, lilting sway in the groove carries a listener through this unobtrusive tune while bits and pieces of percussion and keyboard are throw in for good measure. Phil Sargent's unwieldy guitar phrase has a will of its own and cruises through the soundscape with a persistent edge that keeps things artful and tasteful.
There's a touch of a master of ceremony vocal approach to "Ghost." Loughman soft pedals his twisty lyrics, offering them at a measured pace. Sargent's lead guitar line dances around the groove with the surefootedness of a court jester traipsing around a crowd he playfully mocks. You cannot help but like this tune because of the way the band seems to be toying with a joyful audience that's impressed enough to follow their entertainment.
"Midas Touch" swaggers forward with a wedge of guitar, organ, and groove getting ever bigger, like a snowball rolling downhill on a snowy slope. The band plays it tight as hell while keeping their groove loose enough for people to move their feet. Keyboardist John Funkhouser puts out a thick line of organ chords that are so solid you could walk across them. His bracing wedge forces the guitars and the rhythm section to step it up, and they do, as all soon become a wall of feisty, rocking sound.
A driven, stomping piano line makes "Balloon Boy" a head bopping piece of irresistible fun. This hefty piano line and propulsive drum beat punctuates the song. The lyrics amuse as they recount the news story about a publicity seeking family who had the country thinking their little boy was accidentally whisked off in a weather balloon. You just can't stop listening to this song because its persistent instrumentation is so enjoyably bossy and pushy, like a salesman who keeps coming up with one convincing line after another. A shouted chorus borders on hypnotic. Then, a Sargent guitar phrase mixes it up briskly with the horn section. The whirling dervish of vocals and instrumentation make a listener imagine the frenzied, nervous embarrassment when the family was found out.
"Devil You Know" bristles with a faux country fiddle melody. That edgy fiddle creates more sparks than sleepy country hoedown motions. The song's edgy spring and bounce keep things jumping with eerie underpinnings. A listener is never quite sure where this song is going, and that's a good thing. It's a mash of fiddle and horns and that keeps it greasy smooth and ever movable.
"Eden" features an electric sitar sounding instrument briefly playing a line of exotic music. It sets the stage for "Fall From Grace," a down tempo number that moves along a moping, moody bass line. This brief mellow part of the album provides a balancing rest from the up tempo rockers while showcasing how well this band creates moods and settings with colors and tone.
"Marco Polo" is a bit breezier than what came before, yet still cruises in a mellow groove. It builds into a crescendo of horn lines while Loughman sings in a lush, mellow tone. The effect creates a sweeping soundscape that pulls a listener in then envelops one in engaging sweeps of sound.
"Your Epiphany" jumps right back into rocking territory. Loughman asserts his case at the microphone as the band unleashes more of their fun, exciting instrumentation. It's straight forward rock and roll, complete with rollicking piano lines. Sargent's guitar leads the charge with plenty of spark within its a tight ensemble piece.
The mellow groove of "Goodbye" finds the boys easefully unfurling their talents, especially with a layering of shimmering organ chords. They build this one up artfully, tastefully, four players on a mission to create a successful arc in their song, and they do. One could get swept away in the mellow, breezy sway of this song. The tune closes out the album with its steady glide to the last few notes, leaving a listener feeling settled, satisfied, and waiting for the next Lowman album.

Follow me on Social Media!