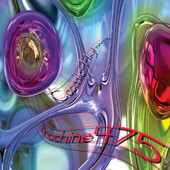 Machine 475 is a north shore band that's unafraid to make music their own way. When the liner credits include a programmer, a sitar and synth player, Theremin and turntablist, and an accordion player with the same weight as a guitarist and percussionist, a listener knows he's in for something completely different. Machine 475 are a much needed breath of fresh air on the greater-Boston music scene. Their third album Cosmic Highway is a rush of rocking, space age instrumentals that will entertain as well as challenge.
Opening track "Remember (It's All You Need)" begins with a layer of eerie synthesizer and keyboard work that ushers the listener into a future century. Its involving and unique patterns are hypnotic and pleasant. Much is owed to Dan "Purple" Hayes for his Theremin. A percussion track ratchets up a danceable feeling while those interesting keyboard sounds unfurl into main melody lines. Just when you think this piece is beautifully layered, accordionist Dan Kupka glides in with another soothing melodic trip.
The influences seem to come more from the Alan Parsons Project funky pop-rock meets the future thing than any of the heavier prog-rock or art rock bands out there. Title track "Cosmic Highway" utilizes a voice over TV announcer sound effect with vocal coos from Jacyn Tremblay with flute melody from Kate Riegle Van West to fill out more of the unusual melody lines. The band show their skills even more when guitarist Brian Lambers rocks it up with his edgy lines while the others continue their mellifluous fight of fancy. There seems to be no bounds to the soundscapes this combo offers.
"Magical" begins with female vocalist Tremblay describing from her point of view the feeling of being shrunk down to size until one no longer exists. That brief monologue is cleverly augmented by a breezy weave of melody from synths and whatever else Machine 475 is using to create their sound. The rhythmic track is alluring and it ushers in another enticing accordion line. It's uncanny how well this group blends accordion into their modern pop melodic space age sound. There's also an acoustic guitar line that adds sophisticated applications of tone to the soundscape.
"Passenger," a nine plus minutes opus, is a sprightly affair with bubbly keyboard and percussion notes darting over a lean synthesizer line. A bit edgier than the rest of the album, guitarist Brian Lambers presses out a brisk line of exciting lead. Vocalist Jacyn Tremblay unleashes an expressive melodic coo that juxtaposes her powerhouse vocal with that stinging guitar work. Together, they're a two-pronged launch into the netherworld. The percussive beat here is irresistible. The sounds cape is gripping. A listener can easily envision all sorts of sci fi action scenes listening to the evolving shards of incisive lead guitar, bracing rhythmic support, multi-instrumental madness, and Jaycn Tremblay's earthy, sensual coos.
"The Life Of Electrons" is a low end driven piece, with its smooth bass line created by the keyboards. Juxtaposed with natural flute notes, the piece creates an east Indies soundscape amidst a traipsing synth line. One's imagination can easily drift off to foreign locales, especially when Rick A Hansen's percussion work conjures a lofty groove beneath everything else that is going on.
"Fly Like An Angel" offers an array of unique melody lines as it gets its groove on with a propulsive drum track from programmer Richard Lewis. A lilting synth melody washes over back and forth across the groove while nimbly tinkled keyboard notes blanket everything in a second wash of colors. While Machine 475 are not the first to have a member like Danielle Meara playing sitar and synths, or using programming, or an accordionist, they certainly arrive at a sound all their own, and it works. This kind of music can be followed either sitting at home as a serious listener, working out to in the gym, or humming to as one cruises down 128 to get to their next gig in Peabody, Salem, Beverly, or Gloucester.
Machine 475 close out big with "RoadRunner," a more futuristic soundscape with primal vocal chants and lean, mean guitar phrases. There is true artistry in the way this combo lets an electric guitar do the talking one minute, a siren call coo the next. "RoadRunner" could be the soundtrack to an action movie fight scene, a car chase, or a gunmen's show down. Sparks fly when that electric guitar struts its stuff against the synthy, primal beats, and chants.
Machine 475 might not be the most commercially accessible band to come down the pike. But, they're certainly one of the more interesting. Anybody willing to give this band a chance will be amply rewarded by their exciting sounds.