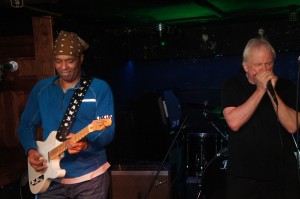 Parker Wheeler And Friends have become a fixture at the Sunday night blues jams at The Grog in Newburyport, Massachusetts. The endless lists of featured guests artists include many favorite New England artists. Last night, Willie J. Laws Band were the featured artists. Combing WJLB with vocalist-harmonica player Wheeler and his usual crews resulted in several high points, moments of ecstatic energy, explosive bursts of guitar, sax, organ, and harmonica. The packed room crowded the dance floor for most of the four hour extravaganza.
Opening with a breezy instrumental jam, the seven piece had a lot of sweet melodies going on. Wheeler's harmonica and regular house band member Amadee Castenell's flute made a tender partnership. As light as island music, as colorful as a film score, the two let the melodies flutter and flow in lively patterns. Another guest, Henley Douglas Jr., formerly of Boston Horns, chimed in with his brassy saxophone line. Then, suddenly, without warning, Laws played some funky, thick guitar phrase, a melodic line that tapped danced across the surface of the soulful wave from Wheeler and his boys.
Organist Tom West, a Sunday night stalwart at The Grog, offered a layer of keyboard work that simulated the wavy swirls of a Hammond B3, even though he was using a Nord. The Willie J. Laws rhythm section, bassist Malcolm Stuckey and drummer Osi Braithwaite, kept pumping up a bulbous groove for the melody cats atop. Segue into the same mellow groove from the beginning, and Castenell played another sweet flute melody, gingerly, floating notes that trailed one another, lively, spirited.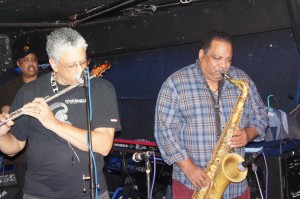 The crew eventually went into a vocal number. Wheeler sang it like a smooth, jiving, blues crooner. He had a crisp touch of yesteryear in his earthy timbre. Laws, too, had plenty to say, and he let his guitar do the talking for him. He unfurled a guitar line that spoke in chirpy notes of the "Down Home Blues" Wheeler was singing about. West offered up some rollicking barrelhouse piano. He made you feel like you were whisked back in time to an early 20th century saloon. Castenell and Douglas joined forces on sax, and it sounded really, effusive, fulsome, blaring hot horn lines.
The Willie J. Laws Band lead the crew into "Real Mutha For Ya" by Johnny "Guitar" Watson, a regular staple of the Laws Band live set. Braithwaite and Stuckey marched the song forward by dropping chunks of low end and drum fills. Dual sax colored up the number loudly and the band had the crowd in the palm of their hands. Folks couldn't resist the urge to move their feet with so much groove pulsating through the floor.
Wheeler regained control of the jam when he sang a slower, mellow blues number, his earthy, soulful vocal keeping things even, a breather from the heavier, thumping numbers that came before. WJLB took the lead again, leading the pack into "Love And Happiness," playing it with hefty doses of groove and swiftly picked guitar riffs. Enriched by dual sax and organ swirls, the players kept people on the dance floor. You could feel the bass and drums all the way in the back of the room.
Laws unleashed a new song called "Turning Point" from his upcoming CD that found him riffing wildly, making each note meaningful. Horn shots and bluesy organ chords formed a heady broth of blues, funk, and soul. West made his organ note simmer.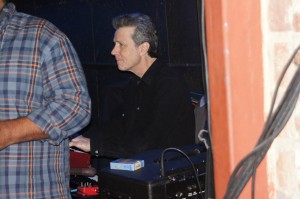 The entire ensemble fell into "Sweet Home Chicago" with a groove so enticing it called several more people onto the dance floor, even the chattering people who seemed, until then, not there for the music. On top the mountain groove West tinkled up a storm of piano notes as Wheeler blew a lilting melody line. Laws is an entertainer, first and foremost, and he never misses a chance to show his tricks. He played the melody to "Sweet Home Chicago" using his teeth to pick the strings.
During another upcoming Laws original, "Lover Letter," the guitar man projected his soul through his microphone with his assertive belts. He doesn't just stand up there. He projects his big, warm personality out into the audience. He also shined his wide, disarming smile to make everyone feel welcome, and he was particularly receptive to the folks dancing right in front of the stage. The horns jammed on Laws' tune, trading off curly cue lines before blaring in beautiful unison.
Wheeler unleashed another of his soulful, raspy melody lines on "The Blues Overtook Me." He sang it like a man possessed by the spirits of the great blues men who came before him. Wheeler signaled Law to take a solo, and a brisk one he did take, walking his notes around the block with sweet highs embedded in his aggressive phrase.
Taking the audience back to 1974, Laws forged his vocal style onto War's "Slippin' Into Darkness." His mellow vocals, cool guitar riffs, and the dollops of funk proffered by the six piece backing him turned this into one of those high moments in a local club. You just don't get the Willie J. Laws and Parker Wheeler level of quality at any old club any old night. Whistling sax lines snaked around the groove. Wheeler's harp lines darted around with huge authority, making his instrument dominate the microphone. Malcolm Stuckey's jazzy, twangy solo, making it hum a low end melody on his five string bass. Soon after, drummer Osi Braithwaite made mince meant out of his drum set, with real smacking action over his big, badass bass drum.
Laws played some screaming high notes on Bill Wither's "Use Me" before showcasing another of his originals, "Baby, Make Your Cornbread Moan." A blues-funk concoction, "Moan" had blues fans following every nuanced guitar and vocal melody while those inclined to dance were shakin' their booties something fierce.
The players closed out the evening with "Got Your Mojo Working," turning the party vibe up a few notches and snatching a few more patrons onto the dance floor. Horns, harp, keys, and guitar all made their individual impressions before blowing the roof off The Grog playing in a forceful ensemble.
Parker Wheeler will likely hold court every Sunday night at The Grog for some time to come. He and his house band have a lot to offer in their own right because they are legends in the New England music scene. Bringing in exciting guests like Willie J. Laws cranks up the talent level and party vibe even more. Sunday night at The Grog is probably the best consistently packed jam in New England. Let's hope it lasts for several years to come.
https://www.facebook.com/parker.wheeler.14?fref=ts
Share on Facebook

Follow me on Social Media!