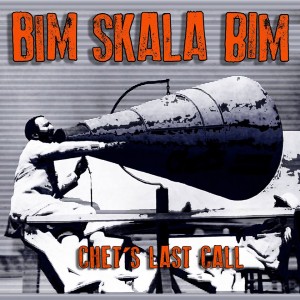 Bim Skala Bim's latest release Chet's Last Call is another reminder why we all fell in love with this band to begin with. On the music scene since 1983, they formed in Boston as a third generation ska band. Though they've taken time off over the years from the studio and the road, they never really went away. They still have all of their creative skills firmly intact. Chet's Last Call, recorded at Woolly Mammoth Sound in Waltham, Massachusetts, is loaded with choice ska influenced horn band numbers. Listeners will likely find themselves singing along to the hooky chorus in each song while moving their feet to each infectious groove.
Bim Skala Bim open their new album with the ever so catchy "Everybody's Got Their Style." Their ska beat and guitar riffs are augmented well with a bouncy vocal chorus, sprightly horn infusions, and swirls of organ. Creativity abounds in the way these guys combine their feel for ska with rock and roll and horn band influences. Vocalist Dan Vitale charms as he leads the band through this merry sing-along. His personality is as much fun as the rest of the song.
Instrumental piece "Summer Of Ska" might make one feel he's on a Caribbean cruise ship as it pulls into port. The beauty of the island will hit the ears before the colorful sights meet the eye. Yet, the music itself is loaded with colors. Horn lines amble along with an amicable air of island joviality. It's uncanny how an entire culture can be expressed in that culture's chief musical genre. Percussionist Rick Barry is responsible for a lot of that exotic sound as he taps out and slaps out his intricate patterns of rhythm.
"Buses, Boats, Planes, Trains, & Taxis" is a hip, danceable number with Vitale strutting his stuff over the fun sonic landscape. The song is also a clever combo of rock and roll electric piano with the lively trombone melody from Vinny Nobile and the hot sax lines from Dave Butts. Drummer Jim Arhelger powers this one with his snappy fills, smacking those skins with perfect timing and keeping things moving with his clever backbeat.
"Get Us Out" finds guitarist Jim Jones applying his tasteful riffing atop a lilting groove that this number is built upon. A bouncy guitar chord he presses out draws the ear even close into the song. From there, you also appreciate all of the other instrumentation and vocal work that moves around the band's trademark ska beat. The horns drawl out their fetching timbres, taking their time, letting their melodic lines drift pleasantly over the groove.
Back into lively dance territory, "Dance With Me Darlin'" keeps things upbeat as the singer croons of anticipating a dance with a love he's been away from. A touch of romance and the tightest big band ensemble playing this side of the Mississippi makes this move like a large man who can move well on the dance floor. You can picture a couple dancing fast under a bright moon.
"Hat When You're Not" is a down tempo rock number with effusive horn lines over a pushy beat. Vitale is more of a character singer on this one. His raspy, vigorous vocal assertions give this one its charm. It's a fun party vibe number that makes you feel Mark Ferranti's big, bulbous bass lines and Arhelger's snappy smacks and fulsome beat. The pulse is strong here and the groove chunky.
Someone gets a good drubbing on "Phony," an uptempo number with a lot of swift drum fills keeping it moving with energy. Vitale is a whole different character here, listing his gripes with the phony his song is about. Despite the brisk pace here, the rhythm boys still leaves spaces open for the horns and the swift fleet of notes from the other instruments. Those numerous flurry of notes will carry you through this song, and you'll want to sing along to this chorus.
"On The Dance Floor" is a feisty, jumping, jiving piece of shuffling music, horn stabs, guitar riffing, vocally assertive. It bops its way forward with a fulsome momentum. "Papa Don't Put Too Much Pepper" rocks right out. Jim Jones gets aggressive and edgy on guitar, grinding out a blistering line while the rhythm section keeps it chunky and bombastic. Sprawling horn lines cover a lot of ground on this one, like their wrapping their funk around the rest of the funk in the song. John Cameron is on fire here. His organs keeps percolating hot swirls of notes over the beat and contribute greatly to a sense of multi-dimensional motion going on.
Suffice to say, Bim Skala Bim have come up with yet another album of fun. Expanding the possibilities of ska has always been the band's specialty, and Chet's Last Call continues that tradition. While moving your feet to their ska grooves, you might also find chunks of rock and roll, funk, and swing tugging at your ears.