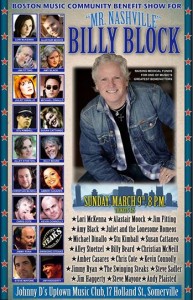 SOMERVILLE, MA – Many of Boston's premier musicians will gather for a special evening of performances on Sunday, March 9, at Johnny D's to help raise funds for ailing Nashville radio host/musician/concert promoter Billy Block in his fight against cancer. Block, who was diagnosed last month with stage 4 Metastatic Melanoma, has been undergoing treatment for the disease, and all the proceeds from the show will go to The Billy Block Family Fund at Wells Fargo Bank. Showtime is 8:00 PM and tickets for the March 9 benefit are priced at $15.00.
People can also support the cause by going to any Wells Fargo Bank and making a donation to The Billy Block Family Fund.
Headlining the March 9 event is Lori McKenna, with additional performances scheduled by Michael Dinallo, Billy Beard, Amy Black, Juliet and the Lonesome Romeos, Jimmy Ryan, Jim Fitting, The Swinging Steaks (Jim Gambino, Paul Kochanski, Jamie Walker), Susan Cattaneo, Kevin Connolly, Alastair Moock, Stu Kimball, Amber Casares, Alley Stoetzel, Christian McNeill and Chris Cote. The house band that night will also include Steve Sadler (lap steel), Jim Scoppa (guitar), Steve Mayone (guitar/mandolin), Jim Haggerty (bass), and Andy Plaisted (drums).
For over 17 years, "The Billy Block Show" has been a mainstay of Nashville radio and television, and his tireless support of up-and-coming musicians in country, Americana, rock and roots music through his weekly concerts held at some of the city's best-known clubs has especially endeared him to the Americana music movement. For more information on Billy Block, or to listen to his radio show, visit www.billyblock.com.
Johnny D's
17 Holland Street – Davis Square
Somerville, MA 02144
617.776.2004
Lori McKenna – Lori McKenna's unusual combination of professional and personal life, at least in the context of the modern music industry, has been well-documented. Admired and recorded by Faith Hill, Tim McGraw, Carrie Underwood and Alison Krauss (to name a few), McKenna is a master at chronicling the small, difficult moments between romantic partners as they navigate their relationships. "Poignant and profound poetry. She has an uncanny ability to paint stories of the human condition in a way that reminds us all that we are not alone."— Keith Urban
Michael Dinallo – Award-winning producer, guitarist, songwriter and organizer of The Billy Block Benefit will be playing with numerous acts on the show. "Dinallo has a reputation as a player and producer who knows how to sublimate his ego in service to the material, and doesn't let habit get in the way when looking for the right sound…..(He) works up a steady soul sweat. It's his vision of rock and roll heaven – with brown Fender amps."- Rick Allen, Vintage Guitar Magazine
Billy Beard – Was a member of Face to Face and has toured with Patty Griffin and Kim Richey; co-organizer of the benefit.
Amy Black – The Boston Globe calls her music, "Americana in its broadest definition rooted in folk and country, with tinges of Southern soul and blues."
Juliet and the Lonesome Romeos – Boston to Nashville breakout Americana artist being compared by critics to Lucinda Williams and making the CMA CloseUp magazine's "Who New To Watch in 2013" list have got to be hard to live up to, but Juliet and the Lonesome Romeos do just that with their debut album, No Regrets. "The final track here is her finest moment – the waltz 'Learn to Love Again' – where she must dip into someplace deep for such longing in her performance. Not since Deana Carter's 'Strawberry Wine' has ¾-time deserved a spot back on contemporary radio playlists." – Janet Goodman, Music News Nashville
Jimmy Ryan – Former Blood Orange now leading his fabulous band Hayride. "Local, left-hand picker Jimmy Ryan has no trouble blitzing through bluegrass or giving his tiny instrument a punk rock feel." – Jed Gottlieb, Boston Herald
Jim Fitting – A veteran of numerous local rock bands from the Sexexecs to Coots. A founding member of Treat Her Right. A founding member of Fort Apache recording studios. Has recorded with a wide range of artists: the The, The Mighty Mighty Bosstones, Kim Richey, Morphine, Martha Davis, Blood Oranges, Scissorfight, one note on a Kelly Joe Phelps CD, Maybe Baby, Tim Gearan, Kevin Connolly, Rain Dogs, Bill McQuaid, The Immortals and Tom Hambridge.
The Swinging Steaks (Jim Gambino, Paul Kochanski, Jamie Walker) – "The best country-rock out of Boston since Harvard student Gram Parsons put together his International Submarine Band." – CREEM Magazine
Susan Cattaneo – Her music has been played on country and Americana radio in over 30 countries, and she recently was a regional finalist for the New Mountain Stage contest.
Kevin Connolly – Legendary Boston singer-songwriter; "Chevy Impala" off his new CD North/East, featured on NPR nationally-syndicated radio show, "Car Talk."
Alastair Moock – Singer-songwriter; Singing Our Way Through has been nominated for a 2013 Grammy for Best Children's Album of the Year.
Stu Kimball – Bob Dylan's current guitarist.
Amber Casares – Boston's greatest female country vocalist; "A-list Boston talent." – Steve Morse
Alley Stoetzel – From soul and blues to Americana, her critically acclaimed album, What We've Been Up To, features Jimmy Ryan and Duke Levine. A gifted singer and a mandolin player, Alley is also a member of the Goodtime Stringband and her own trio.
Christian McNeill – Irish force of rock and soul reckoning. "Male Vocalist of the Year" two times running in 2011, and 2012 at the Boston Music Awards.
Chris Cote – Local singer, "Cote's room-filling vocal and passionate delivery had folks turning their heads around and blurting out 'who the heck is that?'" – Patriot Ledger