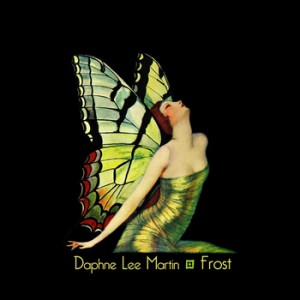 Daphne Lee Martin's latest album Frost announces itself with a wave of knobby synthesizer, a bulbous sound that suggest the bountiful fulsomeness that her recording has to offer. Martin's soundscapes consist of everything from modern keyboards, some vintage colors and styles, and more than a dash of rocking electric guitar. Her genius lies in her ability to weave an array of musical elements from the entire 20th century into one song, cohesively, impressively, seamlessly, to become a beautiful new creation that stands on its own merits, apart from influences.
"Little Birds" feels fresh, new and different and separate from the pack. Martin's ever so smooth, ethereal vocal has a persistent lift that leaves it sounding wonderfully aloft and above the wiry synthesizer melody beneath her. It's uncanny how well this original number seems to ooze out of the stereo speakers. Martin's vocal phrasing is a treat for the ears while her modern pop-rock instrumentation feels at once brand new and comfortably familiar. She weaves a Spanish horn line into this straight-forward pop tune, and it becomes one of those moments when you wonder why nobody has thought of anything quite like that before.
"The Book Of Love" gets its backbone from a quirky rhythm out of the keyboards and drum programming. Everything is so tightly wound around that pattern, vocals, washy organ chords, and an additional layer of synth. Listening to this song is like being at the ice cream stand watching the server fill your cone with soft serve in appealing twists before pouring all sorts of sweet tasting extras all over it. This song doesn't move forward as much as pirouette, becoming more intriguing with each twirl.
Delicate, earthy banjo notes introduce the listener to "Night We Fell In Love." Here, Martin's voice floats just above her banjo, bass guitar, and percussion driven confection. A moody violin completes the scene while bass guitarist Matt Potter goes into a minimal funk line. This music simply has to be heard to understand how well Martin sews everything together. There's a saxophone blaring as aggressively as an elephant's honk, then the soundscape turns into a merry little dance of diverse instrumentation. Each player working together like busy worker bees to come up with something wholly original.
Elegant piano tinkling takes the listener by the hand and walks him into "Make It Rain," the likely hit song from this album. Martin sings with a touch of the early 20th century jazz crooners in her considerate vocal phrasing. Her classy, emphatic piano melody is another fine touch from yesteryear. Meanwhile, lead guitarist Matt Lindauer presses out an empowered melodic phase alongside a phalanx of brassy swells. "Make It Rain" could make it on radio and on a movie soundtrack. Each instrument and voice forms into a larger than life impression, swaying around a beat, unfurling with a wide, sweeping layer of textures that contain a force that's at once pushy and gentle. It just moves the listener along, respectfully, until its shimmering end.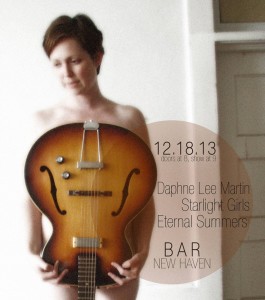 "More Flies With Honey" finds Martin singing in the kind of breathy, sophisticated phrasing from an earlier time period in American music. She's got her lead guitarist playing something that sounds vintage even though he's pressing it out aggressively, like something created in the classic rock era. Martin lets her voice easefully traipse through a sonic landscape of brassy, bluesy horn melody, bumpy low end, peppy drums, and assertive piano chords that punctuates everything with a certain authority.
Martin continues her walk down America's musical memory lane with "Smile At Perfect Strangers," another old timey piece that walks with a bounce in its steps, a jaunty, tender melody that recalls Jay and Daisy during happier times. A joyful, fulsome trumpet line leads the parade of intricate instrumentation. The horns, strings, and circus organ weave a merry texture and that melodic line gets a slight edge when the electric guitar comes in for sharper accents. By the time Martin finishes things up here you'll be longing for a time machine to bring you back to a year when this music was common place.
Martin duets with a male vocalist in huge, perfect chemistry on "I Still Want You." The male-female vocal exchanges flow with carefree sexiness, like two who are just pouring honey over each other. This romantic ballad breezes along with sweet backing coos, , take your time drums, jazzy electric guitar phrasing, and just a touch of electronic percussion. The tune seems simultaneously rooted in 1970s soul- pop and something out a 1950s movie scene. The effusive horn section makes it easy to want to slow dance with that special someone, in a candle lit room, the stereo turned down low.
Martin closes out big with "Five Points," a lively, festive number that explodes dynamically from gentle crooner, easeful arcing lead guitar, and a breezy horn section into something frenetic you could disco dance or jitterbug to. A driving beat surrounded by chirpy wah-wah guitar and lilting horns makes one want to move it in all directions. Listeners can hear the instruments singing to them, notes that you can take in all at once, unobtrusive pinpoints of sound that tickle the ear. Finally, Martin closes out with the same kind of modern synthesizer instrumentation she started this whole thing with, giving a tight, crisp unity to her album.
Martin is clearly on a roll. Frost is a brilliant follow up to the brilliant Moxie album she released roughly a year ago. Aside from being nominated Female Performer Of The Year by New England Music Awards, Martin is a well-respected figure on her Connecticut music scene and she's soon to become a darling of the entire regional music establishment.
Share on Facebook

Follow me on Social Media!