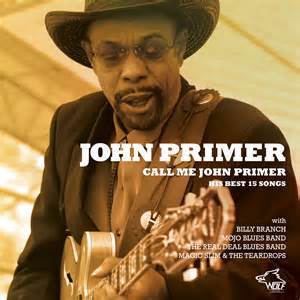 Just a few year's ago, John Primer's released this compilation album, Call Me John Primer, to give fans a broader perspective on his lengthy career in blues. Since forming his first band in 1964, Primer has been a serious student of the blues. He made his way up through the ranks of Chicago bands at the windy city's most prestigious blues venues. Primer played with the likes of Jimmy Johnson, Junior Wells, Smokey Smothers, and Lonnie Brooks before becoming a road musician for Willie Dixon, Muddy Waters, and Magic Slim. After leaving Slim's Teardrops, Primer struck out on his own, releasing a series of impressive, well-received albums. He has also been one of the most visible performers at the world's most renown blues festivals. It would be a gross understatement to say he carries the torch of the blues spirit from previous generations.
But, onto this incredibly tasty album, Call Me John Primer. His own song "Going Back Down South" comes in with a swaggering guitar line, rippling notes that introduce itself like a personality, Primer sings with the richness of a man who's lived a long, hard life and has risen above world weariness with persistence and strength. His serious guitar licks are accompanied by an emotive harmonica line from Billy Branch and steady, soulful piano tinkling from Leo Davis. It's a treat to hear Primer's twitchy guitar phrase jumping over the spaces left open for him by bassist Johnny B. Gayden and drummer Jerry Porter. Echoes of the old Chicago blues legends can be heard in every note, especially on the moody close out.
"Poor Man Blues" is Primer's song of compassion and idealism. While singing about his own bouts with poverty, listeners gain insight into the poverty still inflicting too much of the world population. Primer coaxes all of his greasy, tender notes out of his guitar. Those notes dance around the groove like tiny spirits empowered by something more than just technique and instrumentation. The album jumps right into Primer's own "I'm A Blues Man," a number featuring more of his warm vocal exercising itself well over Magic Slim's string of brief but sizzling sustains. Primer possess a rich, fulsome vocal timbre, honed by years of experience, one that echoes with the expressions of joy and sorrow, often simultaneously, that were born in the recordings of the pioneers Primer had once toured with.
Primer's take on Willie Dixon's "Evil" gallops forward with a purposeful stride from his rhythm section of bassist Nick Holt and drummer Jerry Porter. Magic Slim guests on this too, unleashing a flow of brittle, zig zagging notes that make their way over the groove with the smoothness of a tap dancer. Primer's admonition to "watch that happy home" is filled with the soulful foreboding Dixon would've loved.
Primer gets into a more boogie groove on Chester Burnett's "I've Been Abused." Steve Bell's harmonica and Ken Barker's piano provide plenty of gristle for the ear. Then when Primer presses out his guitar phrase, it's as magic as a carpet ride on a warm summer breeze. That guitar, with it's rippling notes, just sounds so good next to those endless runs from harp and ivory.
Primer goes back into story telling mode on Elmore James's "1839 Blues." This one's a real treat for the ears. Primer's guitar dips and glides among the plains of tasteful, boogie piano lines. Stanley Banks lets those old time piano lines percolate under the voice with a glorious resonance. You can hear the church influence here. It's in the way Primer emotes at the microphone, an expression of frustration and sorrow that he projects with soulful muster. His rasp just has a spiritual hum. That piano line, too, resonates with something spiritual and persistent.
Onto Elmore James's "Shake Your Money Maker," Primer is belting more like a 1950s rocker. He shows his cool side in his hip delivery over the feisty, assertive guitar lines. You can hear this song giving birth to rock and roll in its danceable groove and spirited delivery of voice and guitar. Primer then takes us back to his own material with "Blues Behind Closed Doors." Influenced by the layered Chicago sound, Primer has Magic Slim, Banks, Holt, and drummer Earl Howell creating a platform of multiple melodic directions before he takes his own flight of guitar fancy over it. His guitar speaks of privacy, desire, and seduction. It's got a mischievous tone underneath his vocal as he eyeballs the woman he sings to. Primer is definitely a man who appreciates feminine beauty.
Recorded live in Austria, Hank Ballad's "Look At Little Sister" gives Primer a chance to show off more of his smooth vocal timbre and effusive delivery. He sings with the emotionalism of a man with much to get off his chest. Making his blues riffs jump and run underneath his vocal is another specialty of his. Those tiny little bits of sound travel in rivulets of melody that wrap around the groove with tender mercy. Just when you think you're impressed with Primer's voice, he sends those streams of notes out to give the song even greater motion and looseness.
Back to his own original material, Primer sings "Dreaming About My Baby" with a large, looming vocal expression that dominates the instrumentation beneath it. Even hot tenor saxophone magic from a horn player named Michael Jackson can only hold up the floor for Primer's mighty, soulful belt. The song certainly impresses with all it has going on at once, harmonica, guitar, piano, and sax, a whirlwind of sound born out of the Chicago style.
Primer's "You're Got To Pay The Price" rocks out with sizzling harmonica lines, jumpy guitar bits, and steady piano tinkling. Primer plays his Elmore James inspired slide guitar phrase, and it hits you like a welcoming piece of nostalgia, an old school sound played and recorded with modern gear so another generation can fall in love with the Chicago sound.
Title track "Call Me John Primer," co-credited to his mentor McKinley Morganfield, is an eight and a half minute tribute to Chicago blues. With a loose, unwieldy jam feel, this one unfurls many tasteful, authentic slide guitar phrases, rippling rhythm guitar parts, sweeping, low harmonica lines, and jaunty piano melody over a rhythm section that packs a punch and always punctuates the musical action at just the right time. Listeners can feel a lot of drama as this one goes along. There's a high pitched lead guitar phrase just past the half way point so sweet you'll want to lick the frosting off. Back into a soundscape of slide, bluesy piano, and punchy harmonica, Primer becomes more a vocal showman with his hefty voice.
The rocking chair groove of Jimmy Reed's "Going To New York" grows deep and meaningful, containing a lot of feeling in its basic motion. Over that wide, effusive beat comes Primer's playful vocal magic, engaging in a little call and response action with the backing vocalists in his band. The boys create a pleasant traveling sensation, making one picture a family or a bunch of workingmen in a bus, van, or station wagon traveling the highway to get to their families or their jobs or their next big gig. The warm vibe of this one might make you wish you could hop in and go for the ride with them.
Primer unleashes more of his slide guitar charm on "I Called My Baby(On The Telephone)." The contrast between Primer's large, warm vocal and greasy sharp slide phrasing is enormous. Each makes you appreciate the other more. Adorning the groove with rhythm guitar, piano, and harmonica contributes to the songs expansive feeling too. Yet, voice and slide reign supreme here.
Closing out with a solo acoustic version of the Jimi Hendrix staple "Red House," Primer shows he's classy as well as superbly talented. He picks his notes with a steady sharpness, accenting notes so they hit with clarity and purpose while making you feel the informal comfort of a man playing for you on his front porch. The song, with its sparse accompaniment, lets Primer's voice ring out with its handsome fulsomeness, filling in a lot of space instead of competing with a myriad of instruments. And it's beautiful.
Primer is definitely a singer-songwriter-guitarist who can take blues fans into a familiar territory of Chicago blues while keeping a freshness to it with his own personal style. Call Me John Primer is a must for anybody looking to dive into his music for the first time.
(Editor's Note: This CD Review of a national act is a one off occasion written as part of a discussion on the Blues Audience Newsletter's Facebook group page. BillCopelandMusicNews.com does not, as a rule, focus on acts from outside New England).