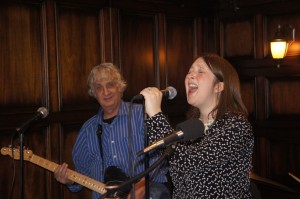 It was an afternoon of real blues music in the Queen City today. The Juke Joint 5 came to British Beer Company's Manchester, New Hampshire's location earlier today to play the Bloody Blues Brunch. JJ5 is a band that plays almost all blues throughout their three sets. That sets them apart and makes them a gem in a world of blues bands that mix blues in with numerous other genres just to get gigs. There is real blues color, tone, and sultriness here, folks.
"Step It Up And Go" was a bluesy shuffle, with Juke Joint 5's new bass player John Bunzelle and guest drummer John Medeiros Jr. offering a bumpy, funky groove to move the action along. The JJ5 started their second set with an instrumental workout. Guitarist Silvertone Steve picked off some brittle, flashy notes before Dick "The Poet" Lourie came in strong with his fulsome, brassy appeal. One could feel the drama mounting as each took turns strutting their techniques.
Vocalist Gretchen Bostrom showcased her handling of old time blues standards singing "Ti Ni Nee Ni Nu" by Slim Harpo Her vocal phrasing had the true blues attitude. Bostrom was born with a timbre that works with these classics. Silvertone Steve's slide guitar tone could have brought you back to yesteryear as The Poet's brassy, rich melodic line, fulsome and wide, came from a skill born out of years of serious listening.
"Me And My Baby" was a rocking blues number with a punch, especially when The Poet blew his feisty, thick sax lines. A cool vocal sustain from Bostrom also highlighted the tune. Bostrom sang prettily and soulful on Ben E. King's "Stand By Me." She reached deep inside and pulled out the feeling, a lot of it. She also has a way of finessing each line in the verses that made them sound earthy and passionate. Guest drummer Medeiros, along with Bunzelle, kept the groove warm and familiar.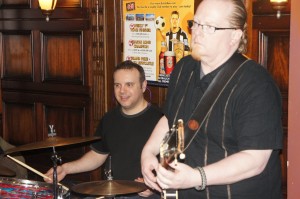 The Poet strutted his stuff to start his own instrumental piece "Jack's Kitchen." Lourie got a vibrant tone out of his horn. It was reminiscent of oldies rock and roll as it rolled on over a bluesy shuffle. Bostrom caressed the words to a slower number, using her natural born timbre to simply walk across the platform created by the meaningful tones of guitar and sax beneath her. She also rocked "As Long As I'm Moving" by Ruth Brown. It helped that Silvertone Steve fired off his feistiest notes of the afternoon. His guitar work rang out with true colors and tones as he slapped some chords out of his six string.
The Poet certainly starts his sets with a welcoming vibe, his sax line being long, wide, and fulsome, seeming to raise the room temperature. And that was only the start of the third set. Bostrom mastered the cool delivery on "Don't Lie To Me" by employing her sharper timbre to sound a bit tougher. Be careful, guys. She meant business on this one. Meanwhile, Silvertone Steve slapped out even more of a vintage tone.
Bostrom was deliciously sarcastic on "Sugar Coated Love,." maintaining the personality of the song with her choice voicing. The Poet kept it rooted in yesteryear with his effusive sax solo. The singer and band offered more of a cleaner sound on B. B. King's "The Thrill Is Gone," a more modern selection from the annals of blues music. Bostrom sand sweeter, prettier, and higher as Silvertone Steve got a bit leaner, meaner in his execution. He went into King's style of playing more notes than chords. A profoundly longer melody line carried the tune well. The Poet found himself filling the space between the voice and guitar and the rhythm section with carefully measured brassy waves. There was just a huge coolness to this number that had to be heard.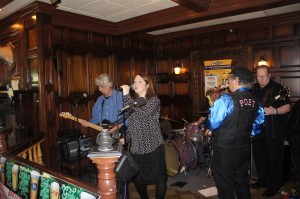 "Night Train" was a snappy, punchy piece of guitar and sax interplay. Rippling guitar lines turned into shards of sharp expression, notes that darted around the flexible groove. "Sick And Tired" gave Bostrom another change to show her take no mess side. Her timbre grew appropriately husky to emphasize the singer's frustration with the lazy, good for nothing man in her life. Bunzelle's bass tone was low and thick and knobby, offering up warm low end runs. Bostrom delivered the goods on "Tore Down," her vocal phrasing wrapping themselves around the words to milk as much feeling out them as possible.
"Rock This House" had a bossy, pushy groove while Bostrom, Silvertone, and The Poet strutted their stuff over it. The JJ5 conjured a rich house party vibe with their loose, jam feel on this number. Some nice touches came from Silvertone near the end, jumping, jiving notes that danced around the beat.
The Juke Joint 5 play a lot of blues venues around greater-Boston and the router 93 and route 495 corridors. They offer a lot of fun music that is almost strictly classic blues. Serious blues fans would enjoy this band.