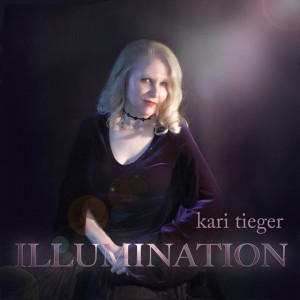 Kari Tieger's latest album Illumination is a delightful combination of bouncy, show tune inspired pop and singer-songwriter sensibility. Don't let the jaunty lightness of the sprightly music fool you. Much seriousness abounds from the lyrics Tieger has written and from the covers she has selected. While her especially lovely voice and dainty piano lines feel uplifting, she can be contemplating anything from isolation and sadness to the mysteries of the universe.
Tieger isn't flying solo. She has a list of skillful musicians contributing their instrumental finesse to her tracks: Lindsay Addler, Sara Bartel, Jon Patrick Brennan, Sheryl Cohen, Erin Quinton Erban, R. A. Fish, Paul Gabriel, Josh Kane, Marcus Monteiro, Dave Price, Ron Schmitt, Alex Tirrell, Katie Waters, Barbara Zdravesky, and the Reed Quartet, Jessica Carrera, Ian Greitzer, Josh JK Bone Kane, and Jim Kassal.
"Music Of The Muse" comes trotting in like something out of a pleasant dream. Tieger's lovely, lilting vocal line carries the listener along with its sweet timbre and easeful glide. An upbeat flavor from gently picked electric guitar, peppy percussion work, and a breezy keyboard melody carry one right into her world of svelte soundscapes.
The snappy rhythmic drive of "The Way Things Used To Be," by Kevin P. Campbell, contains a gentle push beneath Tieger's vocal charms. Her pretty, silky voice is simply a treat for the ears. Her voice glides in a positive upward motion as she accompanies herself with carefully measured doses of piano magic. A less is more approach pays off here as her voice gets to breathe and shine in the all the space left open by the sparse accompaniment.
"4 AM Lament" enters the listener's consciousness like a pleasant thought. Tieger's sweet vocal rides the rhythmic pattern of the song in a way that makes it seem easy to sing so skillfully. Tieger has crafted this one beautifully. The mellow lead guitar melody and its brief sustains are like sweet whispers beneath the lead vocal. It's a catchy number that becomes catchier and more alluring until it's infectious enough to stay in the listener's head for a long time.
Instrumental piece "Montmartre" combines pretty coos and sweet violin and viola melodies twirled into appealing confections of lightness and beauty. Segue into "Ah Poor Bird(For Margret)" and the listener is treated to Tieger's voice as she handles an ancient form song structure. Sounding like something you'd hear on a film score to movie set in medieval centuries, one can picture lords and ladies traveling by coach to a majestic castle to attend a stately wedding. Tieger finesses the original poetry by Jean Richie that adorns this traditional melody.
"A Ma Rose" finds Tieger making the most of her knowledge of the French language to conjure a feeling of romantic yearning. The language of lovers comes alive with each verse she croons. Soft, carefully placed piano notes fall like a gentle rain while a moody violin creates a moody backdrop. Brief but affecting, this rose makes you feel its need for even greater sunlight, a testament to Tieger's ability to conjure a mood and a setting with her dramatic music.
Instrumental piece "Invitation," with its carefree melodic excursions on keyboards, synthesizer, and xylophone bells, makes for a grand impression. Segue into "Chrysalis Catharsis." This one lulls the listener into its moody violin melody as Tieger croons with the careful sublimation of a Broadway performer. She gives just enough drama for her short piece here.
Tieger's "Journey Song" is a lovely expression of her silky voice. It's a treat to listen as she glides through her verses with an understated momentum. She trots over hillocks of keyboard and violin swoons, voice and instrument creating a joyful motion in their layered pleasantness. "L'amour" is a brief, light, lovely segue into "Winter Air(for Bernie)," another fine piece of musical affection from Tiege, a gift to one of her loved ones. Next, "White Coral Bells" plays with the sweet simplicity of a nursery rhythm, clever, compact, and yet, packed with tunefulness.
A lovely dance of flute and piano ushers the listener into the airy, ethereal soundscape of voice and violin melodies that comprise "Tout De Meme." This particular Tieger song treat reaches the grand talent level of opera, it soars and sweeps before settling into a comfortable zone. The song lands in a territory that sounds, interestingly enough, like it's influenced by old English folk music and chamber music. That might all get messy in the hands of other artists, but Tieger meshes it all into one tapestry of something beautiful and cohesive.
"Bonnie's Theme" has many pleasant instrumental melodies co-existing. Tieger's piano tinkling, violin, viola unfurl their sweeping sentimentality, capturing the ear with its exquisite sensibilities. "Shine So Bright" closes out the album with a charge of upbeat cheer and positive energy. You can picture knights galloping forth on their bright white stallions to bring happy news to the king. The cheerful mood spreads wide and deep, gives an insight in Tieger's personality, and closes out her album on a very happy note that will leave her fans eagerly awaiting her next album.