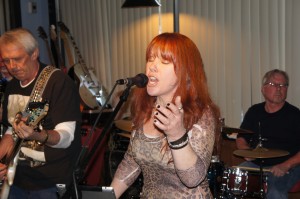 Kendall Bush brought her new band Mama Love And The Wicked Sons to the Wantu Blues Jam at The Village Trestle in Goffstown, New Hampshire a few hours ago. Bush rocked the microphone with four selections from her upcoming debut live gig at Boondocks Tavern & Country Grill this Saturday night in Weare, New Hampshire. Boondocks is just a few miles up 114 North from the Trestle.
Mama Love's svelte voice fit like a glove onto her rendition of Etta James' "I'd Rather Be Blind." Mama Love used her rangy vocal talents to slowly build the song into a soulful ballad with a narrative arc. Not only did Mama Love sing it with power, she delivered the emotional power behind this song.
Mama Love practically purred through her blues-rock arrangement of 1980's classic "Tainted Love." Her Wicked Sons kicked the number along with a bounce in their steps that made this version fun. Mama Love also belted with soulful class on her third number, "It Must Be Love." The veteran players who make up the Wicked Sons kept the music rugged and solid to support her towering vocal strength and nuances. Lead guitarist Craig Farrington soloed with plenty of wind behind his sail, offering a jumpy phrase that kept things lively beneath the voice.
Mama Love showcased, again, what she could do with the easy going, mid-tempo format on her closing number.
Aside from the impressive Mama Love And The Wicked Sons set, the entire jam went exceedingly well, with the house band and the guest players turning in plenty of fine moments. Wantu Blues Jams outdid themselves. I got there in time to see the house band start things up. The house band's guitarist Bob Pratte tore into a melody line with his good looking Electromagnetic Hollow Body Gretch. Next tune up, Pratte pressed out the gentlest melody line, cool, deep, easeful, right alongside Chris Noyes' sturdy build up on rhythm guitar. Soon after, Noyes sang it mild and steady, closing out his set with some fat, wide chords.
June Vaillancourt went up next to singer her little bit country-little bit rock and roll classics. Her raspy voiced worked fine on "Shake It, Baby," infusing the number with rockabilly energy. Vaillancourt plunged into "Folsom Prison Blues" with backing from Jerry Ray Basner on guitar, Dave Guillmette on bass, and Bob Pratte on the drum set. Basner picked that sharp, familiar lead guitar line with country style. Yet, it was Vaillancourt's authenticity at the microphone, her slippery rasp sounding right. She also got a fulsome strum going on her 12 string acoustic guitar. That hefty guitar gave off a mighty thatch of acoustic prettiness, juxtaposing a country roots sound next to that special voice and all that electric instrumentation.
The lady sang "Move It On Over" with muscular authority, full throated delivery. Basner, meanwhile, got more amplified in his spiraling lead guitar phase, giving it an over the top reach above everything else. "Money Honey" was another rockabilly standard that Vaillancourt breathed new life into.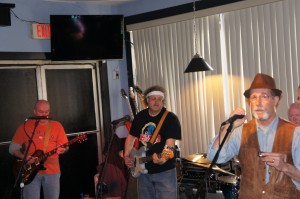 Otis Doncaster, from Otis And The Elevators fame, was the next featured vocalist, and he applied his rich, husky timbre to the Little Feat classic "Dixie Chicken." Doncaster made quite an impression at the microphone. He's just one of those hearty voiced singers with a large personality in front of a band. Thankfully, Wantu had a house band that could do him justice. Crackling lead guitar work from Bob Pratte filled the air with electricity as the rhythm section supported that ten ton voice with an authoritative stomp.
Doncaster chose to sing a Jeff Healey song from the Roadhouse soundtrack. Originally by Little Richard, the banging groove and clawing guitars gave Doncaster a rocking platform to launch his fiercely handsome vocal. Doncaster also belted out "Further On Up The Road" with a solid knowledge of the bluesy vocal style. His rich, fulsome timbre was as handsome and world weary as ever. He practically forced the house players around the twists and turns in the groove with each yorp.
Doncaster called Jerry Ray Basner to the bandstand because he needed a third guitarist behind him to sing Lynyrd Skynyrd's "Simple Man." Unfurling with edge and purpose, the groove rolled on down a long southern highway. Doncaster matched, measure for measure, the power of the guitars and the bossiness of the rhythm section. Boy, could those guys lock into a groove.
Local guitarist, Paul Dickinson, who once played in a band with Rush's Neil Peart, showed up to strut his stuff on lead guitar. Second guitarist Paul Speara played some sweeter notes around the Dickinson verve while harmonica man Dennis McKinney blew some tender harp lines. Paul Dickinson unleashed some more mean ass guitar phrasing on his next number. He just pressed out that lean mean melodic phrase like his fingers were on fire and he needed to keep them moving swiftly to douse the flames. Dickinson sang "Back Door Man" with bluesy swagger and authority, calling people to the dance floor with his vocal prowess. Here, McKinney blew a lilting line of moody melody before Speara unleashed a blistering sound. The players were blessed to have backing from the propulsive style of Joe The Drummer during this high flying, freewheeling set.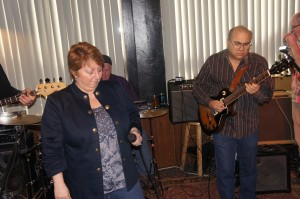 There was an uh-oh moment when the mighty-voiced Stephen Clarke came up to sing "Messin' With The Kid." Clarke's voice is so strong one has to hope the players know what to do with him. Thankfully, they did. You never know what's going to happen when that deep, husky voice fronts. Such musically adept talent, like they have every Sunday at the Trestle, like Dickinson, Speara, McKinney, Guilmette, and Joe The Drummer kept "Messin'" as tight as a drum while traveling at tornado speed. It thumped forward with locomotive power. During a prison song, that harmonica came in sweet and low as the thumping groove supported Clarke's hefty vocal line. The harmonica was practically singing its pretty notes, sending them by with whistled tenderness. Sax player Steve Roberge was in the middle of every instrument that was going on at once, providing an anchor for the players to swing around. Drummer John Carver came up a bit later on to also support "the voice."
Another vocalist, Lise Miller, got up to sing in her slow blues torch singer method. She cruised through "All Of My Love" with her deep, husky belt dominating the song, sending her frisky timbre over the bracing support from guitarists Michael DiResta and Michael Fioretti. Seeming most comfortable with the slow burners and mid-tempo sprints, Miller applied her raspy vocal to another standard, "Don't You Feel Like Crying." She drawled well over the take your time feeling she conjured when she goes down deep and meaningfully. Sax man Roberge blew a fantastic line as Miller wrapped her vocal around "Walk The Dog," another she made her own by layering her emphatic vocal texture over a familiar tune. Roberge, though, did the heavy lifting here, blowing a twisting, turning line around the moxie coming from the rhythm boys.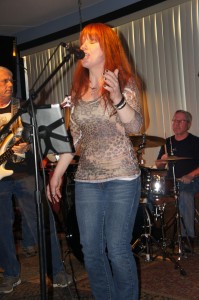 Bob Boudreau had the kind of chirpy timbre that could do justice to "Mustang Sally," another fun number that kept the joint hopping. Boudreau leads a tribute band that covers Roy Orbison and Conway Twitty songs. He can be found on the internet by looking up Marcus Knights. Boudreau is also a Texas Country Shoe Judge.
Next vocalist, Danny Swanson, performed "Blue Suede Shoes," "Superstition," and "Hard To Handle." This lead singer handled all of the raw emotions of his songs with gentlemanly front man aplomb. His voice got appropriately wider, raspier, and rangier at the appropriate moments, with a touch of old school charm to boot.
Near the end of the four hour jam, Trestle regular and  bass player, Bill Ingalls, lead the player through a dense jungle growth of blues. Ingalls also offered a heavy dose of R&B vocals on Bill Wither's "Use Me." Ingalls, never one to hog the spotlight, called Trestle co-owner Amberly Gibbs to the microphone for an assertive version of Adele's "Rolling In The Deep." Yet, it was guitar wild man Paul Dickinson who closed out the evening with "Rocky Mountain Way," complete with harmonica playing Doncaster and drummer Nathan Strout keeping things persistently rocking.
It wasn't just another successful Wantu Blues Jam witnessed earlier today. Many present will testify that it was a case of Wantu outdoing even themselves.