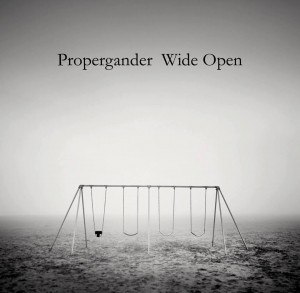 Propergander's new album Wide Open has enough classic rock influences to make the listener feel he is listening to something not only great but comfortably familiar. This Martha's Vineyard band's straight forward rock and roll is chockfull of good guitar lines, earthy vocals, and tasteful rhythm section touches. Lead vocalist Ernie Dewing has a plaintive quality in his timbre and projection that makes you feel what he is singing about. Guitarist Greg Holland presses out some sweet melodic phrases that sweep by like a magic carpet ride. Dewing and Holland are also keyboardists and that extra layer of organ and piano make their songs feel and sound extra soulful.
"Still In My Mind" opens the album with mild strands of guitar and keyboard lines that make the listener feel the song's psychological drama. Holland's mellow but very rangy guitar phrase makes you feel the time and distance traveled by the song's character. Dewing's gentle, amiable vocal timbre invites the listener right into his world. There is so much passion in the opening song that the rest of the album becomes a point of intrigue. Let's see what else they can do.
Title track "Wide Open," too, feels rangy, emotive, like the song has a lot to say and much to get off its chest. Dewing's vocal glide contrasts well with the wedge of fuzz guitar, melodic keys, and a supportive, tasteful groove. The rhythm section of bassist Graham Allen and drummer Mike Waitekus nudge the melodic motions forward with appropriate pushiness. The band's chemistry makes this all work. These four men don't just play together, they gel on numerous levels, including color, tone, and feel. By the end of the second song the listener feels that these tunes should've entered the classic rock lexicon decades ago and already be a part of what gets played on radio daily.
"Stay For Love," country rooted in its drawling sweeps of voice and guitar, is a beautifully sung number. Dewing, along with backing vocalist Lydia Parkington, just pulls the prettiness out of thin air. His voice just caresses his lyrical content with a chirpy earnestness while Parkington's second layer of voice caresses his warmly. The band's uncanny musical chemistry allows for each to show individual strengths while remaining locked into one solid groove. Holland presses out a lower guitar phrase as the rhythm section give him a generous boost with their placement of nudges and pushes.
A cover of "One Fine Day" is full of emotional pluck. The boys pour their hearts into this one, and the payoff is big. Dewing, as plaintive as ever, lets his soul shine through this moody number. Holland unfurls a bittersweet guitar phrase that sweeps up all in its path with wide feeling and understated authority. The rhythm boys kick it along with their usual aplomb, holding up their cornerstones of the gritty, blistering emotional tone.
"Country Comforts" jumps out of the gate rocking, twitching. This one, too, takes it time while giving off some sparks from Holland's jumpy guitar phrase. Dewing, singing over it more gently, creates a perfect contrast between grit and ease that fills this piece with that extra something, a bump of quality that doesn't come with every band. It's a treat to hear vocalist and guitarist each unfolding their magic, side by side, yet with different timbres. Holland uses dynamics to let his guitar phrase become one of those larger than life expressions that only bands with true potential possess. This song will make a listener feeling like going on a lengthy joy ride on a lovely Sunday afternoon.
"Riverwalk" finds Holland slapping a warm, fuzzy rhythmic phrase that leads the rhythm section into its snappy patterns. Dewing swivels his vocal line over the infectious boogie from the players. The guitar and rhythm section grow the middle of this song into something bulbous and leafy, full of matted sound that will make fans want to move their feet.
"Alone Together" finds Holland easefully winding his assertive guitar phrase around a deep, steady, meaningful groove. That guitar powers this one with its looming presence and fuzz timbre. You feel the grit in the lower guitar notes while higher notes jump out like melodic darts, sailing off into determined places. Dewing lets his vocal cruise through the heavy mood. A weight of the world on his shoulders comes through his breezy tasteful approach. Again, it's the way these boys make you feel what their song is about that separates them from the pack.
"Vertigo" is one of the prettiest songs on this album. It comes at you like a pleasant dream, gentle, with tender guitar picking, a warm, soft organ line, and a subtle forward nudge from bass and drums. The sweet tunefulness belies the dizzying lyrical theme, resulting in a humorous feeling as you realize a person has accepted that he's fated to feeling out of control.
"Some Forgiveness" has the breezy, rangy sweep of a film score. You can almost picture the riders coming into town on their majestic stallions as the song begins. Holland's unwieldy guitar break winds around like it had a mind of its own, giving the song a secondary pulse. Even down tempo, Propergander have got a lot going on. Their music has shifting textures that pull you into their sonic landscapes and their tunes make you want to stay there.
"James River" has an eerie tone that speaks of something ominous. This song is like a journey into a dark place, pulling you into a heart of darkness. Dewing's vocal sounds like its masking something frantic beneath the surface while the players slowly unravel something foreboding. Holland's lead guitar phrase keeps it edgy with its assortment of dark colors.
"Blame It On The Snow" finds the boys back into their down tempo, breezy guitar line, lilting vocal approach. Holland's guitar is almost singing out its lines, and Dewing's matter of fact vocal approach gives the song a hearty earthiness. "Home" too is a down to earth ballad about one man's longing to get back to where he comes from. Gritty acoustic guitars and Dewing's sprawling vocal created another special landscape. Listening to it might make you feel like you've come around the last corner in a long drive to someone familiar waving as you pull into the driveway. "I Can't Forget You" delivers more of the Propergander magic, layering earthy, rootsie guitars and sincere, poignant vocals. A fetching organ melody chirps its notes behind arcing guitar lines and a voice that feels so real. The boys close out their album with "All Change," a final dose of what Propergander have to offer, an Americana roots music piece with their sweeping guitars, organs, and vocals.
Propergander are certainly onto something good. Their songs come across like material that should have made it big in the classic rock era of the late 1960s to early 1970s. They take their influences from the best of southern, country, and roots rock and roll and they turn them into something grand and sweeping in each song. This Martha's Vineyard band needs to get itself on a New England tour right away.