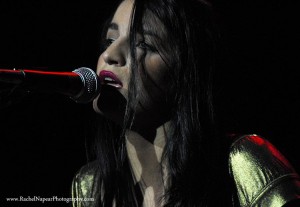 Sarah Borrello is on a roll. Last year, she won the New England Music Award for Best New Act. This year, she won the NEMA award for Best Rock Act. The early 20s rocker actually began playing out when she was only 15 years old. Her parents were bringing her and her brother to open mike events around their local Taunton area's music scene. Possessing natural abilities, things started happening fast for Borrello.
The recognition from NEMA is still resonating throughout the New England indie rock scene. "It's pretty amazing," she said. "I was really, really happy. I can't believe how far, I guess it's a career, but I can't believe from New Act to Rock Act Of The Year. It was a really crazy year. We did a lot of hard work, and it's really awesome to get recognition and feel like it paid off."
Borrello recorded her first album Therapy when she was 16 and her EP Black And White when she was 17. She, as a teen, had played a lot of shows at Legion Halls and VFWs with heavy metal bands. At one show, she met a young fan, Jay DeLuca who had his own home studio and went to the same high school as Borrello. "We formed a relationship," she said. "He has his own studio. It's called the Bear's Den. It's in Attleboro. It's an amazing studio space."
The two just clicked and started working together, recording together often. "We got really comfortable," she said. "I always brought him new material when I had it, and we always just worked together through high school, which was really convenient and awesome for both of us." she said.
Borrello was playing at a lot of Taunton bars when she was 15 and 16 years old. Her parents, brother, and she frequently went to open mikes all over Massachusetts and Rhode Island. She met several people, putting herself into a community of musicians. It didn't hurt that Borrello always had new material to try out.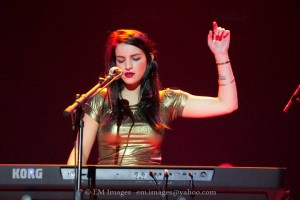 "I did as much gigging as a I could at a young age," she said. "Most of it was open mike features and half hour sets at a coffee shop. But, once in a while I'd play a bar, if they let me in." These days, she works at The House Of Brews, a music venue in Stoughton, Massachusetts. "It's music bar, and it's amazing," she exclaimed. "We have music four nights a week, and the family(of owners) has been so supportive of my music and told so many people about it. They're just a wonderful family, and they have great music there every week."
In more recent years Borrello has opened for Amanda Palmer, Shawn Mullins, and John Cafferty And The Beaver Brown Band. She opened for Palmer while still in college and she opened for the other two name acts in recent years. Palmer was a visiting artist at Massachusetts College Of Art where Borrello was a student. "We did performances every week and got critiques," Borrello said. "She ended up being in my critique. She actually really, really liked my music, and I ended up giving her a demo and showing her some of my stuff. She took me under her wing."
Palmer eventually e-mailed Borrello inviting her to go on tour for a while, including a stop in New York City. Needless to say, Borrello accepted the offer. "She's actually been super generous with me," Borrello said. "She let me do a lot of things with her. Even since then, I've done a few events with her. She's a hard working lady, definitely somebody to look up to."
Borrello record her first official full length album Exit at Bon Ivers in Wisconsin. While opening for Palmer at the Bell House in Brooklyn, she met someone outside who was originally from Wisconsin who is a friend of Bon Ivers. "She hooked me up," Borrello said. "She said 'Hey, I have friends that work at this really amazing studio', and it turned out to be Bon Ivers' studio. It was just an insane stroke of luck, really."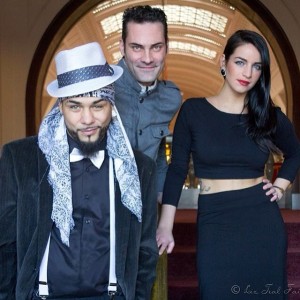 An amazing experience, Borrello got to stay in Wisconsin for a over a week, and her album was wrapped up in four to five days. "It was really intense and tiring," she said. "But, I love it. It's my baby." Borrello didn't yet have a set band, so she had to rely on Bon Ivers' phenomenal studio musicians.
She thoroughly enjoyed the collaborative and creative environment, working with people she didn't know. She had to be vulnerable but also perform her music well.
"I think it added a lot to the album, the fact that I was just learning how these people work and meeting them and becoming friends with them," she said. "It was also just great to have musicians coming in every day, just lending a hand, coming in and like 'Hey, can I play on this? Can I try something?' And I was like, 'yes.' It was a free for all, just like a lot of musicians walking in and out every day trying to add something to it. It was really cool. We had two drummers, two different bass players, two different pedal steel players. My brother played slide guitar and rhythm. I played rhythm We had an upright bass. It was insane how many people came in. It was a really, really awesome experience."
"When I came back, I had this full band album, and I was like 'Shit!' I need to have a full band all the time. I can't sell people this and play by myself all the time. And then, I met my band mates, and they're amazing. I love them so much." Groove Duarte plays drums and Billy Thompson play guitar. They play out as a three piece with Borrello offering low end from the left handed keyboard notes. All three live in southern Massachusetts.
Borrello is classically trained on piano but she took into her own hands voice lessons by emulating B52 songs. She endorses classical training for teaching her the rules, the difference between dissonant and consonant, and how to read music so she can play with others. When it comes to singing, she's not as formal.
"Because I didn't train in voice, I feel like I'm allowed to break the rules. That's been really great for me. I think stylistically it helps me not to be afraid, to not sound perfect all the time. With piano, I try my best to play as perfectly as possible. But my voice leads me to be a little bit more free and relaxed. It's a weird combination. I think it's very important to have some background in theory and some history of what the piano is or whatever your instrument is, it's nice to have that background."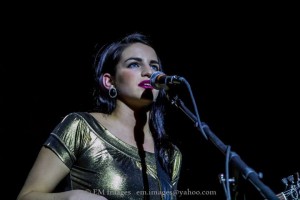 Borrello's music is a whirlwind of furious vocals, moody soundscapes, driving guitars and drums. It's almost an understated to call Borrello a rocker. Her lyrics and music she said, are inspired by personal experience and stories from her friends about their lives. "Lately, I've been writing a lot about performing," she said, "and what I use, my advantage in performing, and who my audience is, which has been really cool. I like writing about that a lot. A lot of it's just personal account."
Her songs are intense, musically and lyrically, making one wonder what she has gone through in her young life to inspire that material. "I've gone through a lot of things that other people have gone through," she said. "I've dated a lot of scumbags. I'm hypersensitive, so anything that happened to me, when I write about it, it would be totally magnified, dramatized. It was much more fun to write about than to live. My whole life has been really up and down, like anybody else. It's been high highs and low lows. My personality handles that in a really dramatic way. I don't really have a sob story. My parents have always supported me. I grew up in a house in a nice town. But, there's a dark part of me that is always alive. When I can tap into it, it's pretty intense."
Her manic rocker "Stranglehold" is about taking control of somebody who thinks he's controlling you. "It's like reverse psychology," she said. "It's a very physical song. The sound of it and the rhythm of it are the whole point. The words just kind of blend into the rhythm. It's about power play. It's about being on top of something and being the one in control when everyone else thinks that you're not."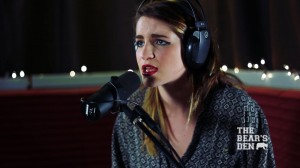 Borrello and her band mates are now in the studio working on a song called "Work It Out." She said it's more upbeat, less intense, but still driving without the angrier vibe. It's about what Borrello gets back from her audience.
"When you're a performer, you're always thanking everyone. You forget that everyone's thanking you too because you're there and you're working for them. And it's really easy to forget that because you just want people to show up and you're so thankful that they do. But, they're also really thankful that you're there too. It's a really amazing love affair that lasts about 45 minutes. Then, the show's over. Then you go home, and nobody knows who you are."
Borrello, at a tender age, was showing promise as a songwriter. She won the Boston Folk Festival Writing Contest at 15 and placed second in the John Lennon Songwriting Competition at 16. One wonders how she got so talented with a pen at such a young age. Borrello has always been a wordsmith.
"I've always read poetry. My favorite thing in the world was Shel Silverstein and all of his books," she said. "I would just get lost in poems, and I would always write poems when I was little. They were horrible. But, I just wrote all the time. When I got old enough to read more, I started getting really obsessed with words. My parents were always feeding me great music when I was growing up. Once I really got into music when I was about 12 or 13, I started idolizing people that were songwriters, like Kurt Cobain. I just had to try this. I already wrote poems and play piano and mixed the two, and it just came really natural to me."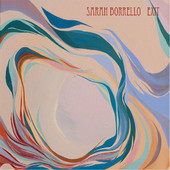 Aside from poetry, she also read a lot of books but admittedly quits after turning three quarters of the content. She used to have a fixation with dictionaries. She'd grab one and read through it. "I would just pick a letter, and then if I found a word that I liked, I would write it down and then I'd make a point to use it in something I was writing. I was constantly building my vocabulary. I was more conscientious about learning new words back then. I think it's really important."
Borrello's favorite prose writer is Edgar Allan Poe. She was drawn to his darkness but also the beauty of the writing, a prose style that allowed his readers to get past how gruesome it is and enjoy it. "He uses so much musical language, his rhythms and his words," she said. "He's almost like a rapper, in my opinion. The way he writes is so rhythmic. It's not even all poetry. Some of it's stories. Some of it's prose. But, he has a way of making everything sound so lyrical. I think that's totally what grabbed me besides the fact that it's all really dark and suspenseful."
Borrello has often named Janis Joplin and Fiona Apple as her influences. Apple has influenced her as a woman writing about things unapologetically and being unafraid to be honest and playing hard, not timid. "She's also extremely intelligent and her writing is unbelievable," Borrello said. "Janis Joplin paved the way for other strong women, women that were unafraid to be loud and crazy on stage and could stand next to any man and give them a run for their money in performing. She broke a mold there."
Borrello is particularly taken with artists who break new ground, create new genres, start new crazes. "It's different, and it changes part of music," she said. "It changes a decade. It changes something. That would be my ultimate. If I could just be one of those people that change the game, that would be the coolest thing ever."
Borrello said her next steps are to either tour with a national act and to get into a studio with a producer and "making some really awesome magic."
The singer-songwriter-keyboardist has set some lofty goals for herself. Whether or not she reaches them in the next few years remains to be seen. Regardless, Borrello will certainly leave a lasting impression on the New England Music Scene for some time to come.