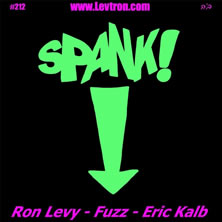 Spank! is the name of a short lived trio formed by keyboardist Ron Levy, guitarist Fuzz, and drummer Eric Kalb just over ten years ago. Fuzz and Kalb were members of the rising funk band Deep Banana Blackout while Levy was fronting his Ron Levy's Wild Kingdom. Introduced by jazz legend Melvin Sparks, the trio played some gigs around the North Shore area of Massachusetts and came up these tunes as well as the trio name Spank!.
Opening with "Spankin' James Brown," the trio launch right into their jazzy riffs on guitar and organ as Kalb smacks the skins with a deliberate punch that adeptly punctuates the melodic lines. Levy rides Kalb's speedier drum finesse and offers swift runs of organ chords that make one picture action, excitement. The keyboardist could almost be playing the soundtrack for a 1970s action exploitation flick. There is madness in Levy's pace, as if pressing out all of those hyperactive organ chords could conjure something larger than life. Fuzz keeps his riffing light here, putting the rhythm section pattern beneath Levy with ever so delicate lines.
"Hippie Huggah" finds Fuzz riffing with more of a heavier accent on his rhythmic line. He makes you want to move it as much as the drums as he slaps out each chord. Here, Levy is more into playing around the rhythmic groove. He offers a danceable pattern while Fuzz plays the melodic pied piper, leading the trio with his assertive lines darting around the center of the song with flights of fancy. A listener would want to see Fuzz playing these lines to see if there's a special trick to getting them so brittle, shiny, and greasy smooth at once. Eventually, the guitar and organs switch roles, with Fuzz slapping out the rhythm line while Levy indulges, briefly, in some shimmering keyboard work. The change up adds to the musical intrigue.
Title track and trio theme music "Spank!" is a feisty, rocking piece of funk-jazz. The number could likely inspire a new dance craze with Kalb smacking out an infectious beat in the middle of bumpy, rolling fills. Fuzz and Levy express a desire to funk with their speedy, jazzy riffs. The rhythmic pattern is everything in this number, and you can picture the fans on the dance floor ending their motions at the end of each line with a spank on their partners' spankable area. They also get a bright, colorful sound out of their instruments, something heavy but movable.
"Old Smoother" feels jazzier than the rest of the album. Its gentle, free-flowing melody line feels like something out of a 1960s jazz club. It's old school colors and tones feel very inspired by earlier artists even though this live album was recorded only about ten years ago at The Middle East in Cambridge, Bill's Bar in Boston, and The Makor in New York City. Fuzz makes the most of his guitar's possibilities as he picks a nimble, silky line of guitar bliss. His notes make one want to move to his snappy rhythmic adjustments inside what is mainly a melodic line. It becomes even more intriguing as it travels adventurously around the light groove beneath it. Levy keeps ending his organ lines with a chord that sounds borrowed from the Batman television theme. It works, punctuating this jazzy ride with an interesting, reoccurring splash of color. Throw in guest tenor saxophonist Rob Somerville for good measure, and it's a party.
"Stand Up" makes you feel the funk from the moment it gallops out of the gate. Fuzz is funking it up on the main melody line, one he keeps hitting with the coolest accents in the right places. Fuzz never runs out of cool ideas for riffs here, making his notes and chords dance all over the groove. Meanwhile, Levy handles his organ chords with a masterly aplomb. Levy slathers the groove with chords while Kalb brings it on home with bopping rolls. It's just a ball of fun.
"Blues For B.B." is a down tempo groove with gentle waves of organ chords and tenderly picked guitar notes. While taking its own sweet time, this number rolls out a wide sweep of warm blues, a sound that covers all in its path and likely had many couples swaying to its warm vibe. It's certainly cool how Levy presses out numerous single notes over the down tempo groove. He eventually takes it to a somewhat feistier place, slapping out more assertive chords to liven things up.
"Looky Pie Jam" finds the trio back in their rocking funk mode. Kalb is laying down a strident, danceable beat while kicking coolness into it. Fuzz keeps an interesting time with his funk guitar riffs, strutting over the arc between the drums and the organ. Fuzz plays what sounds like an electric horn line on his guitar, spiraling his line upwards, reaching dizzying heights with his manic phrasing.
Closing out the Spank! Album, "Grandsons Of Abraham" has got some interesting sounds strutting around. Fuzz walks his greasy, brittle melodic line around the block, keeping those slippery notes coming and going, slipping and sliding higher up the scale and up and down his fret board. He just picks them off with a carefree abandonment, soulfulness and talent as one. Guest turntablist Mr. Rourke scratches out some urban slithery sound as Levy taps out one funky chord after another. The organ flow and the funk guitar riffing contrast and complimenting each other in grand style, making both instruments sound larger than life as they strut in different ways over the consistently adept, speedy drum work.
Spank! managed to record this fun live album out of the original material they had come up with during this short lived project. It's another fine offering from Ron Levy's canon of record work, a project born out of his mind full of interesting musical concepts. Buy it online a.s.a.p. If you're a Levy fan, you will not be disappointed.