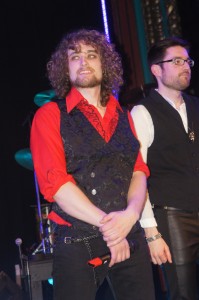 The Ultrasonic Rock Orchestra outdid themselves last night. That local Boston area company of singers and musicians performed The Who's technically challenging landmark rock opera Quadrophenia in its entirety. Not only did the URO make it sound right, they made it feel right. URO made one feel the way he felt when he first listened to this music as a young man identifying with its tortured protagonist Jimmy.
Performing, once again, at The Regent Theatre in Arlington, Massachusetts, this team of singers captured magical moments and exciting highs. With talent, creativity, and know-how, they didn't leave a musical stone unturned. From the opening seas side sound effects of "I Am The Sea" to singer Mike Leonard's intense performance of "Love Reign O'er Me," the URO either got it precisely right or at least close enough for rock and roll.
The URO's manager and band leader Sal Clemente belted out "The Real Me" like nobody's business, starting the show off with a bang. A multitude of backing vocalists, meanwhile, created a lush fulsome background with beautiful harmonies and coos. Mark Nigro proved his salt as URO's answer to John Entwhisle with his exiting bass runs here and through out the show. The bass is actually the lead instrument on "The Real Me" as the guitars play neurotic, free for all chords. Nigro had no problem carrying the heavy weight on this opening kick off number.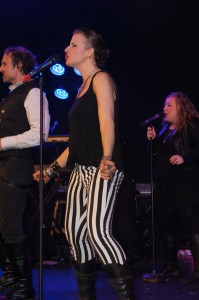 The extravagant main theme "Quadrophenia" was spearheaded by lead guitarist Matt Sullivan with his tuneful interpretation of the main melodic phrase. Keyboardist Tim Lillis's bouncy, sprightly synth notes revealed a lot of in depth knowledge of his equipment and tcontributed to the URO's ability to properly emote this music. This overture became even more exciting when Sullivan and the URO's other guitarist Clinton Degan presented a dual guitar approach, recreating the sophistication of the original album.
Female vocalists Christie Beaulieu, Maria Mae Clemente, and Fatima Elmi helped the audience get deep inside the lyrics to "Cut My Hair," each offering their own personal inflection on each emotion shifting verse. It was like three different vocal windows into the narrator's head, keeping a focus on the sensitive expression in the piece.
"The Punk And The Godfather" found the night's strongest vocalist, Mike Leonard, belting in true Roger Daltrey style. Not an imitation but rather using his pipes to deliver a raw, raspy take on Jimmy's angst. Leonard also had a charismatic stage presence that kept all eyes on him. The musicians and singers around Leonard were notably precise at the moments during vocals pauses, as they were highlighted more. Alan Ware's tasteful cymbal work sounded fantastic in the backdrop, as did the bass runs, and Sal Clemente's acoustic strumming.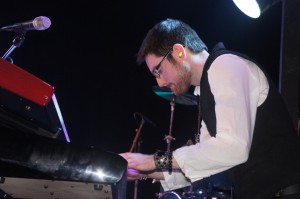 Vocalist Marie Mae Clemente let her rasp flow through the lyrics of "I'm One," milking those verses for all of their tenderness. Degan, too, captured what Pete Townsend was writing about in 1973 when he explained Jimmy's adolescent insecurity. Things took an exciting turn as Alan Ware filled in for Keith Moon with his manic drumming on "The Dirty Jobs." The entire band moved onto "Helpless Dancer" by building instruments and voices on top of its lilting, frightening piano chords. The jittery delivery of the voices helped recreate the neurotic societal back story to this piece.
While The Who's Quadrophenia album features a snippet of their older classic "The Kids Are All Right" that suggests Jimmy is hearing it on his radio, the URO performed the entire feel good number, which shouldn't have surprised any of the regular fans of this highly ambitious band. As the number was well executed, I'm sure it was a pleasant surprise to their new audience members.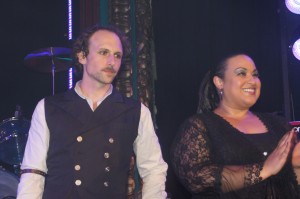 Fatima Elmi's soulful delivery and powerhouse vocal on "Is It In My Head" also rendered the angst of the narrator and this album. Then, Alan Ware kicked it back into rocker territory on "I've Had Enough," offering up plenty of inspired, hefty drum rolls to motivate the band and the crowd. By then, it could be seen and felt that every singer and or musician took turns bringing a charge of electricity to each number. Sal Clemente's ukulele created an emotional impact belied by its brittle melodic line. The lilting musical backdrop from synth, guitars, drums and bass offered a consistent, pleasant wave of sound beneath that ukulele tenderness
Kyle Martin's vocal on "5:15" was strong enough to hold its own against the rocking band while also exposing the psychological strain on the narrator. Alan Ware was, meanwhile, keeping a fulsome pattern underneath the driving force of this one. "Sea And Sand" was another fine showing from Mike Leonard. He sent his svelte voice sailing smoothly over the myriad of motions in the twisty verses.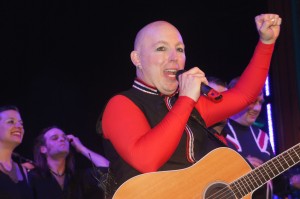 Christie Beaulieu put heart and soul into a gospel flavored version of "Drowned." The seven part choir around her helped create a church feeling, spiritual, soulful. It was a nice new take on this number. Next up was the English side hit "Bell Boy," complete with singer Jeff Munson performing a pitch perfect character voice interpretation of the lead vocal. "Dr. Jimmy," with Christie Beaulieu manning the microphone, came off like an anthem of bold defiance before "The Rock" made the audience feel the band building toward a climactic grand finale. Alan Ware drummed up a storm of furious skin smacking while keyboardist Tim Lillis played the frenetic and neurotic keyboard parts. Matt Sullivan came forward to lead the musical overture with a misty cool guitar arc.
Singer Mike Leonard had his best of many good moments when he sang lead vocal on "Love Reign O'er Me." Leonard hit the emotional soft spot beneath the song's rugged belting by making you feel the narrator's need for spiritual cleansing and renewal.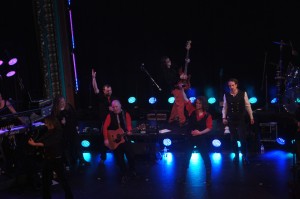 Not every moment in last night's concert was perfect. But there was never a dull or lame moment either. The only problem with Quadrophenia, as performed by the URO last night, was it seemed to end too soon. It didn't. It just felt like an event that should have lasted even longer because the material is from one of the greatest rock albums ever made and because the URO was so successful rendering it live. The URO treated the audience to encores of Aerosmith's "Mama Kin" and The Cars' "Just What I Needed" to showcase next month's Band In Boston concert, a tribute to the world famous bands that started out in Boston. The URO will donate partial proceeds to the One Fund. The concert will take place on April 19, two nights before the Boston marathon.
New audience members who came to see the URO last night for the first time were probably impressed that their third encore number was Queen's "Bohemian Rhapsody," which they performed with energy and nuanced detail. The URO is a highly ambitious group of people who are unafraid to tackle anything from the rock and roll canon.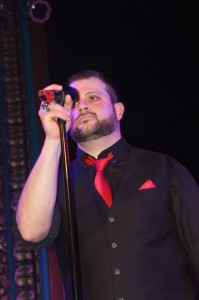 For more information about the Ultrasonic Rock Orchestra, next month's Band In Boston tribute concert, or the Regent Theatre, please visit their sites.