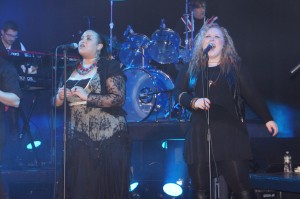 The Ultrasonic Rock Orchestra held the first of three concerts to commemorate their tenth year since starting their classic rock tribute series. Aside from their usual selections from Led Zeppelin, Queen, and The Beatles, the URO also played songs from The Who's Quadrophenia album and a couple songs by bands from Boston to showcase what they have planned for their next two 10th anniversary concerts. URO also threw in their original song "Child, Thy Name Is Rock" as well as AC/DC's "Long Way To The Top," complete with an electric bagpipe player.
Last Saturday night's show, at The Regent Theatre in Arlington, Massachusetts, as usual, was exciting and, except for a few technical glitches, well executed. Opening with The Who's "Baba O' Reilly," Sal Clemente's raspy delivery fulfilled the need for full throated vocals to match the bombastic instrumentation around him. Lead guitarist Clinton Degan slammed out some power chords before digging deeper into the punchy melody line.
Clemente's assertive acoustic guitar strumming of the familiar notes and chords to "Pinball Wizard" gave the song its backbone. Vocalist Mike Leonard belted with assured charm while harmonies from several backing vocalists and a consistent groove carried it all along. Segue into Led Zeppelin's "The Immigrant Song" and multiple singers taking turns at the microphone, each carrying the Viking vocals with muscular belts.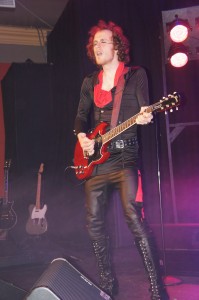 Maria Mae Clemente belted perfectly on "Tie Your Mother Down" while dual guitars from Sal Clemente and Clinton Degan empowered the song with tense energy. Audience members could likely feel that song coursing through them. Degan was on fire during the bridge, making a lot of spark with the speedy notes he pressed out fluidly. Another monster Queen hit, "Fat Bottomed Girls" sailed by on a gust of wind from the huge harmony vocals and a loosey goosey guitar line.
Segue into The Beatles to find "Dear Prudence" carefully constructed by layering electric and acoustic guitars on the popular melody line. Vocalist Fatima Elmi, half of the reason to see URO, sang it with a broad, clear timbre and captured the drifting, hazy mood of the song. Keyboardist Tim Lillis dominated the sound during the startlingly good rendition of "I Am The Walrus," keeping it awash in the unique sonic landscape of simulated strings and whatever else The Beatles had used to come up with this. Sal Clemente's edgy vocal rested in a space on just this side of sanity to present the eerie mood. Meanwhile, an unobtrusive rhythm section kept punching things up beneath the other musical drama.
Degan sang lead vocals on "Back In The U.S.S.R." over The Beach Boys style harmonies and a rollicking piano line. Fun stuff. Elmi ruled on "Helter Skelter" with her rangy vocal soaring over the song's package of inner musical tension.
Back into Who territory, there was a preponderance of bass in a good way on "My Generation." URO's new bass player Mark Nigro kicked it along with strong knobby, twangy low end lines and his brief solos were impressive in their tones and wallop. Nigro impressed throughout the evening, nailing the bass runs on The Who's "5:15" and "The Real Me," driving those numbers with his fat sound but also playing melodic low end lines that were supported by rhythm guitar. Nigro also strutted his stuff during the encore when URO performed Fleetwood Mac's "The Chain."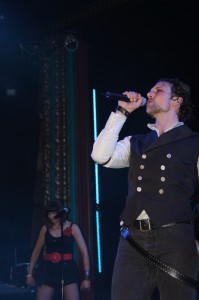 Mike Leonard was pure dynamite on The Who's bombastic, multi-sectioned "Who Are You." But it was the pure ensemble TNT from the backing vocalists, frenetic drumming, and propulsive bass that made this song the huge rocking number it was the other night. Feisty electric and acoustic guitars communicated in guitar language to project the electric magic of this particular hit. Degan's wild phrasing, played over Sal Clemente's aggressive broad strokes on guitar, made it a three dimensional flare up.
URO have made great strides to capture the gigantic, looming pop-rock ELO masterpiece "Mr. Blue Sky." Vocalist Kyle Martin managed that chirpy tone of the British gentleman. Sal Clemente handled well the guitar line that exists somewhere in between bright emotive expression and technical precision. The keyboards, needless to say, were a crucial part of this vibrant ensemble piece. The backing vocalists recreated the ethereal choir effect, giving the song its needed lift, loftiness.
The URO lost a lot of steam performing Led Zeppelin's "Black Dog." Vocal belter Christie Beaulieu sang with all her might, but that didn't quite cover up the lead guitar's lack of a towering presence. The six string needed to be much more prominent but lacked that coiled spring energy here. The URO did step it up a little bit with their take on "Whole Lotta Love," with Beaulieu and Degan both augmenting this number with ferocious lead vocals and lead guitar.
Aerosmith's "Mama Kin," a preview of this April 19th Band In Boston concert, found Clinton Degan unleashing a lean mean lead guitar while Kyle Martin rocked it at the microphone. There was even more bounce in their presentation of The Car's melodically sweet, danceable "Just What I Needed."
URO went into a lesser known David Bowie gem called "It Ain't Easy," which they offered with generous amounts of vocals and solid low end bottom. "Under Pressure," by Bowie and Queen, found Sal Clemente and Fatima Elmi right on the money in every musical detail and nuance. "Bohemian Rhapsody" allowed Lillis to show his elegant piano tinkling and the vocalists to show intense interaction between themselves and the lead singers. It was a mad, operatic explosion between voices and instruments.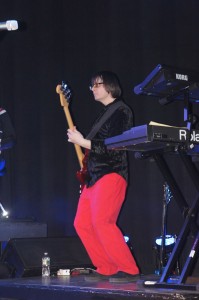 It was a good night for the Ultrasonic Rock Orchestra and the huge turnout of people who came to their show last Saturday night. More importantly, it bode well for their next two shows, since The Who numbers from Quadrophenia and the two selections from Band In Boston went over well.
Fans can come back to the Regent Theatre in Arlington, Massachusetts for both URO concerts in their tenth anniversary concert series.
March 29: The URO will perform The Who's Quadrophenia in its entirety.
April 19: The URO will perform songs by local bands who made it big, The Cars, Aerosmith, and Boston.
http://www.regenttheatre.com/tickets_events
Share on Facebook

Follow me on Social Media!