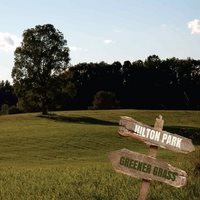 Hilton Park has made quite a name for itself in the circles of acoustic music. The trio of Bruce Hilton, Conor Hilton, and Gregg Pannier, based in Berwick, Maine, have a style as modern and fresh sounding as anybody in today's New England music scene. This trio by no means limits itself to acoustic music idioms. Their originals ring out in every note with pop brightness, harmonic finesse, and within the framework of good song craft.
The trio's latest CD Greener Grass is a solid document of their ability to weave many musical styles together and to present their ideas on acoustic instruments without sounding like any other folksy, acoustic outfit. This is not just another acoustic music album. It's a magical experience brought about by memorable melodies and many nice things moving around and alongside the melodies. One is transported to other times and places with the sweeping sounds that are found here.
Opening track "Goodbye Lilac Sky" finds the lead vocal as gritty as any in the rock milieu and the guitar playing is as assertive. Lush harmony vocals remind of classic rock as does the sublime piano notes in the backdrop. The song is pleasingly mellow and it spreads itself out with a confident wideness, letting the craftsmanship of the song breathe.
"Affected Nonchalance," too, feels like a full band song. Gritty vocals spread out wide and warmly as a seriously picked melody line is accompanied by tender note from piano and mandolin. Each note falls on the ear like a gentle, tender raindrop, creating an amazing sonic landscape with just these few acoustic instruments.
The stomping acoustic blues number "Harder Times Coming" comes at the listener with a serious, purposeful stride. The low end notes on the guitars and piano form a steady beat, and the rest of the instrumentation and the sprawling, raspy vocals just glide over. The trio really make one wary of whatever harder times are coming, playing with just a hint of menace in their harrowing, folksy harmonies.
Instrumental piece "Tashunka Chinkala (Little Big Dog) doesn't needs words to make you feel its tender emotions. It finds the guitars practically crying out a melody line with a high pitched slide. The acoustic guitar underneath the slide creates another warm thicket of emotion, and when the listener picks up on the sublimely tinkled piano notes, its stirs the feelings even more. There is a sense of loss and longing here that is only buttressed by the great affection they all must have had for what they lost. And Hilton Park put it across with skill.
"Walk On (Wakan)" has a breezy feeling within its perfectly accented notes and beautiful sandpapery voice. There is a magic charm in the warm acoustic guitar chords and its contrast with the brittle snaps of mandolin picking underneath it. These boys really know how to weave a wide acoustic texture. They are masters at making the listener feel that there is more going on than just three acoustic instruments and a voice. The trio, with the traveling feeling they create with their dreamy melodies, make you feel someone walking along and walking away from one situation to another. This would make a great movie soundtrack song for a motion picture that ends with one of the main characters walking down a lonely two lane highway after some kind of fierce drama.
There's more than a touch of the medieval world in their song "Dream A Dream." Their accents and cadences are straight out of the middle ages. While it makes this song sound slightly out of touch with the rest of their album, it certainly gets by on the strength of its smooth, flowing vocal and its tasteful mandolin playing. The song has a strong feeling of mission. One can envision Robin Hood and his merry men on a long journey across the countryside to find the next evil king to oppose.
"Sweet Clarity" is a tender call for a better, more meaningful life. Hilton Park can certainly create emotional portraits of the characters they write about. A solemnly picked guitar line makes one feel the song's main character dragging himself through his depressed, drug induced hazy world. The listener can also feel the song's yearning, a hopefulness for a more sensible view of the world. The easeful change from tender melody and vocal line to sprawling, warm chorus is amazing, making the listener feel suddenly swept into another world, from a moody introspection to a poignant, earnest plea.
Hilton Park close out this Greener Grass album with a cover of Cold play's "Life In Technicolor PT II." Taken from one of Hilton Park's live shows, one can hear how well their audience supports their energy level with their own enthusiasm. Tireless clapping becomes the beat for this cover of a modern rock song that the trio seem to let flow out of them. There's a sweeping arc to this song that cannot be denied. One feels the trio playing this song to a large crowd while keeping its emotions wide and embraceable. It's a plentiful spread that works well as a closer for an album of well crafted songs that all swing far and wide in their musical range.
Hilton Park are certainly onto something good. Combing acoustic instrumentation with classic rock and modern rock influences just might be the beginning of a huge music scene trend gaining more mainstream appeal. This Greener Grass album makes a great calling card for the trio at this time.

Follow me on Social Media!