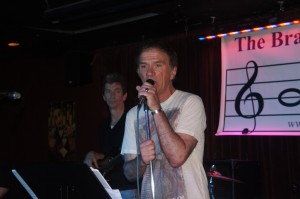 The Fifth Annual Bob Dylan Birthday Bash went off without hardly a hitch, and it was an evening of exciting entertainment, for all on stage and in attendance. Organized by the energetic front man from Napoleon In Rags, Bobby Livingston, the fundraiser benefited the Brad Delp Foundation. Created by family members of the late lead vocalist from the band Boston, the Foundation raises money for school music programs.
The line up was like a who's who of the greater-Boston and southern New Hampshire music scene. As it has in the past, Whippersnappers of Londonderry, New Hampshire hosted the Dylan birthday bash/Delp Foundation fundraiser. This year's Bash/Fundraiser featured a British Invasion theme, which provided many with memories of where they were when they first heard these tuneful nuggets.
Under the baton of the Master Of Ceremonies, The Mill 96.5 DJ Jeff Lawrence, bands were introduced, allowed to perform full sets, and had time to break down and set up in quick succession. The local Manchester area cover band The Slackas opened, and they blew the roof off of Whippersnappers with their fiery cover of The Rolling Stones classic "Gimme Shelter."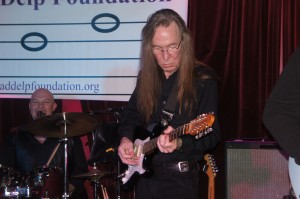 After The Slackas offered their tasteful renditions of timeless classic, Beatles For Sale came up to do their thing. "Tell My Why" and "The Night Before" were priceless gems that this band rendered with warmth and affection. Yet, it was their performance of "Hey Bulldog" that kicked things into high gear. It was just an energetic run through of a Beatles rocker that got people tapping their toes and nodding their heads to the vigorous rhythms.
The dynamic north shore performer Brian Maes came up on stage next to rock the room with his take on "The House Of The Rising Sun." Maes' distinct vocal tone did justice to this pensive, soulful, soul-searching song. The cracker jack support band built a mountainous groove beneath the vocal, and it was impossible not to feel something, a ghost from the past, memories of the first time this song played on your radio, something, while they worked their way through it. Maes and his boys went into The Kinks' song "Lazing On A Sunny Afternoon," and they nailed the moody vocal and the loping groove and quaint melodic quirks. The Brian Maes Band closed out their set with The Who's "I Can See For Miles," a song noted for its carefree, breezy flow, which they got right. The drumming was also really good, with a lot of good skin smacking in each measure.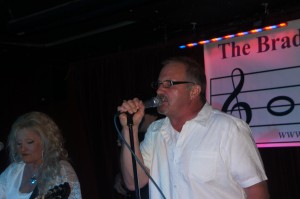 Next up, host band Napoleon In Rags featured two guest singers before they were joined by their lead vocalist, Bobby Livingston, who was busy managing the event. Gardner Berry, of Mama Kicks fame locally, sang "We Gotta Get Out Of This Place" with a strong guttural vocal that has gotten only better for him with time. Every nuance in the bass and keyboard was loaded with richness and resonance, and it got even better when Berry lead them into Bob Dylan's "Positively 4th Street." Its percolating organ arc and knobby groove were also a treat. At this point, Berry's wife, Beth Drociak Berry, browbeat this reviewer into mentioning her name in this review. "My husband was fantastic," Mrs. Berry exclaimed.
It was a real treat for the Whippersnappers audience when Napoleon In Rags then called up Coleen Walters to sing lead vocals on "To Sir With Love," "He Ain't Heavy," and "Wishin' And Hopin." Walters, from Detroit, had spent seven years on the Grand Ole Opry with Porter Wagner, and it shows. She has a one in a million voice, and she made people feel they were listening to a bonfide rock singer. She was fulsome and rangy on "Sir," cutely empowered on "Wishin," and she blew sweet harmonic melody on The Hollies classic, hitting the musical and emotional high points in the song in a way that made it look easy. Look her up immediately.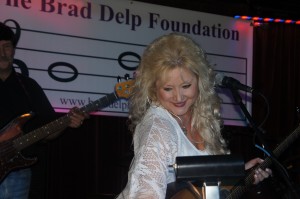 N.I.R. managed to get their main man, Bobby Livingston, on stage for his favorite Dylan classics . His flavorful interpretation of "Like A Rolling Stone" also featured a great organ sound and two beautiful backing voices, Coleen Walters and N.I.R.'s own Kim Riley. Riley was killer on acoustic guitar and Scot Gibbs played an incendiary take on the guitar phrase. Riley fronted well when she sang lead vocal on "Get Off My Cloud" and Livingston delivered pop charm on "Quinn The Eskimo," which featured Barry Goudreau's edgy guitar phrasing.
A Woburn, Massachusetts-based band called The Fischer Cats were a delightful surprise. Attendees might not have been too familiar with them before tonight, but it's a certain bet that everyone will be Googling their name in the morning. They delivered songs like "The Kids Are All Right," "For Your Love," "Shapes Of Things," and "Don't Bring Me Down" as if they had written them. The Fischer cats played with that combination of skill and joy that made the songs a three dimensional treat. Attendees way back in the dining room section of Whippersnappers were dancing and singing along to their rendition of The Yardbirds material. Keep an eye our and an ear out for The Fischer Cats. There's something special going on in their vocals, melodies, and grooves.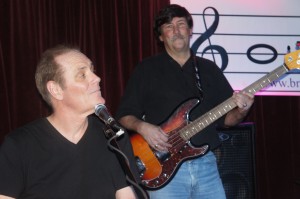 South Shore native and Beatlejuice veteran Bob Jennings sang beautifully and convincingly on Paul McCartney's "Maybe I'm Amazed." Jennings was also the epitome of smoothness on The Kinks' "Where Have All The Good Times Gone."
A band comprised of members of The Fools and Beatlejuice, calling themselves The Burning Sensation, closed out the night with a lengthy set of golden 60s hits. They had older people dancing and smiling like it was the first time they heard those songs. Mike Girard was at his most serious at last night's benefit. He was certainly in top form too. His beautiful voice shined on many classics. He sang "It's My Life" like a sweet anthem, and he had older patrons loving it. So too with The Peter And Gordon number "A World Without Love" from 1964. The organ work on The Kinks' "Well Respected Ma" was a highlight of the songs, as were the harmony vocals and the twisty groove. The highlight of The Burning Sensations set was clearly "Whiter Shade Of Pale." Steve Baker's organ swirls and the considerate Girard vocal phrasing made you feel the history of the song. It also pulled several couples onto the dance floor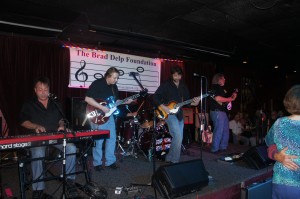 The Burning Sensations called several people onto the stage to close out the night with "Gimme Some Lovin'," and it was jungle thick with groove, vocals, and simmering organ chords. Girard told everyone to come back next year when Bob Dylan's birthday bash will be held on a Sunday.
The Fifth Annual Bob Dylan Birthday Bash was a roaring success. For only a ten dollar donation, attendees got to hear fantastic renditions of songs that they don't usually hear from their local cover bands. A few more Bob Dylan songs would've been nice, but the British Invasion theme worked well. Seeing audience members smiling from ear to ear each time a song started is usually the best sign of success. There were many smiles last night. And that is what music is for. Brad Delp probably would've agreed.
http://965themill.com/jeff-lawrence/
https://www.facebook.com/bobby.livingston1
http://www.whippersnappersnh.com/