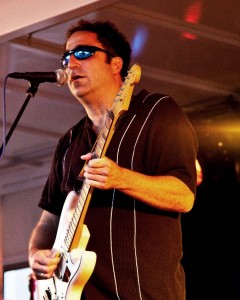 Jeff Pitchell has come a long way since he won an award for best guitarist in the state of Connecticut when he was only 15. That recognition catapulted him from playing junior high school dances to playing nightclubs with much older musicians. He went on to work with famous musicians. His next to latest album Heavy Hitter landed at number seven on the Billboard charts, and he recently received the recognition of his regional peers at the New England Music Awards last February. NEMA named Jeff Pitchell and Texas Flood Blues Act Of The Year.
"That was a great honor," Pitchell said. "I'm sorry I couldn't be there physically because I had to play. I was glad my mom, who's getting up there in her years, was able to go up there and accept on my behalf and the band. The band and I were just ecstatic and grateful for this award." He and his band were playing at Jonathan's in Ogunquit, Maine. They wanted to get down to the Lowell Auditorium after their show, but it would've been too late by then.
In 2002, Pitchell and Texas Flood released an album called Heavy Hitter that landed at number seven on the Billboard chart. Pitchell describes it as a compilation album because it had five new songs that he recorded with Bob Green in his Green's Florida studio for Green's King Snake Records.
"He used to play with the Allman Brothers, back in the early 6os, before The Allman Brothers formed. So he made this deal to put out some songs on King Snake Records, but we ended up going with Pyramid on that album. So there was like five new cuts and some of the songs were from my first records. It was sort of like my 'greatest hits' album. We cherry picked from the other albums."
It didn't hurt that Pitchell had guest musicians like Dave Mason, Clarence Clemons, Rick Derringer, and James Cotton to help make the Heavy Hitter album a success.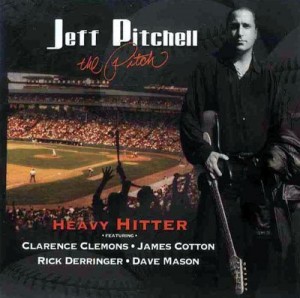 "To get on the Billboard charts was one of my proudest moments," Pitchell said. "It was great." Pitchell was influenced as a guitarist by Jimi Hendrix, Stevie Ray Vaughan, the three kings, Willie Nelson, Johnny "Guitar" Watson, Jimmy Vaughan, and The Fabulous Thunderbirds."
At age 12, Pitchell was studying classical piano, which made a strong impact on his current skills. It taught him to appreciate different chord progressions. "All these songs that we all like, they all have a certain progression to them. Studying classical progression makes you understand the chord progressions. At age 15, Pitchell participated in a best guitarist in Connecticut contest, besting many older players, the new found name recognition leading him to join club bands and wedding bands.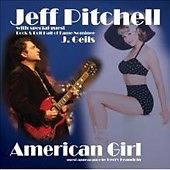 "I was hanging around with a lot of musicians who were older than me and they would call me kid," Pitchell said. "It was almost like a hazing like they do at colleges. In the same sense, I knew that if I played with older guys with more experience, their knowledge was going to rub off."
Growing up, Pitchell owned the Jimi Hendrix Smash Hits record when he was learning how to play guitar. He learned those songs in a school program that was run by a nationally recognized music teacher. This school music project took place, for Pitchell, back in 1978 to 1981, when it was ahead of its time, 20 years at least before such music programs were popularized in the Jack Black movie School Of Rock.
Pitchell's music classroom had murals of guitar heroes and a hundred guitars for students to choose from. Pitchell quit playing school sports to form a junior high school band that played dances at his junior high school's dances and other junior high school dances and assemblies throughout the north east.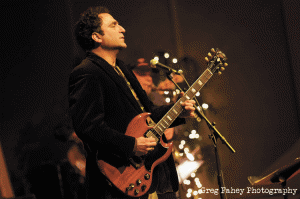 "Because we were a young band that had a 25 song song list at that age we were able to" tour. Pitchell's music teacher got 25 students involved with the band. Some students were in the band, others ran lights or sound or built a PA system in the school's woodshop.
"At 7th, 8th, 9th grade I was a part of a team of musicians and friends that collectively put on a theatrical rock and roll concert that went to all these schools," Pitchell said. "I was fortunate that Skynyrd, The Allman Brothers, Hendrix were popular bands on the radio. So the advantage we had as kids, which what kids today don't have, is that guitar oriented music was prevalent on the radio and very popular. So, we wanted to sound like the guys on the radio."
Pitchell found that Jimi Hendrix, southern rock, and blues were all under the same umbrella. "Hendrix, to me, was a blues guy who really kind of psychedeliced and amplified it out," Pitchell said. "Then, I had to learn who his influences were, which were B.B. King, Buddy Guy, Freddie King, Albert King. When he died, Stevie grabbed the torch from him and Stevie was doing a lot of Hendrix songs, and he became such a big influence on most guitar players that liked the blues and rock and roll." Pitchell had spent a lot of time admiring Vaughn's Texas sound and researching the new guitar star's sound and tone.
Pitchell, as an older veteran, eventually found himself meeting and playing with the guitar heroes who were painted on his classroom wall. "I've just been lucky enough to play with some of them," Pitchell said. "My dreams came true. I always dreamt that I would play with The Allman Brothers, but then it happened. Or, J. Geil's, or Bo Diddley, or Clarence Clemons. All these people, I just feel very fortunate that my life's path crossed with their, not just as a musician but as a person, which is more important."

Pitchell said one of the greatest rewards of being a musician is meeting the people who inspired him to start a career in music. He not only opened for them, but he played and recorded them. "When you record with someone you bond with them for life," Pitchell said. "The experience of making music with somebody connects you to that person forever. You feel you've given one another a piece of yourself on a spiritual level."
Pitchell began singing around the house to Tom Jones records when he was around five years old. He simply liked to perform for people at an early age. "The performance end of it is fun," Pitchell said. "People come to see a show, I try to give them a show. I don't know what I'm going to do. I'm certainly I'm going to take it somewhere else every time, take chances. I think that's what good performers too."
His Jeff Pitchell and Texas Flood came together through word of mouth as to who can play a certain number of gigs, who can get along, and who agreed on what material to play. "That's what makes us strong. We all like the same stuff," Pitchell said. "Sometimes that's the hardest ingredient to putting a band together."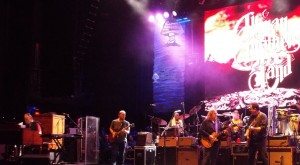 Pitchell has seen some personnel changes over the years, but it's been consistent for the last ten years; Marty Richards on drums, Jimmy Biggins on saxophone, Dave Natale on bass, and Dan Fontanella on piano. Pitchell sometimes features his Jeffetes backing vocalists Theresa Wright and Linda Ransom. Sometimes he has a second drummer like Ephraim Lowell or Steve Bankuti or Mike Levesque for big shows with bigger ensembles.
Out of all the recognized names Pitchell has played with, a recent memory sticks out. Gregg Allman gave him a thumbs up during his Beacon Theatre performance in New York City two months ago. "He wasn't playing is organ. He was giving me a thumbs up," Pitchell said. "For Warren and Derek to take me in to sit in with the band was a great honor for me."
Many people don't know that Pitchell once had a career as a fifth grade teacher in Connecticut. Knowing, back in 1988, that both his music and his teaching career would suffer if he held onto both, he chose a life of music. Right after he left his education job, he went on a band tour of the east coast. Pitchell, though, is still active in music education, teaching guitar and music appreciation in schools around Connecticut.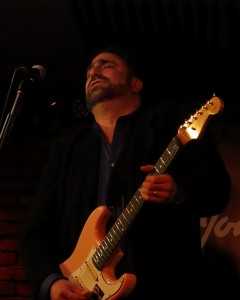 "I have a children's records, and we do go into some schools and play," he said. He brings his Texas Flood band mates with him to these school music programs. "We play songs off of our regular albums and songs off our children's record. It's educational, and we get a lot of kids to participate in the show."
Pitchell is also an actor, of the stage and film. While majoring in Elementary Education at Central Connecticut State University, he took a lot of acting and theater courses. He has worked in theater in New York City, and he had a good role in an independent film called Cathedral Pines. "To me, it's all performance. It's all interrelated," he said. "I've done a lot of workshops. I've done a lot of training. I still have my foot in some productions now."
Pitchell's 2012 release American Girl, recorded with J. Geils and featuring songs co-written by Jeff Silbar, was used for the movie American Girl directed by the legendary film actor James Woods.
Recording another album, this time with Charles Neville of The Neville Brothers, is Pitchell's next step. His goal is to make another album he's proud of and to take that music on tour around the country and over to Europe. Still, Pitchell doesn't consider himself to be a big star, except maybe to his own family.
"I'm a big star to my kids," he said, proudly. "If I didn't have a family, I'd probably be dead by now from all the crazy shit this business does to you. My focus is my family."