You've come a long way, baby. Chick Singer Night will celebrate ten years of success supporting local women in music. On June 7th, the Regent Theatre in Arlington, Massachusetts, will host a multi-artist concert hailing this landmark organization for local ladies in the music business. The concert will feature Vykki Vox Band, Michelle Willson, Porch Party Mamas, Valerie Giglio, Nichelle Mungo, Danielle Miraglia, and the CSN hosts Jennifer Truesdale and Marcia Macres.
For the few not already familiar, Chick Singer Night is the name of the organization as well as the title of the concert showcases each chapter hosts in their home cities. The national organization has been around for 25 years.
Boston chanteuse Jennifer Truesdale joined the then new Boston chapter ten years ago as an assistant director. "I was just really excited about being part of an organization that was so supportive of female artists," Truesdale said. "I thought it was really important."
At the time, blues singer Vykki Vox was the director who helped establish it. In 2009, Vox stepped down as director and Truesdale stepped up into the director position. Truesdale had as assistant director, Kristin Bythewood, for a few years until Bythewood moved to Austin, Texas. Since then, Marcia Macres has been serving as co-director.
Chick Singer Night in Boston began showcasing at The Lizard Lounge in Cambridge for their first two years of CSN's existence. During their third year, CSN-Boston moved their showcase to Johnny D's in Somerville. They've been holding their showcases at Johnny D's ever since. The upcoming tenth anniversary is being held at the Regent because of the expected turnout.
The national organization has 17 chapters in the United States and a chapter in Sweden. Their primary mission is to showcase and support female artists. Each chapter is run autonomously.
"In Boston, we decided to expand on that mission," Truesdale said. "In addition to showcasing local women artists, we also give money to local schools for music and arts programs. So, whatever profits we make at our shows, we give the money to those programs."
Truesdale pointed out that Chick Singer Night is a nonprofit recognized by the state of Massachusetts. "We also wanted to give back to our community," she said.
The women artists who perform at each Chick Singer Night showcase get selected after they submit directly or through sonicbids their music, bio sheets, and other information.
"What we try to do at the various shows," Truesdale said, "is they're not necessarily genre specific. But we try to put artists who we feel will appeal to a similar audience on the same show. This particular show really cuts across. We've got singer-songwriter. We have R&B. We have blues. We have country-folk singer-songwriter. We have some gospel. We're cutting across genres, but knowing these artists and having heard them and listened to them, I feel like they will appeal. The audience will enjoy them all. They're not drastically different." Some shows have been more rock oriented, in which their variety was within the rock context.
Truesdale finds greater-Boston to be an exceptionally good launching pad for female singers. She said it is an "awesome music community." "The talent is great and the audiences are interested in the music. I'm proud that we have a format for featuring female artists. I don't know that there are many other programs like it," Truesdale said.
Truesdale believes that her Boston chapter of Chick Singer Night has lasted these last ten years because of how passionate she and her staff are about what they do combined with how passionate the artists are to be a part of it.
"It's a combined factor of the artists who perform with us. It's a combined factor of the hard work of those of us who run the organization here in Boston," she said. "It's the fabulous response we get from the audience."
Truesdale had plenty of praise for the women lined up for the June 7th show. "We have Michelle Willson, amazing blues, R&B singer," Truesdale said. "She's been on the Boston scene for such a long time. She has several records on the Bullseye Blues Rounder label. And, then Porch Party Mamas, who are five women who are all singer-songwriters. They perform together and they feature each other's songs. Of course, the Vykki Vox Band." As Vox was the original director, CSN wanted to include her to tie together their chapter's ten year history.
Truesdale continued on about her June 7th line up. "Valerie Giglio, who is a wonderful soul, R&B singer. She often combines her soul songs with awesome Italian versions of songs. She's got that real Italian vibe. Nichelle Mungo, who is a voice instructor at Berklee College Of Music. She'll be performing. And, Danielle Miraglia, who is a really well known local singer-songwriter. Each artist brings her own unique personality to the show."
Truesdale noted that Berklee College Of Music's Office Of Diversity And Inclusion had come on board as a major sponsor. CSN's sponsors also include The Real School Of Music as well as Truedale's voice studio. "The Berklee sponsorship is one I'm really proud of," Truesdale said.
Vykki Vox said she had started the Boston chapter of Chick Singer Night ten years ago because she had heard from the national director, Lori Maier through a mutual friend. "I just loved what she was doing, and she asked me to come on board to open the Boston chapter," Vox said.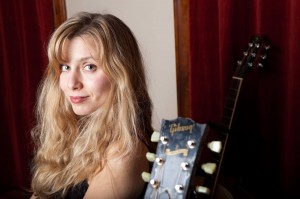 Vox, after seven years, had left her CSN post but still continues helping out on the side. Marcia Macres, who is a founding member of the Real School Of Music where Vox currently teaches, became co-director with Truesdale.
Each city chapter has a house band for the shows highlighting these women artists. Then, each woman artist performs with the house band's support. Vox's band was the original house band for Chick Singer Night-Boston. Vox, during her leadership, selected the women based on unique qualities.
"We look for people who have something special about them, no matter what their age is. I've had some of my students do it, once they got to a certain point. Jennifer's students also, when they get to a point where you feel they're really able to shine in a setting like that and can handle working with a professional band. That's when we bring them in. Then we have people who are much more established."
Vox agreed with Truesdale's view that greater-Boston is a great launching pad for women artists, but she mentioned that there are male musicians in the house band and that CSN features male musicians in other formats.
"We've had a lot of amazing talent come in, and the venues have been really great about working with us and helping promote it. I think people in general like the format," Vox said.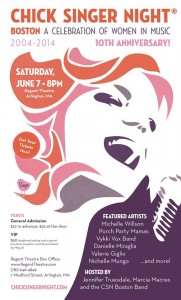 There is also a little sad news for long time fans of the Vykki Vox Band. This concert will also be their final appearance, ever. So, Vox will be closing out one chapter of her life in music while also celebrating the tenth anniversary of another.
"This is actually the Vykki Vox Band's last performance," Vox stated bluntly. "Our drummer just moved to Canada. All the guys have been with me for so long, I really don't have a desire to just go out and try to find another drummer. It's just not where I'm at right now. I'd rather do more writing and do a different project. My hands are pretty full at the Real School of Music too. I'm the director of voice instruction there. I'm responsible for all locations, not just the one I'm currently teaching in. It's taking over a lot of what I do. Performing is not as much my living now. The teaching is."
Vox said she has appreciated being a part of such an organization and to help start a chapter in Boston. "I appreciate what they're doing to keep it going, Jennifer and Marcia," she added.
Chick Singer Night's Tenth Anniversary concert will be held
Saturday, June 7, 2014 (8p-10:30p)
The Regent Theatre, 7 Medford Street, Arlington, MA
7 Medford Street, Arlington, MA
781-646-4849