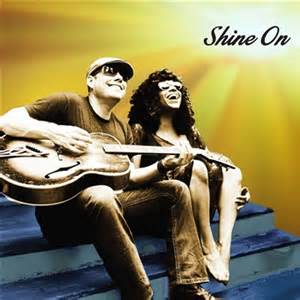 The album that a lot of people in the New England blues scene have been awaiting is finally released. Dwight & Nicole have come to greater attention since vocalist and songwriter Nicole Nelson had done well on a national television reality show singing contest. The pair's new Shine On CD does not disappoint. It's loaded with golden nuggets of Dwight Ritcher and Nicole Nelson compositions that showcase the finer points of the pair's application of their wide range of musical skills.
"I Need Love" opens the disc with its R&B beat and Dwight Ritcher and Nicole Nelson trading off on the lead vocal duties, infusing the number with their contrast of sandpapery croon and soulful belt. The infectious beat here will make you want to make your feet while the upbeat vocals and sprightly musicianship will bring joy to your soul. It feels like one of those great old time R&B songs that feels so familiar you'd swear this song became famous years ago.
The pair change the pace with "Tomorrow For Today," a soft, bopping number that quietly moves underneath Ritcher's gentle, whispery timbre. He finesses this one well, with his lyrics and the jazzy backdrop creating a film noir feel as he admires an elusive female. There's a traveling bass line underneath it all that carries this whole affair well. You cannot help but to get caught up in the atmosphere of this.
Using a variety of vocal approaches in one song is a valuable tool for this lady singer. "On Top Of The World" finds Nelson singing beautifully, her range lets her reach those vocal expressions that bring this number to vivid life. She brings it down to a quieter hush, letting the fulsomeness of her voice carry the weight. Then she shifts dynamics, and the song mounts a higher peak of musical exuberance and joyful vocal expression.
"Shine" propels itself forward with motion-filled drumming and a suave organ line. Ritcher's soulful voice, here, expresses itself in carefree offerings of smooth, emotive offerings. He hits an emotional peak, lets loose with a more dynamic vocal burst and fires off a smoking guitar phrase, the kind of melodic line that dances around the groove with an incisive feeling penetrating all in its path. You can't help but feeling what he wants you to feel when he presses out those notes.
Ritcher and the backing band move into "Plead" with an authoritative stomp from the persistent, throbbing rhythm section and the audacious guitar chords he slaps out. This tune explodes into three dimensional rock and roll life with horns blaring and the guitar phrase firing out of the depth of it all. Ritcher belts it with a no tomorrow, soulful abandon, and the tune kicks butt and takes names later.
"Colorful Girls" returns the CD to mellow groove, mischievous bass line territory. Nelson emotes coolly, letting her easeful vocal expressions build into something strong within the context of a gentle, rolling beat. There's a beautiful, colorful, and lush quality in every line Nicole sings. She's truly to blessed to have a voice that's as empowered as any musical instrument.
Ritcher and Nelson take it to a gentle but no less fun place for a while. "Smile" has a slight island feel. Its faux reggae beat whimsically carries its slowly unfurling upbeat lyrical content. The song is quaintly textured, offering much in its weaving of nimble bass playing, playful guitar riffing, peppy percussion, work, and an occasionally obtrusive horn section. "Saturday" is like a set piece to "Smile," It remains low key with a slightly faster but still gentle beat. Nelson finesses this one with her more easeful approach. It's a fine segue to the next piece. "It's Over" is another Ritcher low key piece. His smooth croon flows nicely over his tenderly picked guitar parts. "Out In The World Somewhere" features gentle but tuneful guitar parts from Ritcher that fill it up with more color and texture than what first meets the ear. Also: Nelson's background coos are sweetly sustained, making it heavenly in the backdrop.
The pair and their man Milt Reder close out their album with Leonard Cohen's "Hallelujah," the song that had briefly catapulted Nelson to the top of the television vocal contest show The Voice just over a year ago. Again, Nelson's beautifully soulful voice does justice to the Cohen material. She's a one woman choir, reaching the spiritual depths that this tune calls for, and she makes you want to hit the replay button over and over again. Hallelujah to you, Miss Nelson. And don't forget her name because she is sure to come back and do something big real soon. They both will.
Ritcher and Nelson have always come up with fine albums. This one is outstanding. Shine On features the pair and some of greater-Boston's best support players(Marty Richards, Marty Ballou, Scott Aruda, John Aruda, Dean Johnston, Eran Shaysha, Adam Clark, Jeffrey Eckman, Dan Hawkins, Zack Brines, Tony Mason,  playing in a freewheeling variety of styles and approaches that give great glimpses into the pair's potential for huge success. The two manage to keep all of their plentiful offerings within the context of their trademark sound. A smart label person should sign this pair immediately and get them even greater exposure and audiences.