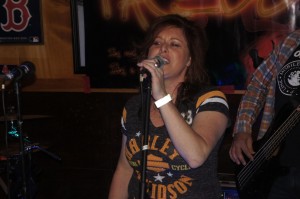 Facedown made yet another appearance at Boondocks Tavern & Country Grill in Weare, New Hampshire last night. It was clear why this unique cover band has been picking up a bunch of rooms in a hurry in southern New Hampshire. Lead vocalist Nikki Guidoboni has a very likable and very watchable stage presence. She also has a good handle on how to give each song what it needs to go over well with people who've been hearing them for years. The four musicians behind her were also top notch at putting across the music people having been dancing to and singing along to in their car radios.
Guitarists Tony Brackett and Leon Lemaire offered up a lot of feisty sound on songs ranging from Tom Petty's "I Need To Know" to Offspring's "Come Out And Play(Keep 'Em Separated)" to The Car's "My Best Friend's Girl. Whether they were tackling 1960s hits like "These Boots Are Made For Walking" or 1970s hits like "Never Been To Spain" to classic rock to modern rock, these boys never failed to rub their lead and rhythm guitar parts briskly together to come up with a thick mesh of cool music.
Facedown handled The Rolling Stones' "Bitch" with good lead guitar playing and solid rhythm. Next thing you know, the band is knee deep in the brisk, rhythmic country fun of "Gimme Three Steps." Grace Potter's "Paris" benefited greatly from Guidoboni's roaring belt and soaring guitar rock. Rhythm boys Bill Cava on bass and drummer Anthony Governanti kicked it forward with muscular thrust. Facedown played the song with the urgency of sex, and that how rock and roll should be played.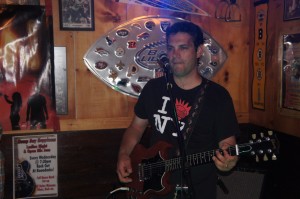 Guidoboni offered a gutsy belt on Offspring's "Gone Away" while the hard charging musicians played in tight formation. You could feel the power coming from the drums and bass guitar as well as the brisk, exciting guitars. ZZ Top's "Sharp Dressed Man" found the boys bearing down hard on that Texas groove before Guidoboni belted well with her silky smooth voice on Kings Of Leon hit "Sex On Fire," a number that found the boys kicking it out with a vengeance, and it rocked the house, garnering much applause from their good turnout.
Facedown quieted things down a bit with "Never Been To Spain," showing they have class and a handle on the fine details needed to make this song work. Harmony vocals between Guidoboni and Lemaire(who was singing lead vocals here) were especially forceful during the sweeping chorus, and, the lead guitar played a nice take on the main melody line.
Frenetic rhythms, belty vocals, and a good recreation of the guitar work brought The Cult's "Fire Woman" to vivid life. The tune just poured forth like a force of nature. The guitars were screaming and you could feel the energy level rising each time the dynamics shifted louder.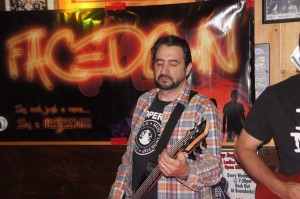 Facedown's second set began with Blur's "Song 2," a jumpy, fun number with a very danceable beat. They soon jumped into a tight, edgy version of The Who's "Squeeze Box" which kept the energy level high in the room. An even greater treat came when Facedown went into Jefferson Airplane's "White Rabbit." The bristling guitar parts rubbed their electric notes briskly together for even stronger effect while the rhythm boys built a solid momentum. From there, Guidoboni carried this one with tremendous power, mounting the heights of this number with a purposeful stride.
You know a band is having an impact on a room when regulars take it upon themselves to move a table outside to make a larger dance floor. Facedown packed a wallop with their take on The Black Keys "Gold On The Ceiling," pulling people onto the floor. Next, Facedown went into The Knack's late 1970s hit "My Sharona," which they played with the appropriately quirky rhythm and with Guidoboni finessing the snappy lyrical phrases. It was also a treat when Lemaire played its sweet melodic phrase.
Guidoboni sang well on The White Striped "Seven Nation Army" and the musicians had fun singing the words to The Eurhythmics' "Sweet Dreams" which follows a similar rhythmic pattern.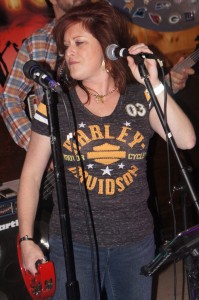 Guidoboni showed off her cowbell skills, moving around the dance floor with that hand held percussion instrument while the boys bumped "Low Rider" along. The guitars handled the original flute melody well while drummer Governanti handled the baritone lead vocals.
Brackett had fun singling lead vocals on Georgia Satellites' "Keep Your Hands To Yourself," and found that mid-tempo groove that works so well for Facedown.
Facedown had more fun with the barroom favorite "Save A Horse, Ride A Cowboy," pulling several more ladies onto the dance floor. The band had tricks up their sleeves. They managed the atmospheric guitar on Duran Duran's "Hungry Like A Wolf." It followed the twisty rhythms all the way through.
Moving into more modern territory, Facebook packed the floor with a bevy of dancing beauties with Daft Punk's "Get Lucky." Segue into Cee Lo Green's "Fuck You" where a bulbous bass line and Guidoboni's sweet charm on backing vocals made it another winsome number for the dancers.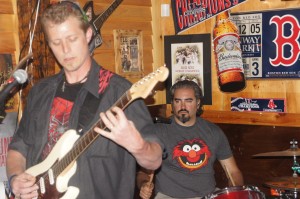 Facedown switched gears once again, sailing into Lenny Kravitz's "Are You Gonna Go My Way," playing some bracing rhythms as Guidoboni made a feisty lyrical delivery. Next up, the band nailed the clever back beat and galloping groove on The James Gang's "Seems To Me." Right after that, Brackett played some nifty slide guitar on "Ain't No Rest For The Wicked." Facedown captured the right vibe of the songs they were playing, which showed itself well during their interpretation of Foghat's "Slow Ride." The rhythm section pumped out the hefty groove while the guitars played that likable melodic phrase.
Facedown began their third set with Brackett playing some Van Halenesque finger tapping phrases, leading the band into Van Halen's arrangement of The Kink's "You're Really Got Me." The band captured the rebellious 1960s British Invasion energy as well as the Van Halen attitude and timbre. While the band was into hard rock territory, they nailed Aerosmith's "Last Child," capturing the slow, stomping authoritative vibe. Guidoboni hit the falsetto just right.
The band had their way with Collective Soul's "Heavy," making everyone feel the racing guitar tempos and the steady reckoning of the words. Facedown threw in some Led Zeppelin for good measure, letting their renditions of "Rock And Roll" and "Living Loving Maid" speak for themselves. They tackled The Smithereens' "A Girl Like You," another Facedown rocked right out on. The attitude, the feistiness, the hip guitar work was all there.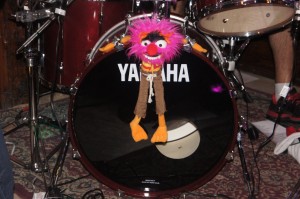 "Rocky Mountain Way" was loaded with muscular rhythms and a rangy guitar phrase. Brackett used a voice box to make his vocal sound like his slide guitar. "Sweet Home Alabama" featured a pretty guitar melody, driving guitar phrases, and a southern rock drive from the rhythm section. "Danni California" rode the groove well and Guidoboni milked the words for all the funk they were worth. Segue into Journey's "Lovin', Touchin', Squeezin'" to find Guidoboni hitting all of the pretty high notes vocally while the players did the heavy lifting. If all of that wasn't enough, they rocked out again with Judas Priest's "Living After Midnight," a rocking reminder of 1980. "She Hates Me" was a crowd pleaser. Facedown saved their rendition of "Boondocks" for near the end, which they only play at Boondocks. "Godzilla,' by Blue Oyster Cult was a timely treat and a bit of a surprise, as most cover bands do not play it.
Someone called out to the band that they didn't play a good ending, so they reprised Potter's "Paris" from earlier in the evening, and that corrected the problem of not ending big. The pace was dizzying and singer and players killed it.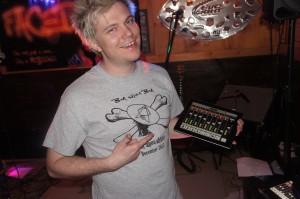 Facedown is certainly onto something big in their local cover band circuit. Not only do they play the songs people like, they interact well with the audience. Guidoboni is a natural at maintaining a rapport with the crowd. It doesn't hurt that technical wizard Jeff Rhodman was on hand to keep the sound flowing well with his hand held sound board.