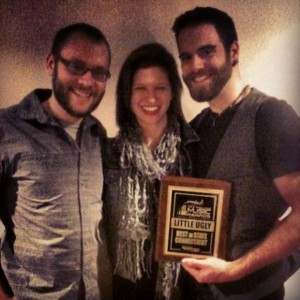 Little Ugly is a band with a big, beautiful mission. They're taking their acoustic pop rock to venues around the country to offer something new and fresh, hard driving rock and roll performed on acoustic guitar, violin, upright bass, and traditional drum set. Signs of their success can be seen in their huge fan base in their home state of Connecticut. After receiving awards in their home state for the last three years, they were named Best In State – Connecticut at the New England Music Awards last February.
"We were absolutely blown away," said lead singer-guitarist Michael Day. "We didn't expect it. We were just excited to go. We knew most of the bands that were nominated. It was a really awe-inspiring experience. We actually have phone recordings from our girlfriends who were sitting next to us taping it, and you could actually hear us just go 'What?' when they announced our name because we really didn't expect it."
Day and his band mates have also been humbled more locally by numerous awards and recognitions over the last few years. Their Hartford shows are regularly well attended. A Kickstarter campaign to raise funds for last July's EP Where The River's Born brought in double the amount the band was asking for. "It's always just really nice to have them vote and come out to the shows," he said. "We know we have their love here."
Little Ugly was spawned in Day's imagination after he left a band in which he played lead guitar. He had come to hate that guitar slayer role, and he no longer enjoyed taking solos. He picked up an acoustic guitar and started writing songs. His living quarters were also an ironic inspiration.
"I was actually living in a basement at the time, so I was writing these dark, moody songs," Day said. "Then, I would play them at a music store that I worked at. A couple of the other musicians who were teachers there as well would walk by when I was playing them. They would ask me what it was. So, I told them it was stuff I was working on. That's actually how the band started. It was a group of music teachers who were just jamming on my songs."
The person Day was working with then was their former bass player. Day eventually connected with drummer Nick Dickinson and singer-violinist Kaia Pazdersky, and it was the three of them until they picked up a new bass player.
"Music school is how I met most of them," Day said. "Our original bass player I met at the Hart School Of Music when I was going there. Our drummer I met at C.C.S.U. while we both were attending a music program. Kaia was through a mutual friend. We were just playing some songs and someone had mentioned a female vocalist who would really sound really good with us. So, she came out and opened up for us at a show. We just hit it off so we asked her to come play a few shows, and after her first show with us, we offered her a spot in the band. She plays everything. She plays violin, keyboards. There's a few tunes where she plays guitar, and she's obviously an incredible vocalist."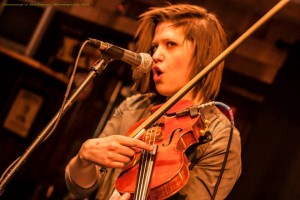 Drummer Nick Dickinson has been playing drums since childhood, and he's a classically trained percussionist with eclectic tastes, Day added. He teaches private lessons at music schools while Day travels to his students' homes. Kaia Pazdersky is going to be working at Downright Music and she teaches privately too.
New bass player Andrew Decker joined Little Ugly a few months ago. Kaia Pazdersky saw him playing with a band from Vermont. Decker was invited to play some shows with Little Ugly and became a member. Decker is from Collinsville, Connecticut. "He actually owns a music store out there called Downright Music And Arts," Day said. "We just released a series of music videos that we shot in his studio space."
The question that most people want to ask Little Ugly when they see the band in person an in photos is why do they call themselves "little ugly." Day said that there were a few things that went into that name. "I was living in a basement, and the music I was writing was much darker and moodier than anything I had done before. So, I thought the songs were a little ugly, and I didn't really think people would connect with them. Now, when we talk about it it means beauty in all things, even that which is a little ugly," he explained.
Day's influences include Eliot Smith, Jeff Buckley, Ray LaMontagne, and Damien Rice. Day draws his influences from singer-songwriters and some more rocking bands like Silver Chair. "I like bands that are a little bit more out there," he said. "I like heavy orchestration. If you're a rock band, and you have a string section, you're probably going to be my favorite band of all time."
Day said that Kaia Pazdersky is influenced by old jazz singers, show tunes, and that Nick began playing heavy metal and then moved into pop-rock while bass player Andrew Decker is a fusion guitarist who happens to be proficient in every string instrument.
"I think right now the stuff that's influencing us a little bit more is the folk infused rock that's going on," Day said, "like the Avett Brothers and Mumford And Sons. That stuff tends to be the stuff that when we were on tour, that's on the CD player all the time."
For Day, he is influenced by the way singer-songwriters tell a story. As far as the newer stuff he's been listening to, the lyrics have been inspiring him a lot more because he was not a songwriter before he formed Little Ugly.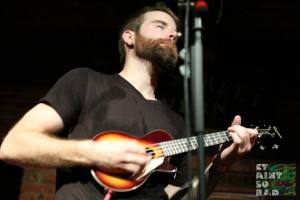 "The hardest part for me is lyrics," Day said. "I love playing guitar. That tends to come a bit more naturally to me. But writing lyrics takes me forever, so listening to the way they tell a story is definitely helping me kind of channel that inside myself. Listening to Eliot Smith and Damien Rice helps me build up my courage as far as getting on a stage with an acoustic guitar and just actually telling my story."
One Hartford music journalist described Little Ugly's music as a "chamber pop quartet." Day said it's indie folk-rock but that what other people call the band's music changes every month. "Once somebody calls us something and we're like 'Hey, that sounds cool.' We go with that. Each record is different. The first EP we called ourselves "orchestral folk rock" because our producer and I arranged full orchestra around almost every song," Day said. "The band was still a four piece. The producer and I went in and arranged cello, multiple strings, horn sections, things like that. The way that we arranged the songs was as if Little Ugly could perform with an orchestra. But, the next record is going to be much more organic, much more folky."
As for the huge support Little Ugly is getting for their acoustic folk-rock sound, Day believes it stems from the fact that they rock right out in the live setting like a rock band.
"The energy on stage is just so much fun, and I think that really draws the audience in," Day said. "We're playing violin and acoustic guitar, but we're head banging through out every single song. Even the mellower stuff that's on the record, when we play it live, we play it with a lot of aggression. On top of that, I think we're really easy to connect with for fans because of all our social media stuff. We're very goofy. We love to have that come across. We post stuff every day, even at home videos and stuff of us on tour. We ourselves are very close. We're a family, and we like to think of our fans as a huge part of that."
Little Ugly is also known for being a hard working band, once playing almost every night of the week, which was just in Connecticut alone. Now, they play once or twice a week. It is a full time job for all them. They just returned from their first national tour and they're heading out on tour for the entire month of August. "It was a few years ago," Day said. "Not too many people knew us. Even if we ended up playing for five people, we didn't care. We just wanted everybody to know the name Little Ugly."
Once that started happening, they needed to play every night but not in their home base of Connecticut. They needed to get outside of Connecticut as often as possible. "At first nobody knew us so it didn't matter," Day said, "and then it became huge over saturation. For the next few months, we play Connecticut a lot, but it's all special events. We just played a private party for the Best Of Connecticut Awards. We're playing a music festival this Saturday."
The material on last year's Little Ugly album Where The River's Born was inspired by Kaia Pazdersky's introduction to the band. Before she had joined, Day was still trying to find himself as a songwriter. His songs placed more emphasis on the music than the lyrics.
"When she joined, it almost became a really healthy competition between the two of us," Day said. "She would come with the most beautiful four chord song, and it would crush these 20 chord songs that I was writing. We just started showing each other what we could do. She would let me take her guitar parts and make them more my own. I would show her my songs, and she would show me a better way of phrasing something. By the end of it, we had that EP."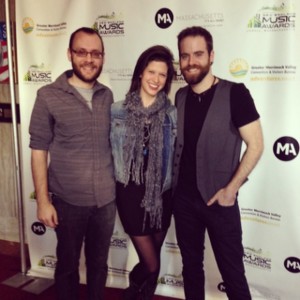 One song from their EP "Named After Saints" came from Day thinking about his own name. He was named after a character in The Bible that he never knew anything about. His parents told him they just liked the name.
"I was thinking about how that's become such a pattern," he said, "people just not knowing their history, not knowing where they come from, not even just our names. I don't know anything about my family ancestors. I've been finding out where I came from. That's what sparked the lyrics."
"Til The Earth Stops Shaking" was written by Kaia Pazdersky, being the first song she ever brought to the band. Day said it blew his mind. After the EP was released, Little Ugly released a one song called Sunrise that was written before the EP material. The band has the advantage of having two lead vocalists. Aside from helping each song sound fresh and new, it helps with the band member's stamina.
"The energy on that we have on stage; when I go back and watch the videos, I'm just blown away because I don't remember moving around that much," Day said. "I don't remember the head banging. So, after I'm done singing a song, it looks like I'm about to pass out, and then luckily it's Kaia's turn. I get to have a little break and play guitar"
There's a moment on the song "Oh Return" from Where The River's Born EP in which Kaia Pazdersky's singing voice goes up high in pitch and she finesses the lyrics masterfully, informing the listener that Little Ugly is not an ordinary local band.
"That's another one that's Kaia's," Day said. "She wrote the lyrics for that and brought it to us, and we just helped orchestrate it. With Kaia, I'm not one hundred percent sure where the lyrics came from. I think it has to do with a struggle she had to do in the past."
Now that Little Ugly have proven themselves in their home state, they're looking more toward the road. They've begun working with a management company called Black Lodge Industries. Little Ugly are also working on a new album, and they've released three videos on YouTube and they have a new music video coming out in a matter of weeks.
They only have one direction to go in now: "It's hit the road as much as possible and develop our Connecticut fan base everywhere. We definitely want to become a nationally known band."