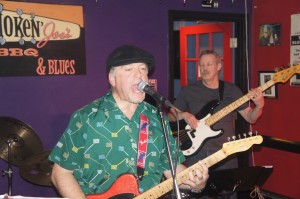 Peter Ward And The Electric Blues played Smoken' Joe's BBQ & Blues for the first time last night, and they proved they're the right kind of band for the venue. Bringing in their own crowd and keeping the regulars tuned in, Ward and his band mates played good, old fashioned blues, classics, and some overlooked nuggets. The Brighton blues venue was the perfect home for this outfit.
Opening with an instrumental version of "Everything's Gonna Be OK," Ward played in a breezy dinner hour vibe, injecting plenty of snappy notes at cruising tempo. Bassist Joe Delia laid out a fulsome low end for Ward to travel over while drummer Kathy Burkly smacked it all forward with pizzazz.
Ward's winsome smooth tenor carried "Some Day" well while Delia kept a steady pulse beneath him. Ward's guitar technique allowed him to put out a stream of brisk notes that contrasted well with Hank Walther's burbling organ chords.
"Oh, What A Price" was a charming blues oldie. It had a touch of 1950's rock and roll. Ward sang it in a gruffer timbre, putting more meat into an already beefy song. Piano tinkling felt like was teetering pleasantly between barrelhouse and 50s rock. Ward's slinking notes moved all over the groove, pouring more over the sides, like hot, delicious gravy.
Jimmy Reed's "You're The One" had a thumpy groove coming from Delia's pushy bass line and drummer Burkly's smacking buzz. Walther blew harp here, his greasy notes conjuring a 1950's roadhouse style blues. Ward's traveling, snappy notes, little bits of sound he moved around his fret board, shimmered, then danced over the mound of sound beneath him.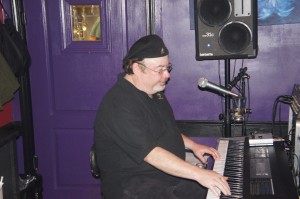 Ward made his notes tap dance through John Brim's "Hi Fi Sway." Ward and the band swayed their way to where he wanted to go, with electric piano notes sliding around with style. Brisk guitar notes traded off coolly with striking high piano notes.
Bass player Allyn Dorr, from Ward's former band 2120 South Michigan Avenue, came up to join in on a mean blues called "You Better Becareful." Barrelhouse piano notes from Walther, low guitar notes ground out by Ward, and knobby lines from Dorr flavored out the number well.
"Blues(Follow Me All Day Long)" was played as a down tempo, moody, crawling blues. Ward and the player made you feel as if you were heading to some place sinister. Guest harmonica man Mike Shaheen blew more emotive notes as organist Walther layered the tastiest line of greasy organ chords over it. All of that instrumentation set the scene for Ward's snappy phrasing.
Ward went into a lesser known Robert Nighthawk song titled "Kansas City," playing with a warm, amiable vibe, leading the rest of the players into a tasteful display of licks and tricks from each instrument. Next up, Ward's huskier vocal timbre rode over his even tastier guitar licks and Delia's thick low end on Guitar Slim's "Things I Used To Do."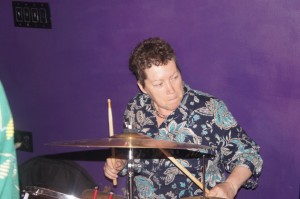 Ward lead his band mates into a tender country blues called "Don't Give Up On Love." Slow, touching, Ward finessed it tenderly with his honey smooth timbre and on guitar with his ever so dreamy phrasing. Ward and company loaded "Milk Cow Blues" with feisty blues licks, adept blues grooving, and the four piece milked every nuance out of every note, showing, as they did many times last night, that they are a real down and dirty blues band. Drummer Burkly kept knocking "Milk Cow Blues" forward with well placed smacks.
Ward played real down and dirty Texas blues on Johnny Copeland's "Down On Bended Knee." Walther's wailing, soulful harp swelled with old school Texas idioms. And the way the low end and the drums bumped it along added up to a simmering broth. Ward injected sharply toned notes that cried out with feeling in every line.
George Jone's "Why Baby Why" was a nice country blues aside to the evening's set list. A Texas style instrumental workout titled "Sidetrack" found Ward playing some hard, low licks while the band made the music sound as big as the Lone Star State. Ward eventually invited harmonica player Tom Hanraty up to play harp, and the man put out some greasy, sliding notes that felt perfectly at home with this band.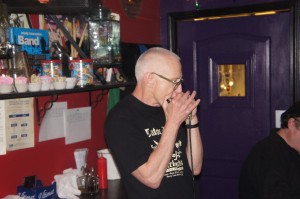 Ward and his crack players closed out with Merle Haggard's country classic "Sing Me Back Home." It was notable for its sadness, a forlorn melody emanating from Ward's perfectly accented notes. Walther's lilting, forlorn harmonica melody augmented the emotions well.
Peter Ward And The Electric Blues is one of those area blues bands who play authentic blues correctly. They all know how to find the right feeling in the notes they so carefully nuance. injecting everything they do with a wholesome blues feel. They had quite a solid following in the Brighton venue last night, and they will likely be back in that room before too long.