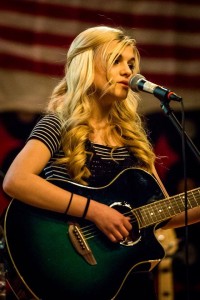 It seems fitting that Sarah Barrios was named New Act Of The Year at New England Music Awards last February. Barrios has been quietly advancing up the ranks of the local music scene. Going from open mike competitor in Connecticut to making the top 200 out of 11,000 at the X-Factor auditions on Long Island shows big promise. She's also playing out far and wide, gearing up for a New York City gig at the time of this interview.
Receiving New Act Of The Year last winter, in the minds of many, clarified what many have become aware of. Barrios is still exciting about receiving the plaque.
"It was really, really great. I was definitely really excited about even being nominated," she exclaimed. "I thought it was just a complete honor. I was so surprised. And just to go and meet so many musicians and people. It was really, really great. Then, finding out that I won, that was really surreal. I was not expecting it. I was sitting there with my mom. They called me name. I was like 'Oh my God. This is awesome'. My mom started crying. I'm definitely humbled by the win and the nomination."
It was only a year earlier when Barrios had showed huge potential. Landing in the top 200 out of 11,000 who had auditioned for The Fox Network's singing competition X-Factor got the attention of many already familiar with her. That wasn't bad at all for a contestant who was coming out of nowhere.
"I did not make it to the judges table, unfortunately," she said. "It was interesting to see how the TV aspect of those television shows work and all of the work that goes into it."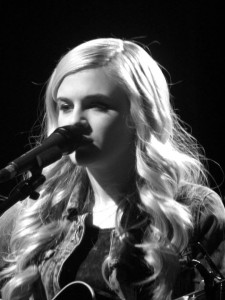 Barrios' first big break came after she won a competition hosted by Infinity Hall And Bistro in Norfolk, Connecticut. Infinity employees chose 12 regular open mike participants, of which Barrios was one, to compete on their main stage. Barrios was awarded a cash prize and a chance to open for Adam Ezra Group.
"That win catapulted everything else when it came to music," she said. "That was when I decided I wanted to continue doing this." From that moment on, things only got better for the Torrington, Connecticut native.
Barrios started writing her own songs around age 13. She was inspired when, trapped at home on a rainy day with a remote that wasn't working, she became a captive audience to a Taylor Swift biography. Barrios learned Swift had become a songwriter at age 13, so she picked up her guitar and that day she wrote her first song. "I've been consistently been writing and playing my own music," she said.
Barrios played flute in her school marching bands and symphonic bands, throughout elementary, middle, and high school. She benefited by having an outstanding band director at Torrington High School whose bands went to competitions. As a singer and guitarist, though, she's self-taught. "I can read some music, but not very well," she said. "My father taught me some chords.
Barrios includes Ed Sheeran, a songwriter for many artists, among her current idols and influences. Barrios admires his ability to tell a detailed story while keeping it upbeat.
"I've tried to incorporate that into the music that I write," she said. "I want to write a song that has meaning, and has a story, and it's very detailed. So when somebody listens to it, they can think of that in their head. I also want it to be catchy, fun, and enjoyable."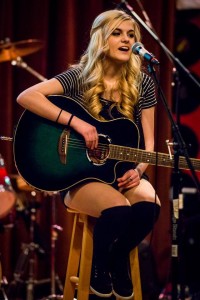 Barrios also likes to pen bluesy numbers too. Her interest in blues and R&B was inspired by Amy Whinehouse and Allen Stone. "I listen to them, depending on what I'm feeling, I'm writing," she said.
Barrios bases her own songs on experiences and thoughts she's had. Others will be about people she's seen on the streets.
"I'll see someone, and I'll think that person has an interesting story," she said. "I'm a big bookworm. I like to read a lot. So sometimes I'll just make up a character and make up a story and write a song about that."
Barrios describes her material as "acoustic pop with an indie twist." Although her music is pop, which she defines as very upbeat, she keeps an indie twist in there. Her songs have an edgy sound, and they're written to catch somebody's attention.
"That's how I kind of explain it to people," she said. "Once they hear it, it makes sense."
Her song "Don't Look Back" was inspired by observing how young people do not feel good about themselves, due to reasons ranging from weight issues to sexuality. Barrios focused her song on a girl who was afraid to go to high school.
"They're afraid of someone saying 'that's weird' or 'you shouldn't do that,'" the songwriter said. "I wrote it down to show that it doesn't really matter what other people think about what you're doing, the clothes that you're wearing, who you like, as long as you're happy with the things that are going on in your life."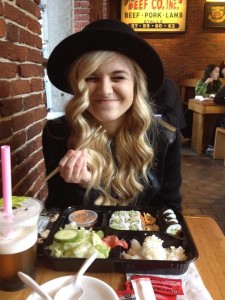 Barrios has a song called "We're Young" which was inspired by seeing an advertisement for the Coachella Music Festival. She has always wanted to go to that annual event. It inspires her because she likes the idea of an ideal place where young people can spend time together in one place. "I wanted to write a tune that was summery and had good vibes," she said.
Her tune "We Own The Night" was the first song she wrote when she became more grown up. It's about two people who were friends since they were children and had tried dating but it just didn't work out. "I wanted to write that feeling of growing up, having ups and downs," she said. "It's about going back to when they were little and remembering when they said 'we own the night, we're together, and it doesn't really matter about anything else.'"
Barrios may owe much of her success to her natural silky smooth vocal. Both of her parents sing and were in a band when they were younger. Her mom was the singer, and her dad played the drums. Music had filled her house since she left the womb. "My dad used to play guitar and we would jam out when we were little," she said. Barrios, at 20, has two younger brothers.
Barrios dreams of a future in which she is signed to a label and plays out to as many people as possible. "Music is the universal language, and it speaks to people," she said. "I think the best feeling in the world is when you play a song of your own and someone comes up to you and says 'that really helped me' or 'I just really like the sound of that.'"
On May 31st, Barrios opens for X-Factor's Riley Lynch at The Space in Hamden, Connecticut. She will play two songs with Lynch.