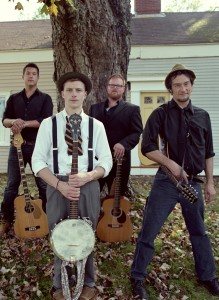 Maine's The Ghost Of Paul Revere have been on a roll this year. They released a full length album last January. They won the New England Music Award a month later. Now, they've embarked on a multi-state tour. Their non-traditional interpretations of traditional music are constantly drawing new fans to their music. But never assume that The Ghost Of Paul Revere is an Americana band. Their influences are as likely to be drawn from Radiohead and Led Zeppelin as the hundred year old American songbook.
It wasn't for nothing that these guys won the New England Music Award for Best In State – Maine. "It was quite the honor," said guitarist-vocalist Griffin Sherry from a stop in Kingston, New York. "We heard about the New England Music Awards a little before that. Then, to find us nominated, especially with some of our friends; it was great just to be nominated. And winning was pretty fantastic. The night before we had sold out Port City Music Hall for our CD Release Party, so it was a pretty incredible weekend for us."
Three of the members of The Ghost Of Paul Revere, Sherry, Max Davis, and Sean McCarthy have known each other since they were two years old. They had never really played music with each other until about three years ago. "I was playing music as a solo act and asked them to jump in, and it just kind of formed around that. Sherry said."
Last January, The Ghost Of Paul Revere released their first full length album Believe, displaying an evolution in style and sound. Their EP, released two years prior, was recorded only three months after forming the band, leaving the songs feeling and sounding fresh. Going back into the studio for Believe, they recorded songs that had been road tested for a year to two.
"We were much tighter as musicians, knew the compositions a lot more," Sherry said. "I think that was the biggest change is that we went in very much prepared for the whole process. We were in the studio and recorded everything live. It took us about five days to do. We tightened up our sound. It might be a little less raw than the EP. I think that overall, musically and sonically, it came together in a much more put together way. It was packaged a little more professionally." The full length, recorded by Johnathan Wyman, is currently the best selling local album in Maine.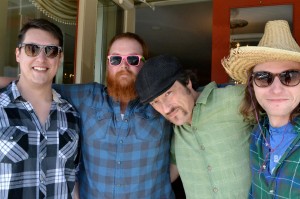 Many music scene officials have been tagging the Americana label to The Ghost Of Paul Revere's sound and style. Yet, their influences are diverse and often counterintuitive. Sherry grew up listening to The Beatles, Elvis Presley, Led Zeppelin, and Pink Floyd. The band listens to a lot of Tom Waits, old time country records, and bluegrass. "I still really enjoy the hard rock stuff, the Sabbath, and even a little of the metal stuff," he said. "In the tour bus we even listen to classical, so it's as broad a range as you can possibly think. It shows itself in the music, certainly."
The Ghost Of Paul Revere have a traditional looking stage set with traditional instruments, but they are just as influenced by the modern rock era. "We might hear something in a Radiohead song that we enjoy, and we try to translate that into just an acoustic band," Sherry said. "It's good to have those kinds of influences that help push the boundaries of what you're doing."
Sherry said The Ghost Of Paul Revere songs that he writes stem from his love of story telling. "A lot of times it's not really personal stuff," Sherry said, "but I can get influences from everywhere. I pick up little pieces all over the place."
His song "After Many Miles" was sparked by the sad, forlorn sentiment of writing a song to a person after he's passed on. The actual product was born when Sherry brought to the band a verse and chorus. They tried it with just the vocals. "Max and Sean wrote their own verses respectively to go along with the verses and chorus that I already had," Sherry said.
Their song "Woodman's Stead" was an old pre-revolution old homestead near where they grew up. The old domicile, in the song, represents the notion of having a lover who's not quite on the same page. "It's like taking a final stand," Sherry said.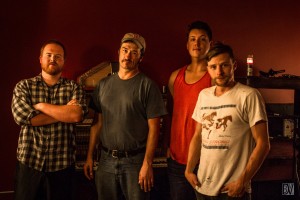 Sherry is only slightly surprised that his band's folksy, acoustic music has caught on as quickly as it has in a world of hip hop, heavy metal, and dance music. He feels it's his band's live performance that wins them over, four guys singing their hearts and souls out right in front of you with nothing but their acoustics.
"I think there's something really powerful to that, and I think people connect to that," Sherry said. "I think people want to go back to something a little simple and very true. It plays into the American songbook that's been going for a hundred years. Even if people don't directly listen to it, they're still listening to it because there's no way to escape it."
The band, Sherry said, call their music "holler folk" because it hearkens back to the idea of field hollers and communal based singing. "We were really into that idea once we started the band," Sherry said.
At this point in the interview Sherry turned his phone over to the band's banjo player, Max Davis. Davis likes his Ghost Of Paul Revere experience a lot these days because he's touring to parts of his home state of Maine he never knew existed. "I found a place where the music's new and the kind of people we get to work with," Davis said, "and being able to play with two of my best friends from growing up and now one of my new best friends I've just made five years ago. Playing with these guys has been incredible."
The band, Davis said, left Maine where it was 40 degrees outside and arrived in Washington D.C. where it was around 80 degrees. Aside from the weather, he's found the dynamic changes when working with and meeting new people. "I just love the act of traveling," Davis said. "We wrote a song on a friends' porch we were staying at over in Philadelphia, something about being in motion. Bob Dylan always used to say that something about being in motion on a train or in a car has some kind of strange spirit."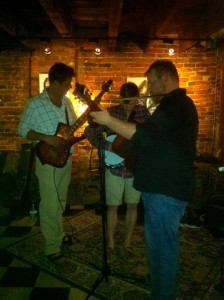 Davis is most inspired during the moments when he and his band mates are working on a song and things start to come together. He feels they now have a much more intuitive grasp on where each member will place himself in the harmony line and what they're going to do with their instruments. "There's a certain points where things just kind of lock," Davis said. "It seems like some things that are not forced but are organic. It's just incredibly inspiring when it happens."
Educated as a paint artist, Davis is interested in how small parts of a bigger picture go together. When his word combinations start to work with a melody, he can continue to flesh out the song "with loose ideas that began as smaller fragments."
The Ghost Of Paul Revere have been described as being born of the waters of the Saco River. Davis, Sherry, and bassist Seah McCarthy grew up in Buxton and Hollis Maine, two towns that are divided by the Saco River which runs through the state before going out to the ocean. Like Tom Sawyer and Huck Finn growing up and having adventures on the Mississippi River, the three played, swam, fished and boated in that Maine waterway. It was in those waters that their bonds were forged which might explain how the three sing so well together.
"We grew up together. That familial kind of thing, like the Carter Sisters," Davis said, "or any time you've get people who've been together for such a long period of time, you kind of know people's cadence and that kind of thing. It was just kind of born within that water just playing around as a kid."
Bassist Sean McCarthy picked up the phone next. McCarthy's deep, fulsome, baritone voice boomed through the telephone lines with hearty self-assurance. McCarthy echoed what Davis said about their childhood experiences by the river. "It definitely has that rural charm to it," McCarthy said. "But at the same time, it's not like we're not in the deep south or anything like that. There's also that New England mentality to it. It's not always warm. Our winters up there are pretty shitty."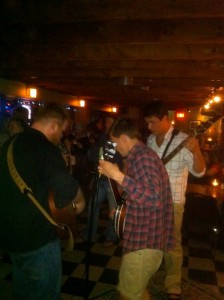 McCarthy said he cannot complain about a job that allows him to do the thing he loves the most in the world with the people he loves in the world. "We've always been really close growing up," McCarthy said. "They were the first friends I've had. We went off different roads for school and everything like that. But were always together. I guess since they're kind of brothers now, it's just so easy."
McCarthy is fascinated by how some people pigeonhole The Ghost Of Paul Revere into the Americana label. Ghost, he said, can diverge from Podunk country tunes to something influenced by Led Zeppelin to alternative rock, "if you can imagine that with a banjo."
McCarthy, though himself a bass player, said the banjo is apparently America's favorite instrument. "You can use it as rhythm-bass section," he said. "When Max plays with me when I'm playing bass, when he's claw hammering, those chucks take the role that a mandolin might rhythmically. At the same time, you've got that awesome twang, that awesome timbre which really introduces the music as the rural tune."
Harmonica and mandolin player Matt Young met up with his three band mates after college. Born in New York City, raised in New Jersey, Young wound up in Maine for college, meeting his Ghost mates as college graduates. That was six years ago. He took to them well, especially musically. The Ghost Of Paul Revere allows him to find unique musical parts to connect with.
"The banjo's got this really nice almost Appalachian deep southern quality," he said. "I never really played with a banjo player before, so there's a certain give and take there which I really enjoy. Then, you have Max's voice. He's got this very haunting, almost southern quality voice. It's just a great time playing along with that."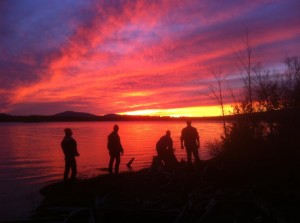 Young said his parts are inspired by different things, depending on the song. Some of the bluesy songs might have a mean edge, with Young bending the notes. For the mountain songs, he thinks in terms of northern ballads. "I'm going to kick in some almost keyboard like things that I do with the swells," he said. "Then, I'm going to throw down some really simple melodic lead fills."
Like the others, Young said the level of friendship among his Ghost band mates is what makes the band special, and he feels the emotional connection makes the music what it is. "There is also an emotional connection between each of us and the music," he said, "the music that we feel and the music that we create. We're basically in a deep strong river of music and good energy." Regular fans of Ghost feel that connection too while new fans wait to see their more up-tempo numbers in which the band is more in a swinging from the fences mode.
From here, The Ghost Of Paul Revere, Young said, would like to continue building a regional following, making sure that albums sales are strong, and always be working on new material. "I'd like to see us expand our geography a little bit more, getting down into the south and also taking some westward roads as well," Young shared. "It's a beautiful country, and I definitely want to share it with my brothers."