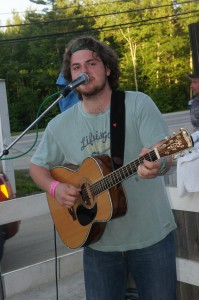 There's nothing like a solo acoustic artist who can keep his magic going nonstop. Last night, Brooks Hubbard played, as usual, a four hour set without a break at Boondocks Tavern & Country Grill in Weare, New Hampshire. Hubbard's more emotional songs drew a strong response from those in attendance, naturally. Since Hubbard has a special quality in everything he does which indicates he could be going places. As the weather was perfect, Hubbard got to play outdoors, just beyond the Boondock's front porch.
He strummed briskly one moment before soon sliding into a more melodic line with fine touches. Then, he suddenly slowed thing down, belted, held a note, sustaining it, savoring its rich fulsomeness. His original number, "Not A Love Song," showed something special in his voice. In the center of his smooth, flowing vocal, there is a peaceful center that carried along as he moved through his song. He also has that ability to swiftly pull an audience into an interactive thing with him. His strum and hearty vocal often inspired a hearty hand clap from his outdoor audience. "Not A Love Song" was just a joy ride of country music.
Hubbard showed he also has the true artist's ability to make someone else's song his own each time he played a cover. He captured the fullness of The Beatles harmony lines with only his own voice on "Ticket To Ride." And boy, can he sustain a vocal note. It's no wonder this kid is playing six nights a week, regularly. Hubbard found the chirpy rustic timbre in his guitar work when he went into the Grateful Dead's "Friend Of The Devil." You could feel, within his performance, how he dug deep into the tune to pull out the heart and soul and to present it to his own audience. Hubbard even made Journey's "Don't Stop Believing" into something folksy and personable, as opposed to just someone playing a rock song on an acoustic. He put a lot of his own personality in his guitar work while letting his natural, unaffected vocal work its own personal likeability.
With only his voice, acoustic guitar, harmonica, and his electronic bass drum pedal, Hubbard put his down to earth, personable feel into Woody Guthrie's "This Land Is Your Land," finding the amicability in this popular, century old sing along. Hubbard played each number powerfully, powerful on all levels. He hit high on the skill level with his finer melodic picking. Yet, he reached even higher levels when he asserted his voice soulfully over his adept guitar playing techniques. Hubbard is one of the few local players who can raise "Angel From Montgomery" above its status as the bar band cliché it's become over the years. Hubbard's muscular vocal assertiveness and heartfelt performance made it fresh.
Hubbard indulged himself in some country flavored offering without letting it become hokey and maudlin. His take on Randy Travis's "My Love Is Deeper" found him gliding through the meaningful, metaphorical chorus like he was born singing it. The solo artist switched gears a bit, getting more flinty in his picking style as he went into his new original "21" in its various tempos and sections.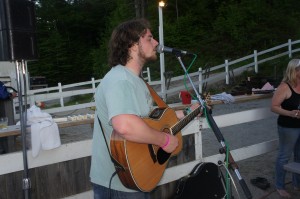 Some of his originals and selections found Hubbard injecting a low end line that gave his voice and melody a smooth road to ride over. He would loop his chords before pressing out a tasteful version of the melody line over his rhythm guitar parts. You could hear his lead notes whistling their pretty melody in the New Hampshire outdoors.
Some of Hubbard's story songs projected a feeling of traveling down a long familiar road to a place you'd always want to return to. This is because he wants to continually present a warm, positive message. People have enough unhappiness to deal with from time to time so Hubbard sees his music as an anti-gloom medicine. The youthful singer-songwriter infused James Taylor's "You've Got A Friend" with his warm personal vibe while a closer look revealed his talent caliber behind the magic. He was picking very sweet notes on his acoustic while his slightly lowered timbre made the song as warm as a romantic fireplace cuddle.
It was uncanny how Hubbard carried The Beatles "Something" through it various sections with the fulsomeness and three dimensional width usually associated with a whole band. He played John Lennon's "Imagine" with all the purposefulness required in a call for peace before whipping out some funk guitar lead then switching gears for Johnny Cash's "Folsom Prison Blues." Here, Hubbard went into his most aggressive, hefty strum. He rocked it up with a bit of action from his electronic bass drum while picking some tasteful lead lines on his acoustic. The kid showed more of belty singer side with The Doors' "Roadhouse Blues," giving the night more of swinging party vibe.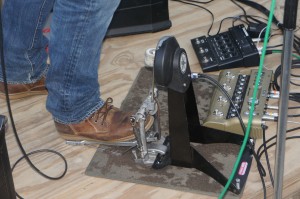 Hubbard's interest in newer singer-songwriters was on full display with his startlingly good rendition of The Avett Brothers' "Murdered In The City." Talk about a performer who can capture the emotion of a song. One could picture every scene in the lyrics because Hubbard was feeling it enough to make everyone listening pay attention. He eventually closed out, officially, with Bob Marley's "Everything's Gonna Be All Right," and that seem to make everyone feel better that Hubbard was getting ready to break down after playing his nonstop, four hour set.
Hubbard definitely has the magic in his voice, fingertips, and originals to go far. At age 22, he's still young enough to get signed to a major label. Hint, hint. Nudge, nudge. Wink, wink. That means you, Sony, Capitol Records, and Warner Brothers.
https://www.facebook.com/pages/Brooks-Hubbard-Music/120723247990492?fref=ts