Archives by date
You are browsing the site archives by date.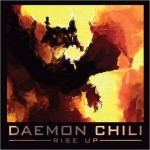 By Bill Copeland on July 29, 2014
Daemon Chili released the blues-roots drenched album Rise Up only a few months ago, and it's already catching the ears of music fans all over New England. It is certainly a must have for any fan of this sort of music. Every note from the Dobro, lap steel, bluesy piano, mandolin, accordion, and every instrument played on this album sounds so real it's not funny. Authenticity as well as pure joy come through loud and clear on every track. This is the kind of music that will take the listener back in time to a special place in Americana music, until it rocks out in a live setting to liven any concert.
Posted in CD Reviews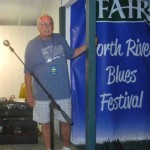 By Bill Copeland on July 23, 2014
John Hall is a very busy man this time of year. Hall is the creator and director of the hugely popular Green Harbor Roots Festival and North River Blues Festival at The Marshfield Fair. It runs the third and fourth weekend of August. Hall has quite a story to tell about his festival, the history behind it, and his multitude of other jobs, past and present, in the local music industry.
Posted in Featured Articles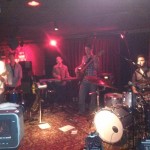 By Bill Copeland on July 20, 2014
Classic rock never really goes away. It just goes into niche marketing corners until the more courageous young bands take it out and unwrap it. Love In Stockholm played a solid set of originals and classic rock covers to a very receptive crowd at The Lizard Lounge in Cambridge last night. After a lovely opening set by the exceptionally strong voiced singer-songwriter Sarah Blacker, Love In Stockholm hit the ground running, beginning with a respectable version of The Beatles' masterpiece "A Day In The Life." Most bands wouldn't have the courage to rearrange The Beatles, yet this band fearlessly began their set with their own rendition. Their solid musicianship and tight chemistry announced itself with every note and chord.
Posted in Live Reviews | 1 Response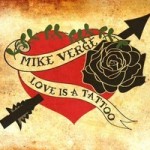 By Bill Copeland on July 19, 2014
Mike Verge's latest album Love Is A Tattoo comes during a time in the artist's life when he had to vent, get things out of his system. An outpouring of emotion in every track, Verge not only projects a lot of feeling with his mighty strong voice, he has his backing band sounding effusively beautifully. His slightly rasped voice comes across loud, clear, rangy, sailing over his sprightly melodies and bouncy rhythms. There's a timeless quality to each song here, making them impossible to attach to any particular era in music. Listeners hearing this album for the first time would likely have a difficult time saying it sounds like modern rock, classic rock, or oldies. The words and music were written with emotion, not trendy styles.
Posted in CD Reviews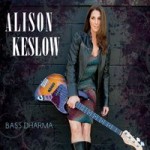 By Bill Copeland on July 16, 2014
Alison Keslow's second solo instrumental album Bass Dharma is a collection of jazzy originals she has composed and arranged around the strength of her bass playing. While her guest musicians have exceptional skills, Keslow keeps everything smoothly anchored with her low end finesse. Among lively flights of melodic fancy from the other players, she keeps her persistent talent quite present in her music. An exquisite composer too, Keslow has written truly impressive and likable arrangements.
Posted in CD Reviews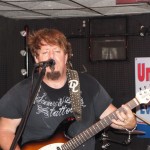 By Bill Copeland on July 15, 2014
Dan Lawson Band found a receptive audience at Uncle Eddies on Salisbury Beach, Massachusetts last Saturday night. Lawson's high octane guitar work went over big with regulars, bikers, tourists, and anybody out looking to have a good time. Lawson and his rhythm section came up with a lot of sound for a three piece and the acoustics at Uncle Eddies are superb for an outfit like this. Low, tiled ceiling, carpeted floor, and a spacious area that runs directly from stage to the front of the venue couldn't be beat for the sound to travel.
Posted in Live Reviews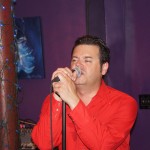 By Bill Copeland on July 14, 2014
Delta Generators have been on a roll since they won the Boston Blues Challenge in 2008 and landed in the top ten at International Blues Competition in Memphis months later. Their appearance at Brighton's Smoken' Joe's BBQ & Blues last Friday night marked the debut of an exceptional band at an exceptional venue. Like my bowl of chili went well with my andouille burger, the band and the venue were a perfect match.
Posted in Live Reviews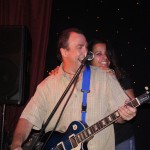 By Bill Copeland on July 11, 2014
Lee Hawkins has come a long way in the last several months with his Backs Against The Wall Blues Jam. Held every Thursday night at Capone's in Peabody, Massachusetts, BATW Blues Jam is hosted by Lee Hawkins Band, and it has been featuring many of the biggest names in the greater-Boston/New England blues scene. Last night, Parker Wheeler was on hand to lend his vocal and harmonica skills. Other guests helped Hawkins make last night another winning time for area musicians and music fans.
Posted in Live Reviews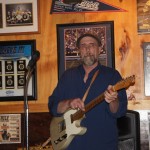 By Bill Copeland on July 10, 2014
Howard Randall and Mickey Maguire have been hosting the Wednesday night open mic jam at Boondocks Tavern & Country Grill for several weeks now. They've got it down to a system of not having a system, leaving it pretty free for players to come up and jam almost at will. This made for interesting combos […]
Posted in Live Reviews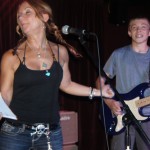 By Bill Copeland on July 9, 2014
The torch has been passed from one generation to another. Lisa Guyer has come a long way in the past two years with her Lisa Guyer Music Empowerment Program. Her one week course has become popular with young student learners as well as their parents. Guyer has a side project of her music course called […]
Posted in Live Reviews