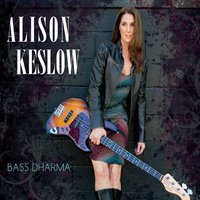 Alison Keslow's second solo instrumental album Bass Dharma is a collection of jazzy originals she has composed and arranged around the strength of her bass playing. While her guest musicians have exceptional skills, Keslow keeps everything smoothly anchored with her low end finesse. Among lively flights of melodic fancy from the other players, she keeps her persistent talent quite present in her music. An exquisite composer too, Keslow has written truly impressive and likable arrangements.
Keslow opens her album with the seven minute "Just Show Up," a jazzy number featuring trumpeter Phil Grenadier and the album's keyboardist Dennis Hughes. Hughes's brisk, tuneful work adds a lot of flavor to the number while Grenadier injects his vibrant melodic line with fantastic intervals of notes. It's a kaleidoscope of sound that works its way around Keslow's undaunted bass runs. She keeps it all politely afloat with her palpable groove. Drummer Mike Connors plays adept rolls and fills around the beat once Keslow takes that roll, which varies the groove and makes this instrumental even more interesting.
The bass lady uses all sorts of exchanges with the other players to add more sparkle to her sound. "Figure It Out" finds Keslow putting across a knobby bass line amidst lively stick work from Connors. This lively exchange in the rhythm section gives this number a fun dynamic to follow along with. Keslow comes to eventually smooth out her bass line, lowering its dynamics to support her keyboardist while he serves up a sweet melody above her low end. It's these twisty changes from one section to another that keep things fresh, original, and unpredictable.
"Open Dor" is a delight for the ears. Keslow plays frisky low end notes in clever intervals. She moves her low end line onto a free spirited dance with a bubbly, winsome likable keyboard melody. Low end notes and a high melody line move side by side swiftly. Cleverly, the composition takes a turn toward a gentler exchange between keys and bass. You can almost picture Keslow's fingers firmly pressing out her bass notes during the smoother portions while a keyboardist quietly taps out his magic. The speed of the musicians and their changes to each section of the piece continue to impress while pleasing the ear.
Keslow, during "Come And Go," supports, with her tasteful low end work, an edgy, feisty guitar phrase pressed out by Keslow's husband, Peter Wiernik. It occurs after she does the heavy lifting beneath the keyboards pattern that glides in the high register above her. Keslow gets her bass into a different kind of support position during the guitar eruption. She lopes around, leaving a wide open space for the six string to soar. Wiernik plays with a focused discipline, keeping his line appropriately dissonant for an excellent contrast with the other players.
"Aurora" features guitarist Scott Tarulli playing one of his artistically sound guitar phrases. Tarulli comes in with a strong voicing from his instrument without ever overwhelming the piece. Listening to his melodic line, in all of its progressive forward motions, forces the listener to also focus on the supportive bass line below. Keslow keeps her unobtrusive bass line moving in intricate patterns to move a lot of weighty music along.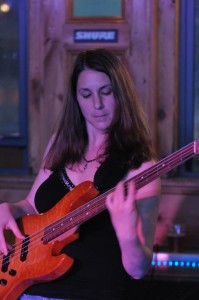 Keslow's own children, two boys, can be heard on the recording announcing her composition "Skyline." After that quaint sound effect, the bassist displays a thick low end line that moves with a graceful smoothness. It's a grand sound, knobby and palpable, and listeners have to like the interval of notes she uses. She goes toe to toe with drummer Mike Connors in a playful rhythm section workout while also supporting the spring action power of guitarist Peter Wiernik, once his guitar erupts. If that isn't enough heavy lifting for the bassist-composer, she supports a particularly effusive, vibrant trumpet melody from Phil Grenadier.
It is fascinating to listen to this musician manager her array of subtle nuances while also supporting or playing alongside her band mates. Keslow injects more low end throb to "Three For All." This brief interlude among her longer pieces finds the musician offering nice, thick dollops of pushy bass. It ushers the listener into "Past Bedtime," another where Keslow offers a heftier support line. It's a treat to hear her persistent low end running alongside a clean precise guitar line from Scott Tarulli, or, interlocking with keyboardist Dennis Hughes, she creating a quiet, thick wedge of bass while he taps out bright, gentle eloquence on his ivories.
Keslow closes her album with the more gymnastic workout of "Says Who." Instead of supporting the keys and the guitar, she is playing alongside them, giving them a run for their money. Her groove, with drummer Mike Casano, dances around the keyboardist's speedy single notes and chords with a low end charm.
Alison Keslow is a highly in demand bassist in the greater-Boston/New England music scene. And with good reason. Her range, mastery of nuances, and techniques shine in every composition in this instrumental album, Bass Dharma. This CD is a fine document of Keslow's wide array of talent and possibilities. It's also a must have for any fan of good instrumental albums.
www.AlisonKeslow.com

Follow me on Social Media!