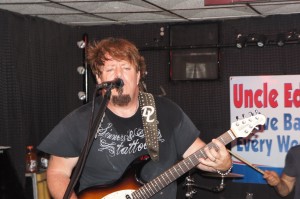 Dan Lawson Band found a receptive audience at Uncle Eddie's on Salisbury Beach, Massachusetts last Saturday night. Lawson's high octane guitar work went over big with regulars, bikers, tourists, and anybody out looking to have a good time. Lawson and his rhythm section came up with a lot of sound for a three piece and the acoustics at Uncle Eddie's are superb for an outfit like this. Low, tiled ceiling, carpeted floor, and a spacious area that runs directly from stage to the front of the venue couldn't be beat for the sound to travel.
Lawson has been at this for a while, and he knows his advanced techniques well. He also has a lot of funky gear attached to his live rig, and he uses it to get just the right sound he is looking for in each song. Exciting, intense, urgent are just a few of the words that come to mind when attending a Dan Lawson Band show. And, a show it is. Lawson is a natural born circus barker. His large personality commanded the audience's attention from the microphone between songs as much as his guitar work dazzled them.
From the intro to the last notes of the final song, Lawson and his rhythm section showed they had chops that most local bands don't. Lawson's guitar sound was so large, three dimensional, and multi-faceted that it sounded almost like it was created in a far away place and teleported to the amps and PA system on stage. A thousand rivulets of screamy notes were flying out of the speakers like an other worldly phenomenon.
DLB first went into some material from his second album. Lawson's guitar attack was blistering in intensity while his notes were sweet in tone. He also had fun conjuring the huge guitar sound from Pink Floyd's "Young Lust" before launching into "Soldiers Of Fortune," the title track from his latest album. It was marked by Lawson' fiery lead guitar fire power, a lot of notes flying out of the speakers. Amidst that huge sound, the driving rhythm section could be heard, moving that groove around underneath the lead, supporting all the phrasing and technique with split second timing. Lawson's technique has been honed through years of experience so only a crack, fearless rhythm section can support him. That's why he has bassist Jason Adams from Brookline and drummer Tim Provost from Bellingham to complete him.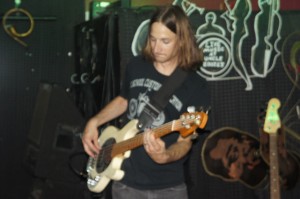 A later instrument piece was anthemic, and melodically complex. Lawson unleashed waves of guitar sound. He didn't play like a guitarist as much as a musician in the larger sense of the word, a musician who just happens to use a guitar as an outlet to put across all of his musical concepts. More intense phrasing came when he narrowed his sound down a bit to higher notes with quieter, sparser support from his rhythm boys.
DLB's take on "Cold Shot" was unadorned, showing respect for the source material. The song, as they played it, swung on the twanging groove while Lawson played sharp brittle notes over it before launching into another wild manic phrase. Santana's "Black Magic Woman" found Lawson style more prominent, cooking up the original sound with a high flying lead guitar interpretation. Yet, you could still recognize the original's tunefulness underneath the Lawson application of guitar skill and interpretation.
"Gimme No Reason," another from the latest DLB release, was loaded with charging licks while the rhythm section did an amazing job supporting a guitarist with Lawson's muscular heft of talent. Bassist Jason Adams kept himself locked into his massive groove which he kept bracing enough to let Lawson take off on his phrasing flight of fancy.
Lawson's latest hit single, "Lied To Me," also off Soldier Of Fortune, was marked by an aggressive wall of guitar sound to perfectly support the anger and disappointment of the song. Lawson' voice at the microphone rose up through the hefty guitar maze to announce itself with force, his timbre having a natural way of stretching to fit the song's theme. Lawson does slow it down, once in a while. Down tempo, he still unfurled, though, a wide swath of guitar magic while crooning solidly over the mountain of chords he was slapping out. Suddenly switching to a more lead role, he pressed out a line, clean, pure, flowing, with slowly simmering notes, and he kept it boiling until it the burner was red hot.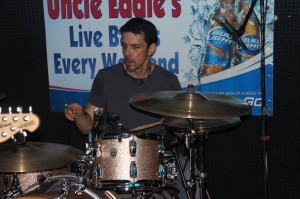 DLB went into ZZ Top's "Have Mercy" like they were on a mission, each player contributing to the strategy of sound. Stomping along, the rhythm section marched it forward with authority. Over that foundation, Lawson peeled off blistering hot lead phrases that faintly reminded of the original while building his own arcing guitar line. "Miss Me," from the new release, interestingly enough, had an after phrase that rang out with forlorn abandonment, showing how Lawson created an emotional element in his music, before turning sharper, edgier, cruising like its engine is driving it toward catharsis. Speaking of the new album, DLB include Peter Bell's "I'm Funky But I'm Clean" on it, with its great ball of fire guitar phrase and hard rocking rhythm section introducing elements of funk, opening up spaces in last Saturday night's performance for the guitar nova.
A listener cannot fail to notice the sense of largeness in DLB's music. During a later instrumental, Lawson moved his guitar phrase around the groove in monumental terms, like Moses parting the Red Sea, making you feeling there is something tremendous going on. DLB treated the audience to a decorative version of Molly Hatchet's "Dreams." Bursts of guitar built the song into something larger than what Molly Hatchet had originally intended, yet it fit right into this trio's set list perfectly.
The trio played "One Way Out" with a double scoop of guitar magic and plenty of effects. AC/DC's "Whole Lotta Rosie" was hard rocking fun as the rhythm boys punctuated the chorus and verse changes. "I'm Your Captain," by Grand Funk Railroad" showed, once more, the occasional sensitive side to Lawson's musicianship, making you feel this song as he brought it through its various twists and turns with grand style. Speaking of the artist's sensitive male side, Lawson played Led Zeppelin's "Thank You" for his wife, Brenda. He sculpted the John Paul Jones' organ parts out of his guitar work while simultaneously playing the Jimmy Page guitar parts.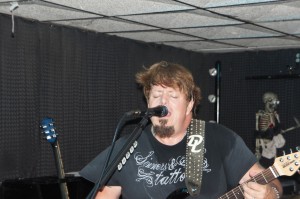 Lawson only got as mellow, though, as his slightly amped up take on Stephen Stills' "Love The One Your With." Lawson must like to tackle organ lines on his guitar. He got through all of this one's flowing melody and cruising rhythm. The entire show didn't tire the trio at all, as they included the massive Jimi Hendrix number "Voodoo Chile" very near the end. Lawson used his technique to capture the epic sound of the timeless monster workout.
If you like your music loud, alive with multiple guitar parts swirling, swinging, soaring, Dan Lawson is your man. Serious music fans will not find too many musician of this caliber in their local scene. Lawson has a bunch of big shows coming up. It would be a good idea to catch him while he's still in town.