Archives by date
You are browsing the site archives by date.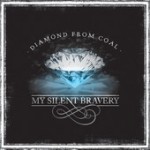 By Bill Copeland on August 28, 2014
My Silent Bravery's fourth album Diamond From Coal finds the Matthew Wade project using less of the tight, snappy rhythmic twists of the previous album Can't Quit. The new album's rhythms are looser, wider, allowing for a rangier sweep of sounds. While this album might not be as danceable, it offers colorful, vibrant landscapes of sound while becoming hooky on a deeper, larger level. Produced by local studio uberman Anthony J. Resta, this album jumps out of the speakers with an unbeatable clarity of sound.
Posted in CD Reviews
By Bill Copeland on August 27, 2014
Last Sunday was a great day for local blues fans. Under the managerial baton of founder John Hall, the 19th annual North River Blues Festival at the Marshfield Fair went on without a hitch last Sunday afternoon. Basic Black with guest singer/harmonica player Brian Templeton was a very capable side stage band, putting on fine sets of their own in between the other five bands. On air blues personality Peter Black, from WATD 95.9 FM emceed the event, asking each band to come back for an encore song. Junkyard Dogs, ThrowDown Band, Ladies Of The Blues, 2 Rays And The Bluestones, and national act Trampled Under Foot each put on memorable sets.
Posted in Live Reviews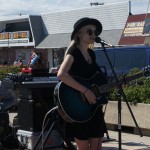 By Bill Copeland on August 25, 2014
The fifth annual Ramble hosted by Adam Ezra Group went off without a hitch. Every artist who played at this Salisbury Beach event turned in a good set, and the finale found AEG playing some of their most popular songs while fireworks were going off in the night sky only several hundred yards behind them. It was a glorious finish to a music event created to further a great cause, raising money to get homeless veterans into comfortable, safe housing. Organized by Rally Sound, Media Boss, and New England Music Awards and emceed by on air personalities Mike Flynn and Jack Baldwin
Posted in Live Reviews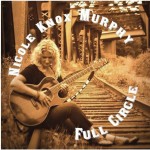 By Bill Copeland on August 20, 2014
Nicole Knox Murphy has come Full Circle in her life and music career. Interrupted by family life and work, Knox Murphy was out of the music business for several years. Once her kids were grown and out on their own, she went back into the music life. Winning state, regional, and national awards for her music shows that this New Hampshire country and western singer-songwriter made the right choices. She has a lifetime of experience from which to draw her material from. Her debut album Full Circle is a fine document of her abilities and perspective.
Posted in CD Reviews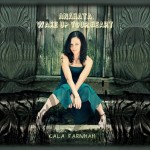 By Bill Copeland on August 18, 2014
Kala Farnham's first full length CD Anahata: Wake Up Your Heart marks the debut of an artist we will be hearing from for sometime to come. Farnham's affective vocal lines delivers emotional punch within their sturdy chirp. Her songwriting is crisp, clear, direct, and immediate, forcing the listener to feel something each time he hears her songs. This Connecticut singer-songwriter is also a master of complex keyboard techniques, adding extra depth, texture, and emotional drama with a variety of touches in each tinkling.
Posted in CD Reviews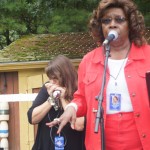 By Bill Copeland on August 15, 2014
Heather McKibben never would have guessed 20 years ago that she'd be hosting HeatherFest20 this September 7th. What started it as a backyard party with a single blues band at her then Canton, Massachusetts home has become a mini festival, eventually named after her, in her backyard in Norton, Massachusetts. HeatherFest has been known to draw up to 3,000 people over the course of the day. A $25 donation goes towards charities supported by HeatherFest.
Posted in Featured Articles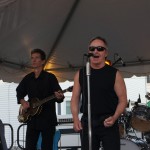 By Bill Copeland on August 11, 2014
BeatleJuice rocked the St. Rocco Festival in Malden, Massachusetts yesterday evening with their fine-tuned presentation of material by The Beatles. Selecting songs from throughout The Beatles ten year career, BeatleJuice unveiled one gem after another during their gig in the cordoned off blocks in the neighborhood hosting the festival.
Posted in Live Reviews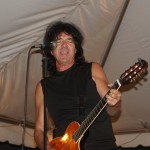 By Bill Copeland on August 10, 2014
A cordoned off city block in Malden, Massachusetts became another place that Charlie Farren turned into a concert hall. Maybe it was his knowledge of technology. Maybe it was his mellifluous voice and melodic electric guitar. Maybe it was his strong, vibrant personality at the microphone. Maybe he just had to work hard, following a couple of wild comedians that were on stage before him. Farren put heart and soul into his performance at the Saint Rocco Festival last night.
Posted in Live Reviews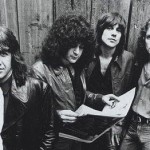 By Bill Copeland on August 8, 2014
Drummer-producer Hirsh Gardner has been a very busy man these days. Aside from his Cambridge studio chores, he's been organizing a reunion concert for his once nationally famous band New England. "Don't Ever Want To Lose Ya" and many other New England originals will come alive. Gardner and his original three band mates will perform a full concert at the Regent Theatre in Arlington, Massachusetts on Friday, August 15, at 8:00 p.m. New England is one of those bands that have been kept alive on the internet and in the memories of fans.
Posted in Featured Articles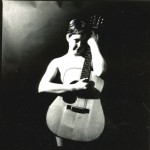 By Bill Copeland on August 6, 2014
Daphne Lee Martin just might be a musical genius. The New London, Connecticut Chanteuse released two full length albums in a year's time. Moxie, released in 2013, and Frost, released in 2014, are companion pieces. Loaded with every influence from 1920s gypsy jazz, to big band swing elements, to modern electronic experimentations, to Appalachian folk, to jump blues, both albums are the product of a very fertile musical mind. Co-owing a record store with her husband reflects the broad musical vocabulary and tastes Martin carries around in her head. How she developed the skill to mesh these diverse elements into her own unique style requires a closer look at the singer-songwriter-composer-arranger's history.
Posted in Featured Articles | 1 Response