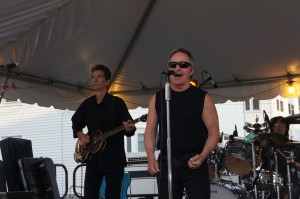 BeatleJuice rocked the St. Rocco Festival in Malden, Massachusetts yesterday evening with their fine-tuned presentation of material by The Beatles. Selecting songs from throughout The Beatles ten year career, BeatleJuice unveiled one gem after another during their gig in the cordoned off blocks in the neighborhood hosting the festival.
The band opened with a full sounding version of "Sgt. Peppers Lonely Hearts Club Band." Its solid musical presentation was built upon the tribute band's tight rhythm section. Segue into "With A Little Help From My Friends, "and the vocal exchanges between lead singer, Buddy Bernard, and backing singers breathed three dimensional life into the piece.
BeatleJuice showed, with their first two numbers, that they have got The Beatles sound down to a science. A band of A-list musicians who've been doing this for a long time now results in a wide ranging selection of songs played with nuanced attention to detail. The keyboards during "Ob-La-Di Ob-La-Da" had that jaunty snap we all know so well. The rhythm section carried it forward with a thick, thumping groove. The lead singer was clearly enjoying himself, and he, in turn, got everybody there to like it even more with his infectious enthusiasm.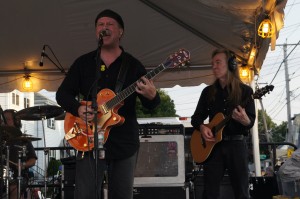 Beatlejuice played songs that other cover and tribute bands don't even try to tackle. They were soon into "Magical Mystery Tour," with all of its speedy rhythms and playful vocals, including the rapid fire circus barker intro. The lead singer nailed the smooth energetic flow of those sweet, bouncy upbeat lyrics. The keyboardist recreated the horn section from the original recording by his own self, which makes one wonder if The Beatles could've have toured with the material they were recording at the time, as the synthesizer and volume pedals were not as evolved then.
"Hello Goodbye" was performed with sweet, clear vocals and a nice delivery of the guitar phrase. "Glass Onion" was tight, rhythmic, and compact. Within its tight frame work, though, there was a lot of talent making the song pleasingly similar to the original. Not a copy but a channeling of what the lads from Liverpool were trying to accomplish when they recorded this one. BeatleJuice also channeled what the boys might have sounded like in a late 1960s concert setting if they hadn't stopped touring after 1966.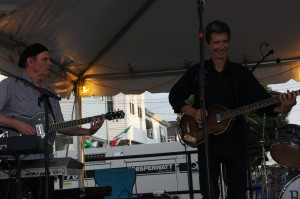 Guitarist Dave Mitchell nailed the early rock and roll influences that go into "Twist And Shout." It made much of the St. Rocco audience get up and twist and shout. BeatleJuice inspired many to sing along. "All My Loving" seemed to have a hundred member choir during its chorus. Chirpy, sweet melodies and bright, clear vocals were the order of the day. "I'm Happy Just To Dance With You" and "You Can't Do That" got their kick start action from drummer, Muzz, a man who has mastered the backbeat from the late 1950s/early 1960s. It also didn't hurt to have keyboardist Steve Baker conjuring the many difficult, challenging parts on his synthesizers.
An important thing to keep in mind about bands and individual musicians is, aside from hitting the right notes, on time, in tune, on key, is how well they present the feeling of a song. The guys in BeatleJuice have a firm grasp on how a song impacts its listeners, and they know how to make it feel right. A highlight of the St. Rocco Festival performance came when the BeatleJuice guys played the witty "Maxwell Silver Hammer." The band had the requisite sense of humor to present this black comedy song about a murderous youth. The guitar phrasing was particularly well-handled and that cowbell representing the sliver hammer was another plus. Likewise, their take on The Beatles version of the Berry Gordy/Smokey Robinson song "Money" offered much witty humor in its off hand disregard for anything that doesn't have a price tag.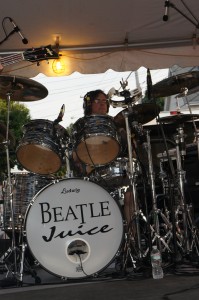 "Lady Madonna" found keyboardist Steve Baker tapping out a familiar jewel of a melodic line on piano. The singer, meanwhile, rode the peppy, upbeat melody line in fine style.
Seemingly simple, with the numerous interlocking parts, "Rock And Roll Music" went chugging along with feisty spirit. At this point, singer Buddy Bernard stepped aside to let singer Jimmy Rogers take over the microphone duties. Rogers charmed the crowd from his first number, "From Me To You." Rogers also readily handled the bluesy rock of "Get Back" from The Beatles later catalogue. A good dose of attitude from the guitars helped move the energy along. "Tax Man" got by on its quirky rhythm and backbeat. I've always expected this song, whoever was playing it, to come to a sudden stop and go backwards. A lot of rock and roll action happens on top of that halting, pivotal beat, and the BeatleJuice guys made it happen in their own inimitable style.
"Paperback Writer" showed off the BeatleJuice flair for quick moving harmonies, and "Come Together" took things in a more rocking direction. Finally, "Revolution" had enough guitar fire power and political attitude to knock down castle doors. Interestingly enough, Richie Bartlett, from The Fools, stayed to the side of the stage wearing headphone, strumming along to every song with his acoustic guitar.
BeatleJuice certainly went over big with their block party crowd yesterday afternoon into evening. Any fan of The Beatles and any fan of good live music performances should check them out as soon as possible.
http://www.muzzdrums.com/Beatlejuice.html

Follow me on Social Media!