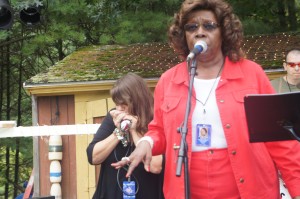 Heather McKibben never would have guessed 20 years ago that she'd be hosting HeatherFest20 this September 7th. What started as a backyard party with a single blues band at her then Canton, Massachusetts home has become a mini festival, eventually named after her, in her backyard in Norton, Massachusetts. HeatherFest has been known to draw up to 1,200 people over the course of the day. A $25 donation goes towards charities supported by HeatherFest.
"I feel elated," McKibben exclaimed. "I'm very excited. Not in my wildest imaginations; I never knew it would take on a life of its own. People understood the mission to give back to the community, and it's just a nice day. Leave the egos out on the front lawn before you come into my backyard, and it works."
HeatherFest began in Canton when blues harmonica player and life long friend of McKibben's, Jimmy C., went over McKibben's house and said "This would be a great pace for a back yard party." There was only one band, 30 people in attendance, and a hat was passed to pay Jimmy C for playing. It just grew from that initial backyard party, which McKibben was calling "My Blues Bash" at the time.
In 1998 HeatherFest moved to Norton, Massachusetts after McKibben bought her new home in that town. Some of McKibben's friends punked her by creating a huge banner that read "HeatherFest Presents" and the event turned into HeatherFest.
"The Radio Kings were playing in 1998," McKibben said. "My roommate Kris Keenan and my friend Ken Richardson; she made this big banner and he put it on the very top of this big huge work box truck, and he backed it into the backyard. I actually was mortified."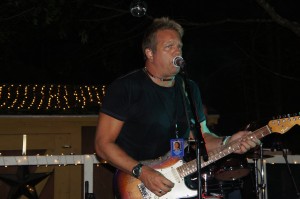 While her friends were amused, McKibben thought that naming the event after her and placing it on that banner would backfire on her. She was afraid that people who didn't know the inside joke would think the event had gone to her head.
"HeatherFest? Everybody's going to think I'm some evil, maniacal nut.' Then, everybody started calling it HeatherFest as a joke," she said. "I honestly think a lot of people don't realize there even is a Heather. A lot of people haven't met me. I can walk through the backyard during the day and say hi to people I don't know and introduce myself and they all say 'Oh my God! I've been coming here for five years. I never met you. I never knew there was a Heather.' And that's how I want to keep it.'"
McKibben has no desire to become a local celebrity through her event. "I don't like to be on the stage," she said. "I know I have to and I want to thank everybody, but I'm not comfortable up there." McKibben relies on her Master Of Ceremony, vintage blues singer-musician Racky Thomas, to lead the audience through the day's musical offerings.
"He's so smooth," she said. "He makes sure that all the bands get proper recognition, and all the charities he talks them up. I get on stage, and I get nervous. I like to go upstairs in my bedroom and crack the windows and look out over my backyard and jump around in my bedroom and scream and yell and say 'Oh my God! This is so cool.'"
In the beginning HeatherFest wasn't thought of as a charity boost. It was really just a way to get good paying gigs for musicians. Eventually, it became a bigger event and there was more money than musicians would ever make for one gig. "We stopped passing the hat, and we put up a donation table," she said. "That's when I started thinking, maybe 15 years ago, that I thought maybe we should start giving back to charities. A hundred percent goes back."
She also makes it her mission to support the arts. McKibben served as volunteer, board member, and president of Boston Blues Society during her ten year stint with the BBS. "I lovingly say that my musicians friends are charity cases too," she said. A lot of her charities have centered around blues musicians, including blues musicians who suffered illness, a head injury, and the daughter of a Boston blues scenester whose daughter was in a severe automobile accident.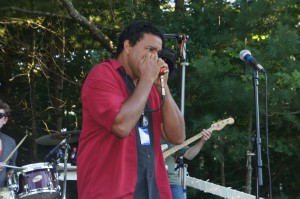 McKibben wanted to feature blues musicians, as its her favorite kind of music and her passion. She was in her second year as a FestHost when she became a bartender at the now defunct but then popular Yardrock in Quincy. Making friends with musicians at the bar and filling them in about HeatherFest lead to a lengthier lineup for her yearly event. "They were ready, willing, and able to come and play for very short money," she said.
McKibben has had a lifelong commitment to giving back to her community. As a child she volunteered at Animal Rescue League. "What goes around comes around," she said.
HeatherFest has never seen a fight or even a rude argument. McKibben does not take credit for creating that vibe, saying that she doesn't know half the people there. Bikers, music fans, charity representatives all get along. "That's why I think it's taken on a life of its own," she said. "That's why people come and just say the vibe is so even. I've never seen any attitudes. Even the police department says it's really amazing. The police (traffic) details are here every year." McKibben said her neighbors never complained about the attendees and that there isn't any trash left on the ground up and down her street the day after.
The town also appreciates that McKibben arranged for some funds to go towards Catch All Poles for the fire department. Fire fighters and other rescue personnel use these catch poles to rescue pets that fall through ice, have been injured by other animals, or are protecting owners who have been in accidents. "So many of my charities are animal related," she said. McKibben also gives to Vested Interests for police dogs, as their bullet proof K9 vests are not funded by taxpayers. There will be another K9 demonstration at this year's HeatherFest.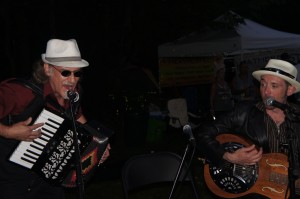 Many of McKibben's neighbors come to her Fest while others have their own cookouts next door and listen to her HeatherFest bands. "The little kids across the street make bracelets," McKibben said. "She's probably eight or ten and she sits at the donation table and she sells bracelets and one hundred percent of it, she likes it to go to the animal shelter." Other neighborhood kids come to help out with recycling and other HeatherFest chores to complete their charity work for organizations they belong to.
It's no accident that blues bands provide the music for her events. McKibben connected to the blues at a young age. The first album she bought was James Cotton's 100 percent Cotton. "I remember my mother thinking 'Whattttt?' I always wanted to play harmonica but I don't have any musical talent, at all. I've no idea(how she became such a huge fan of the genre). It must be something in my past life, but I love blues."
HeatherFest connections lead McKibben to ever greater involvement in the blues, working for Boston Blues Society, bartending at YardRock. "I actually was nominated for a board position, unbeknownst to me,' she said. "It wasn't like I chose to do it or ran for it. I was kind of elected into it. And I loved it."
When selecting blues bands for her HeatherFest event, McKibben looks for musicians who understand her mission as a charity, understand that it's very low key, who will check their egos at the driveway. For her upcoming 20th event, she picked the bands that supported her heavily over the years. These are people who would save the date even if a better paying gig came along.
"So easy to deal with, so appreciative of the day, they usually come first thing in the morning," McKibben said. "Toni Lynn comes first thing in the morning so she gets a good parking place," the host added. "Everyone treats her like a celebrity and a queen and they're so nice to her." Washington, age 74, has been on the greater-Boston blues scene for years.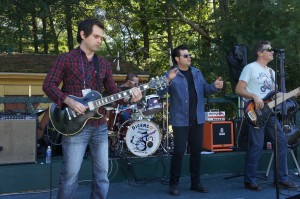 On the bill for this years event are Washington, Brian Templeton, Chris Fitz, Delta Generators, and as a present for everybody who has been coming to HeatherFest for the past 20 years, McKibben is bringing in from Chicago, Illinois Lil' Ed And The Blues Imperials. HeatherFest has hosted national acts that are from the local New England area, Sugar Ray Norcia, Roomful Of Blues, and Duke Robillard. "They're locals who I personally know. This is the first time I've had a national act come in(from outside the New England music scene). This is my present to the people who have come for so many years, the guests." Lil' Ed And The Imperials will perform from 5:30 p.m. to 7:00 p.m. because that is the peak of HeatherFest, before the families with kids leave for the evening and after the party crew arrives after watching football earlier.
"It's going to be finished up with Chris Fitz because he's really high energy." she said. "He gets everyone cray–zeee at the end of the night. He's just so nice. He's so real. He's so helpful."
Racky Thomas will MC the event as well as play the side stage while the bands set up and break down. Thomas brings his own guests each year. This year Thomas will have John Juxo and Cheryl Arena. Arena will also be performing a set with Washington. Many musicians will just show up and get involved.
"They just show up and join in," McKibben said. "There's always the hardcore people that come even though they're not in the line up. They always know they're going to get up on stage. In the past people like Kit Holliday and Diane Blue and Evan Goodrow and Chris just showed up. When Chris wasn't in the line up, Chris was always here. A lot of them come just to be here for the day and they get to get up on stage."
Sweet Willie D will be at this year's HeatherFest with his Sho Nuf barbeque business to roast a pig. He'll also likely be in the set with Washington.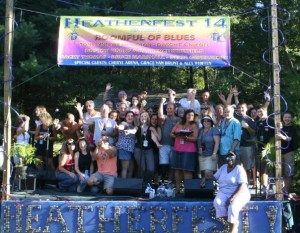 HeatherFest happens due to the efforts of dozens of volunteers. McKibben's volunteers arrive on Labor Day to start the initial work setting up the side stage, fire pit, and restricted areas, etc. "Some of the volunteers have been coming for the past ten years or so," she said. "Earlier then that, I didn't need volunteers but as it got bigger(she needed many)." Volunteers over the last few years include: Terri Affanato, Ruth Baltopoulos, Ken Beauregard, Betty Bishop, Bob & Diane Boivin, Ed Boynton, Keith Broderick, Mike Broderick, George Carr, Ken Cheo, Tyler Cheo, Lorna Cogan, Greg Cogan, Joe Courtney, Joanne Cullen, Ian Cutler, Donna Cutler, Maggie Cutler, Beverly Dancey, Linda Demelo, Darlene Dever, John Devine, Peg Devine, Joe Diliddo, Paul Files, Rich Gordon, Peg Gould, Sharon Grant, Carol McAvenia, Drew Harrison, Bill Harrison, Ricky Hart, Debbi Hayward, Dennis Healey, Jim Hendrickson, Patti Hoversten, Linda Hudson, Ely Hudson, Marie Jewett, Hope Johnson, Roger Labier, Nancy Lafarge,  Nan Lindstrom, Rebecca Lipton, Eva Lipton, Gregg MacKenzie, Gary Mastromatteo, William Maurer, George McAvenia, Mari McAvenia, Tracy McDonald, Pat Nally, Gerard O'Leary, Dianna O'Leary, Debi Pacitto, Lucy Penny, Wini Peterson, John Peterson, Mike Powers, Stephanie Powers, Cody Powers, Ian Raposa, Bob Blair, Samantha Blair, Sue Powers, Nikki Ray, Carol Reed, Eric Reed,  Leslie Wight, Kenny Richardson, Arial Richardson, Gillian Richardson, Cindy Robinson, Sharon Roper, Kami Russo, Michelle Salgueiro, Alex Sennet, Karen Shockley, Terry Slagle, Kevin Stetson, Mary Straitiff, Deb Sullivan, Tom Sullivan, Miles Sweeney, Sharon Thompson, John Thompson, Bobby Tripp, Bruce Vidito, Mike Warren, and Nancy Weston, a.k.a, "Adventure Girl."
Four years ago, McKibben started giving out an award for people who support the blues, calling it Keeping The Blues Alive. Last year, the award became Keeping HeatherFest Alive. Last year's recipients were The Whiffen family. Mr. and Mrs. Whiffen met at a previous HeatherFest, got married, had a child who has been to every HF since she was born, and support the HF events. Mr. Whiffen brings a group of 30 people who help out. McKibben could not name this year's award recipient, "It's a surprise for that day," she said.
If the past HF events are any indication, HeatherFest20 promises to be a mighty fine day.
https://www.facebook.com/events/762108797144986/?fref=ts
Charities supported at HF20 include:
Vested Interest In K9.
Winslow Farm Animal Sanctuary in Norton, MA.
Norton Food Pantry(bring food donations).
Nine Lives(no kill cat shelter in Norton).
Cell Phones For Soldiers(bring old cell phones).

Follow me on Social Media!