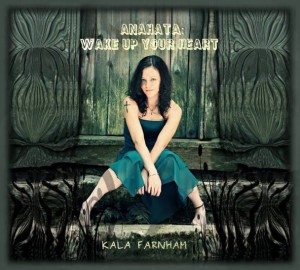 Kala Farnham's first full length CD Anahata: Wake Up Your Heart marks the debut of an artist we will be hearing from for sometime to come. Farnham's affective vocal lines delivers emotional punch within their sturdy chirp. Her songwriting is crisp, clear, direct, and immediate, forcing the listener to feel something each time he hears her songs. This Connecticut singer-songwriter is also a master of complex keyboard techniques, adding extra depth, texture, and emotional drama with a variety of touches in each tinkling.
"Naked Heart" opens the album with a driving piano line and Farnham's ethereal vocal gliding over the motor of Duke Levine's electric guitar, Richard Gate's peppy bass line, and Marty Wirt's persistent drum smacks. Farnham keeps her voice compact as she moves over her dramatic accompaniment. She has unusually strong control over her dynamics, timbre, colors, and tones for a young artist releasing her first album.
Title track "Wake Up Your Heart" has an alluring rhythm that Farnham croons over with perfect amount of assertion in each measure. She's already accomplished the near impossible goals of having a distinct sounding voice and having something to say. Amazing when she slows down and almost coos her lyrics, she takes it even higher when the song shifts gears into a more jaunty rhythm. It's another treat when she taps out her melody with a technique that makes her notes bounce and jump with a lively musical personality. It doesn't hurt to have bassist Henry Mioduszewski on board for the extra bump.
"Niantic Bay" is a more mellow ballad feeling number. Farnham conjures dramatic piano lines underneath her soft, sweet, gliding vocal timbre. She has tremendous vocal lift, sounding like she can catch the slightest wind under her wings and use it to ascend effortlessly. Her classy piano line below combines lighter and heavier notes, brighter and darker colors to help her lay out her complex emotional response to her subject matter. She makes you wish you could see what she saw when she was inspired to write this number, bringing her surroundings to vivid life in verse and piano.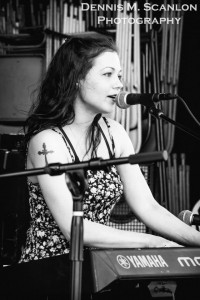 Farnham takes a turn for the classy piano bar melody line on "Songbird." Shades of early 1970s singer-songwriters suggest Farnham has spent a lot of time listening to Carly Simon, Joni Mitchell, and Carol King. Her voice juts out over her classy piano and an emotive violin line from Daisy Castro in a way that suggests she's studied hard the ways to make songs heard and felt.
Farnham borrows from the past to create a jaunty rhythm for "Singin' Along (Sparrow's Song)." She employs a faux ragtime piano technique while Daisy Castro darts in and out with violin merriment. Farnham sings as gentle as a lamb while her piano continues its bopping, merry way. It is certainly a pleasing song with a bounce in its step.
Farnham masterfully handles, yes, masterfully, "House Of The Rising Sun." She has complete control over how she makes this classic climb from one height to the next in dramatic and musical tension. Listeners can easily get swept away with each verse. Farnham's vocal swings and sways over the beat with great action and she bangs out that memorable melody with brisk excitement with her piano.
"Pencil & Ink" is a strong, mid-tempo piano ballad. Farnham's voice here is particularly lush with emotion and tonal substance. She also combines her piano chords with plucky percussion and violin to make the song feel like it's traveling somewhere, entertaining company throughout the journey. This is certainly the coolest song on this album. There is a sense of neo-hippie cool in that percussion backed piano work.
"By Your Side" feels like a hit. It moves like a gazelle through its measures. Engaging piano lines, persistent drum finesse, and a voice that travels through it all with easeful grace keep the listener glued. There is substantial drama as Farnham builds tension with shifting dynamics. It doesn't hurt that she has the kind of voice other singers only dream of having when she closes out with a poignant verse.
"Mon Cher" offers more tasteful piano playing. Farnham builds excitement by creating waves of piano over a moody violin line. Against such a backdrop, she manages at least three different vocal approaches, each fitting into the emotive sections of this song with perfection. The result is outstanding when Farnham sings her verses in French. Here, the listener gets an even greater sense of how she can stretch her voice into gentle tones.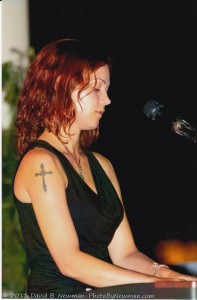 "Ruthless" sounds like its name. Farnham taps those ivories like she's a woman on a mission and belts into her microphone like she means business. The man she sings of has undesirable qualities, and the tone she sings in as well as her supporting keyboard work expresses the urgent need to get this guy off her chest. This song could probably make it on modern rock radio as well as adult contemporary.
"La Coupe" is another upscale, jaunty rhythmic number, this time sung in French. This song reminds of the soundtrack of old foreign films. Farnham makes speedy notes seem easy to play, as does Daisy Castro who duels with her on violin. There is a deliciously good gypsy jazz feel inside those rhythmic jousting matches between instruments.
"Adam Cara" is more Farnham magic. And, again, she whips it up by having drummer Marty Wirt back her piano with palpable percussion work. Using only percussion for the beat leaves open a lot of space for the voice, which Farnham fills with many fine moments, vocal assertions rising high before landing gently back atop her piano line, notes falling like soft rain drops. Beautiful.
Farnham closes out her debut album with the softly moving "Maitri." The pace, though, belies its ability to hit a lot of notes, emotionally and musically, as it progresses. Farnham tinkles her ivories like nobody's business on this one. She adds a layer of beauty with piano under her beautiful voice. Yet, she puts it together so that it engages the listener rather than overwhelms with both forces.
This young singer-songwriter-pianist is off to an amazing start with this album. There are a few potential radio hits as well as plenty of song wring variety. Listeners cannot second guess where she will go with the next song as she has an unlimited palette of styles and techniques at her disposal. At the very least, she'll be busy in her regional scene for years to come.