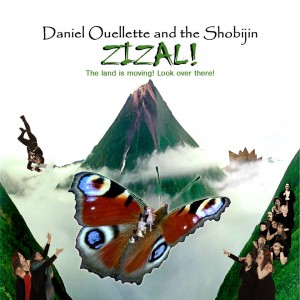 Danielle Ouellette And The Shobijin have just come up with another of their zany, electronic pop albums. Zizal! The Land Is Moving! Look Over There! is loaded with fun, perky electronic melodies and drum programming mixed with quirky vocal lines that make it an enjoyable listening experience. It also makes it refreshingly unique.
Ouellette, who writes these mini gems, begins his album with grunge like guitar chords from Nichole Ferree over electronic percussion in "I Left A Bowling Ball In The Garden." His vocal sounds supremely regal as he croons over his sonic landscape of guitar progression, eccentric percussion, and whatever else he's using to come up with his unique mesh of sci fi inspired music.
"Leverett (An Ophelia Afternoon)" finds Ouellette taking things slow. This allows him to showcase the smooth eerie quality of his singing voice, part old time crooner, part David Bowie influenced, and part something never heard of before on local music CDs. Crooning over a primitive tribal beat that's conjured simultaneously with acoustic and electronic percussion, his contrast between human voice and drum patterns creates allure. You just can't stop listening as you try to figure out what he's doing and how he's doing it to get his strangely appealing sound.
If the song titles are starting to sound as eccentric as the music, it's because Ouellette is a truly unique artist who does not try to fit his musical vision into any known, set formulas. You cannot even compare him to Soft Cell or Orchestral Maneuvers In The Dark because he uses his electronic influences in whole new ways. So, it's no surprise that his third song is titled "What An Honor It Is To Break Into Your Dreams With An Orchestra." Lovely chimes in the backdrop somehow augments Ouellette's considered vocal phrasing, like a shadow becoming more beautiful than the object that casts it. It keeps one listening with only a few instruments playing a simple melody alongside Ouellette's soft, mad croon.
"Pluck You Is Fantastic" benefits greatly from just a simple keyboard chord that Ted Paduck keeps hitting. Its beep finds a good home amidst the vocal chanting from Ouellette and backing vocalists Ann Marie Cleary and Stabatha LaThrills. The swirl of voices, melodies, and percussion Ouellette has assembled carry the listener through a mad contemplation of something mad.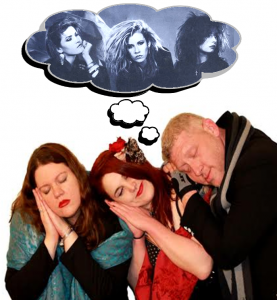 A faux ancient religious chant and 19th century mechanical sounds pull the listener right into "Loretta (A Toast, Slightly Burnt To You, My Darlings). Quasi-monks here create a lot of texture with their voices alone, another sign of creative strength coming from the mind of Ouellette. He sings about the difficulties of having to shoplift alone. As strange as that may sound, it makes sense on this recording. Everything in this pastiche of sound makes sense in an Ouellette kind of way.
"Embrujame" waddles in with a speedy, up-tempo percussion track that sounds lushly manufactured. It also sounds like its waddling, playfully, amusingly, under the weight of coos, chants, and vocalizing going on above it. I'm not sure what this song is about, but it is certainly fun to listen to the layering of male chants over female verse vocal squeaks. This segues right into "Have You Lost Again, Candide?" Here, Ouellette and his female backing vocalists sound almost anthemic in their chants, offering something beautiful, spiritual, and sensual all at once.
"La Nuit De La Tete Veau" finds Ouellette singing in French, which matches the sensual appeal of this song. It's amazing how much mileage this composer continues to get out of vocalizing over a percussion track. Here, Ouellette's French lyrical delivery, a sexy female voice conversing with him in soft French moans, and a female singer cooing in a high voice give the distinct impression that something intense and meaningful is going on. This composer certainly comes up with a lot using little.
"The Dilemma of Devereaux" begins with a sexual tension infused male-female duet, their hushed voices loaded with something that indicates the two might not be able to keep their hands off each other once they're in a room. A thick, scratchy percussion track conveys the same sense of contained energy. It's the way this piece implies something really intense, epic, exciting, intense, and climactic could happen at any moment that makes it impossible to stop listening to. This number sounds influenced as much by sexy foreign films as it does 1980s synth-pop.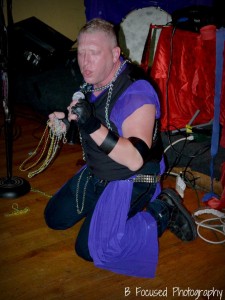 Ouellette and his Shobijin close out this album with "Everything Is Ruined." Its lyrical content begins with a bizarre accusation. "You always take my things and break them." That peculiar lyric might not makes sense on its own. But, we're in Ouellette's world. Here, it's infused with so much drama and color that you can picture the person who break things really getting on the nerves of the person who owns these things. Its blunt percussion notes bring greater intensity to this accusatory, nightmare world in which people fight over things that only makes sense to themselves. It's fun being carried along with the mad rush of voices and notes.
Ouellette might not be the most commercially successful recording artist. This music might be difficult to recreate in a live setting. It might also have a hard time finding an audience of people with a taste for something this out of the mainstream. While it might not be for everyone, this Zizal album does reflect a craft man's sense of good song structures and a true artist's taste for sounds and voices that express something in an oddly beautiful way.