Sugar Ray And The Bluetones recently dropped their Living Tear To Tear album, and it's loaded with the kind of harmonica driven, stomping blues we've all come to expect from this outfit. Sugar Ray Norcia still has that rich, thick, whiskey soaked voice that always finds a good home in Chicago blues. Guitarist Monster Mike Welch still fires off an array of electrifying, soulful, blues drenched licks like a man on a mission. Piano and Hammond organ player Anthony Geraci still serves up his emotive, right on the money keyboard magic. Bass player Michael "Mudcat" Ward still makes his bass speak to you with his dexterous ability to conjure color and tones. Drummer Neil Gouvin still adds to the meditative complexity and emotional depth of each song with just the right touch.
"Rat Trap" opens the CD with a bang, feisty blues boogie coming at you with boogie woogie piano, aggressive old time harmonica line, and Norcia's warm, whiskey soaked voice. It grabs the ear from the first notes and never lets go. Welch plays ornery 1950s s era licks like a man possessed, driven to drive out his own demons by expressing monster size feelings though his amp. His melodic line is loaded with nervous energy, and he slaps out his chords like nobody's business.
Monster Mike Welch knocks down the door on "Here We Go" so Norcia can ease into the open space with carefully measured voice. It's a classy song opener from this classy front man. It's the way Norcia's laid back personality comes across here that makes this number a winner. His take the world with a grain of salt poise reopens the space for Welch to bleed emotion all over the song with his phrasing. Norcia's tale takes on a fully dimensional role in the song because he doesn't let it overwhelm his measured expression.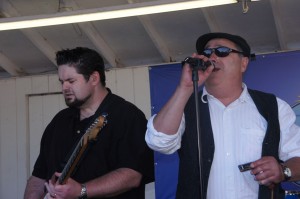 A bit of a two step rhythm kicks forward the icy cool "Things Could Be Worse" with a jazzy pulse. Norcia's guttural vocal sets the tone here, and the other players go to town with their dark, cool phrasings. Norcia blows a mean stride while Welch presses out something sinister, hissing, from his six string. Geraci, feeling their motions, taps out a restless piano line. This warning song makes one feel that songwriter Norcia has been around the block a few times.
Title track "Living From Tear To Tear," a stomping blues weeper, gets its energy from the sense of brokenhearted misery expressed by every utterance of Norcia's world weary vocal. Then there's the great support, soul-baring harmonica line, the weave of bluesy depression from guitar and piano, and an authoritative stomp laid down by the dynamic rhythm section of bassist Michael "Mudcat" Ward and drummer Neil Gouvin. Welch's guitar takes turns with Norcia's harmonica at dishing out the emotional heft of disappointment, frustration, and unhappiness with their appropriately emotive lines.
"Misery" pulls the listener right in with Norcia's simmering harmonica line. This slow boiler lets him and his boys take their time building the lengthy arc of this bluesy drama. Along the way, they peal off a lot of tasty licks on their respective instruments, and it's like the individual ingredients in a special thick broth. Welch pushes a feisty line all the way through, making plenty of sparks. Meanwhile, Geraci taps out a colorful piano line that fills the space with something that bleeds emotion. Norcia, eventually, goes toe to toe with Welch, matching musical wits with notes that could've come down from heaven, as they're so steeped in Chicago blues idioms you'd think these guys were channeling many of the greats who came before them.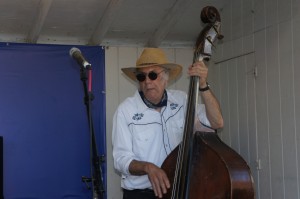 "It's Never As Bad As It Looks" finds Norcia showcasing his more subtle vocal abilities. He brilliantly finessing these lyrics, written by Ward, injecting just a touch of emotion into each verse he delivers. This singer pulls a listener right into his song with his suave delivery. Adding to the magic is Norcia's greasy harmonica line, sharp licks from Welch, and a bit of barrelhouse piano in the backdrop.
"Short Ribs" gives the listener a much shinier, more upbeat, up-tempo toe tapper. The boys jam on this instrument number, building it up with loosey goosey offerings of staccato harp bits, bright, jazzy piano, and incisive guitar licks. At other points, the number softens and the instruments cease their sharp stabbings and mellow into something gentle, expressing the soulful side of technique.
"I Dreamed Last Night" is a Geraci penned contemplation of how one feels right after a relationship has ended. Norcia unfurls his emotive vocal and lonesome, zesty harmonica line in duly measured amounts of soul-scarred expressions. Geraci is all class, tapping out an elegant invocation of the lonesome man bemoaning his fate. His piano melody makes it easy to picture a lonely man at the bar, nursing his drink because his head is still wrapped around what he has lost as he inwardly bemoans his fate.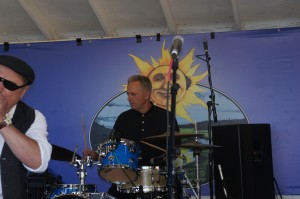 Covering Sonny Boy Williamson's "Ninety Nine" was a wise move. It roots the band in their Chicago influences. It gives Norcia room to strut his stuff with his weepy, lonesome harmonica line. It gives Geraci room to spread his piano notes far and wide. The piano man tinkles out plenty of tender notes and that makes the perfect companion to Norcia's sweetly understated vocal.
"Our Story" makes the most of this band's ability to convey a lot of emotion in one melodic line. Norcia rides his vocal line like a smooth, honey coated glider. Welch's guitar phrase makes it sound like his axe is crying out the melody. The two waltz through this slow dance beauty with uncommon grace. Norcia eventually blows a weepy, forlorn harmonica line that, too, sounds like his instrument is shedding tears with its expressive voicing.
Norcia's "Hungry But Happy" is another take-their-sweet-time number that unfurls many fine banners of talent. Norcia's handsome vocal wraps tenderly around his verses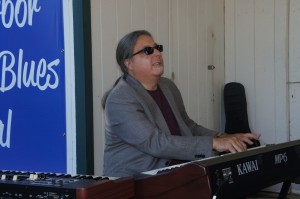 while showing it richness, range, color, and personality. Geraci gets some spotlight too here, tapping eloquent piano lines over his perfectly sustained organ chords. Welch completes the drama when he chimes in with his moody guitar line, letting his notes convey what the listener has to be feeling by the end of such a carefully laid out song.
Sugar Ray And The Bluetones close out their album with "Nothing But The Devil." Norcia works his magic on his electric microphone, sounding beautifully distorted, like something coming at the listener from an earlier time in blues. His heaping harmonica line briefly punctuates his vocal break before he's singing through that old fashioned microphone. Leaving with a taste of yesteryear in their close out song completes the mission of this band, to reintroduce listeners to Chicago blues, as it was imagined in the 1940s and 1950s. The layering of harmonica, piano, guitar, and vocals over a deep rhythm section is what Chicago blues was all about, and, because of bands like this, it's still what it's all about.
Sugar Ray And The Bluetones have come through again with their carefully cultivated Chicago blues sound. Living Tear To Tear is a fine document of where the band is currently at, and it offers a variety of song structures and a truckload of talent. Buy it right away. Turn it up nice and loud.
www.sugarrayandthebluetones.com
Share on Facebook

Follow me on Social Media!