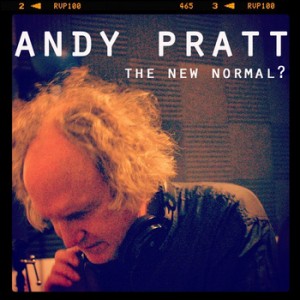 Andy Pratt's The New Normal CD offers up a lot of what we know, expect, and admire about this recording artist. Pratt is a journeyman on a mission. He continues to create fantastic new music that remains distinct, individualistic, and wholly original. In addition to Pratt's fine musical and lyrical sketches, there are some very pleasant surprises near the end. If you've spent 2014 waiting for an album to fall in love with, this might just be the answer to your prayers.
"This Is Love" opens the album with its ever so quaint keyboard touches underneath Pratt's considerate vocal application. Listeners can feel the essence of the artist as he croons in his heartfelt manner. Pratt's voice is in fine form here, still packing a lot of emotion into his high pitched falsetto and sustains, making this a fine introduction to his latest work.
"Bereft" is another of Pratt's emotive piano ballads. This one has a mid-tempo stride that gives the number a wide ranging arc. Pratt masterfully moves the listener along through his slow march toward resolution. He carries himself with a heft of emotion that the listener cannot help but get caught up in. He makes it all seem effortless to build his song into something larger than life. His easeful application of his particular vocal timbre is an artful understatement, letting his words reach the listener on their own power.
"Can't Stay Mad At You" floats in on a cloud of organ lift. Those soulful keyboard notes create the perfect platform for Pratt to let loose with his street wise lyrical wisdom. He's lived a full life, and now he puts things in proper perspective. Listeners can feel his philosophy of acceptance, toleration, and respect. A truckload of maturity rides through this meaningful slow boil and it is a song that anybody can connect with.
Pratt gets a little more assertive on "Flying So High." He playfully describes viewing local and major world cities from his seat in a passenger jet. His lilting use of his uniquely inflected voice carries one along on his flight. His electric guitarist pays out an inviting, incisive melodic line that winds its way beautifully among the piano and lead vocal, showing Pratt can still compose with elegant sophistication. Again, he reaches the listener, making him feel what the song is all about. A sense of being 30,000 feet up is hugely symbolic of emotional distance and lack of interconnection. It infuses this number with an undeniable depth of mood.
"Kentucky Mountains" is a wide, sweeping piano ballad. Pratt's voice swings beautifully, artfully over his effective piano line. Like many of Pratt's songs, it cannot easily be pigeonholed into any particular genre. You can call this a classic rock inspired piano ballad, but you might also feel dishonest with that label as you hear all sorts of other influences percolating in the backdrop, in the space Pratt creates around his vocal and keyboard lines.
"Keep You Head Down" is an admonishment to on guard against today's modern age issues. Pratt's swirling organ chords and some bopping drum work beneath him keep the song feeling light and carefree. This one is like a pleasant walk in the park with a close friend who is giving us serious advice about weighty matters.
Pratt employs the ranginess of his unique vocal to express a colorful inspiration on "Tomorrow." He pulls a lot of tenderness out of his introspective lyrics with each falsetto. This beauty drifts along with large glacial momentum while pulling the listener in with its emotive tug.
"Object Constancy" is a down tempo piece that moves steadily forward with an appealingly persistent beat, moody piano, and a world-weary vocal. You can picture Pratt performing this in smoky bar, one where lonely souls sit around smoking, drinking, and nursing psychological wounds to this musical soundtrack of their lives. There is a striking loneliness in Pratt's lyrical obsession with seeing the same woman every Tuesday morning in his travels. It creates the same forlorn mood as the isolated voice and piano lines, a crafty bit of song development.
Pratt smolders slowly but deliberately, meaningfully on "Hell," a contemplation of city life at night. Dragging emotion out of each verse, he offers some of his most descriptive, poetic imagery: "and this love is stronger than the grave/more beautiful than diamonds/on the ocean waves/this love, older than the moon/sweeter than a symphony/or a flash of lightening in a night in June."
A "Songbird" becomes a metaphor in this carefully constructed piece for all that he's feeling for his beloved. Singing how he feels for the person he loves, he's mirrored by a songbird who endlessly chirps its pretty melody. There is also an eccentric beat that pushes this forward while emphasizing a wellspring of hearty motivation.
"Everything Is Gone," a hypnotic, moody work thoroughly develops a sense of harrowing fate. Pratt begins crooning easefully over his forlorn, emotive tones but eventually belts rocker style, amidst a persistent beat and passionate, fiery guitar phrasing. Classy and sophisticated in his narrative build up, Pratt delivers fully on the promise of what his slow march of eerie tones connotes.
"Walking In The Air" has got the snappiest rhythm on this New Normal album. Like the title suggests, this one is full of lightness, a jaunty groove that makes one want to jump up on the side bar of Jay Gatsby's car and go along for the ride. There's also a hint of the epic in its Beatles influence, a lot of snap, crackle, and pop in the treble clef instruments. A circus canopy like melody inspires one to want to tap dance and sing along.
"Dog Days And Crazy People" plays out solemnly. Pratt's high, sharp timbre feels forlorn, lonely, something that has taken shelter from the storm of humanity. Gently picked guitars fill in the space with lush tenderness, and it all adds up to another painterly piece of music.
Like a true friend seeing us off with a parting gift, Pratt leaves us with a newly recorded version of his early 1970s FM hit "Avenging Annie." Just when the listener felt the entire album up to this point was more than satisfying, Pratt comes on strong with his familiar but fresh piano and vocal refrains. Intense, driving, a welcome blast from the past, this "Avenging Annie" reminds of why we all fell in love with Pratt's music in the first place.
While Pratt handles all of the vocals, piano, and bass, he isn't flying solo here. Drummer Derek Clinton, Hammond Organist Allan Gabay, and backwards guitar from Fernando Perdomo flesh out his lyrical visions with appropriate color and emotion. Producing, Perdomo gets a fine, precise sound out of everyone involved at Dreaming In Stereo Studios and Reseda Ranch Studios. Getting by with a little help from his friends, Pratt has much to be proud of here.