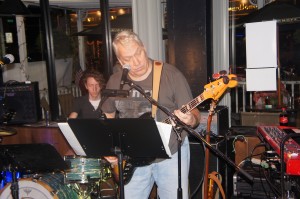 Cider Press band entertained the costumed crowd at the Village Trestle's annual Halloween party last Saturday night. Aside from a few technical issues that would crop up now and then, the band hit the right vibe for a festive seasonal event. The five piece featured two guitarists and a keyboardist, and that made for a full sounding band. Three of the band members sing, and that made for some good harmonies. Toss in Cider Press's penchant for variety, playing songs that most cover bands don't, and it was an evening of good music.
Cider Press started with The Doors classic "Love Me Two Times," with keyboardist Joe Kasper layering his notes over the groove and bass player Ray Soucy hitting some nice, heavy twangy notes on his low end instrument. Soucy sang lead vocal with a husky voice very appropriate to the emotional cry of this tune. Cider Press slid smoothly into Van Morrison's "Wild Nights" with sweet harmonies and a chunky groove before playing Stevie Wonder's "Superstition" with a more stomping groove. Keyboardist Joe Kasper served up a special clavinet sound to honor the original Wonder hit single.
Talk about unique; Cider Press went into songs by The Talking Heads, ? And The Mysterians, The Hollies, and The Moody Blues. "Long Cool Woman" found Cider Press piling the groove high and their guitars mastering those snappy, familiar notes. Ray Soucy finessed the lyrics on "The Story In Your Eyes" while the guitarists delivered that energetic pace.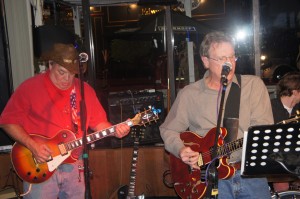 Everybody at the Goffstown, New Hampshire's Halloween costume party, who had come of age during and or lived through the 1980s, had to have been delighted by "867-5309" and its refrain "Jenny, Jenny who can I turn to." Cider Press had found their stride by that point, and they let the energy flow with passion and near precision. Keyboardist Joe Kasper got the right synth effect on The Cars' hit "Let's Go," that bouncy music that makes people want to jump up and down. It didn't hurt that drummer Seth Kasper put the correct timing into his snappy skin smacking during the chorus.
Cider Press showed their taste for a little sophistication, going into Steely Dan's "Reeling In The Years." They made the breezy, jazzy tune seem easy to play. The Cider Press gang also handled Dan's "My Old School" later in the evening. Additional vocalist, Austin Badger, dressed as a Native American squaw rocker chick, put a nice voice to the jazzy Dan material. She also came in handy on The Bangles' "Walk Like An Egyptian." Here, the synthesized whistle and the 1980s style New Wave beat kept it fun and real.
"Hurt So Good," as played by Cider Press, pulled an additional number of people onto an already, by then, busy dance floor. One could feel the vibrations coming across the floor of the Trestle.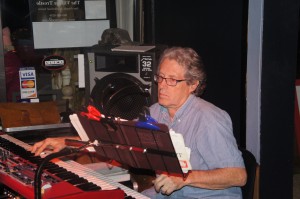 A true highlight came when Joe Kasper lead the band into Jethro Tull's "Locomotive Breath." Dark, elegant piano notes and then later synthesized flute notes made this rocker come alive. It also had the thick elastic groove and larger than life vocal needed to present this hard rock masterpiece from 1971. Guitarists Bob Belanger and Clete Price played a feisty mesh of guitars on The Rolling Stones version of "All Over Now" before Ray Soucy rocked right out on Tom Petty's "American Girl," nailing the wiry lead vocal and the driving bass runs.
All of the Boston to New Hampshire transplants and Red Sox fans in the room screamed with delight and joy when Cider Press tackled "Dirty Water," a timeless classic for most of us living in New England. Speaking of the Hub, Boston band The Cars got featured again when Cider Press rocked up "Bye Bye Love," complete with a good mesh of guitars, synth work, and snazzy drumming.
Another additional vocalist, Margaret Kasper, also dressed as part Native American squaw-part rocker chick, put in a fine showing on The Doobie Brothers "Without Love" before going whole hog and rocking out on Jefferson Airplane's "Somebody To Love."
Cider Press went back into their Doobie Brothers repertoire for "China Groove," brisk guitars and an action packed rhythm section proving a strong allure to the dancing crowd. While they were in a classic rock mode, Cider Press, with Bob Belanger on lead vocal, finessed the pretty, melodic roots number "Rock Me Mama Like A Wagon Wheel" before the band went back to the 1980s with a feisty take on "Love Shack."
The girl singers came in handy again on Adele's "Rolling In The Deep," rocking out on this sprawling, rolling number with smoothness in their empowered delivery.
But, Cider Press, first and foremost, is a band out to serve up some fun. So, it wasn't too surprising that they played "Sweet Home Alabama," "All Summer Long," and "Werewolves Of London" to capture and present the humorous similarities of those memorable songs.
Cider Press also has their serious musicians side. This showed when they performed "Brown Eyed Girl" with tasteful respect of its original form. A zealous presentation of some Steppenwolf numbers closed out their third set with a bang.
Keyboardist Joe Casper got to strut his stuff on The Doors' "Riders On The Storm" with beauty coming from his ivory tinkling Soucy, meanwhile, handled the lead vocal with manly aplomb while injecting rock and roll attitude into this down tempo, gliding waltz.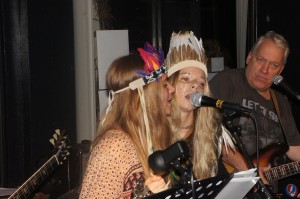 Segue into more Cars and "Just What I Needed" sounded fine and dandy with its familiar guitars and synth line. Cider Press surprised with their variety once more when they pumped out the bristling guitar work of The Romantics "What I Like About You." They also offered the plucky country music fun of Eddie Rabbit's "Rainy Night" before going headlong into Spencer Davis' sprawling rock epic "I'm A Man," with 1960s keyboards spreading the groovy gravy over the wild guitar plunges.
Going into their home stretch, Cider Press played tunes by Billy Joel, ZZ Top, The Black Crows, Boz Scaggs and some more Doors. "Roadhouse Blues" and "I Thank You" closed out the Halloween costume party with hard rocking energy. Through it all, guitarists Clete Pierce and Bob Belanger kept their six strings crackling with a live wire energy, briskly rubbing together lead and rhythm guitar lines to great effect.
It was a Village Trestle event to remember. A lady named Gemma won best costume. A woman dressed as "Pot Brownie" was the second place winner. A Zombie Saloon Girl took third place. And, the Best Couple prize went to "Zombie Milk Man and Pregnant Wife." With that much fun, it was good to have a band like Cider Press on tap to provide a soundtrack to the night.