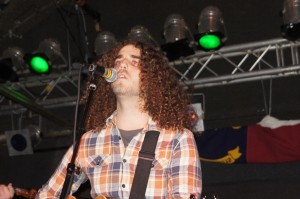 Dave Austin And The Sound came to Brighton Music Hall in Boston last night and rocked the house, soundly. Austin's smooth but driving croon, augmented by precise, electrifying musicianship flying alongside him, grabbed the ears and never let go.
After blowing everyone away with their introductory number, "Big Country," DAATS played their feisty "Can't Get You Off My Mind," marked by it's powerhouse mid-section thanks to guitarist Sage Griffin and guest fiddler Josh Knowles from the band Nemes.
"Rock And Roll Won't Let You Down" put keyboardist Erich Riepen at the forefront, His icy cool tinkling lead Austin and the others into this sweeping, mid-tempo rocker, complete with heavy chords punctuating its cruising melodic flow. Austin's voice, amidst the rumble of rock, was warm, inviting, and reassuring. His vocal glide, though, as smooth as it was, was still strong enough to smooth out all that was going on around him. He could be described as a hippie singer-songwriter who accidentally found himself in front of a rock band called The Sound and just said, "Hey, what the heck."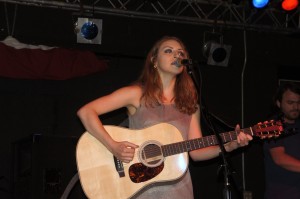 A quiet introduction which soon exploded into "Rock And Roll" was one of those moments when everyone in the audience sensed that this could be a band with a big future. There was something huge, dramatic, even during the quieter moments, something not attained by just any old band on a Saturday night in Boston.
"Love Me Like You Love Your Pills" was introduced as a song about a woman. Its rocking piano, layered over brisk guitar chords, turned this into another perfect rock and roll moment. Austin belted while slapping out chords on his electric guitar, like only a rock and roll wild man can. Many more epic rock moments came. Biting guitars and fiddle over a knobby, muscular rhythm section provided an authoritative stomp. Austin's wiry vocal wove well with the honky tonk, drawling rasp of guest singer Emily Kidd, the band's manager.
"Like A Woman" featured a robust groove underneath a bright piano line and electrifying guitar and fiddle work. "No Reason To Stay" found Sage Griffin unleashing a sharp phrase from his six string to start the slow boil blues rock number. The rhythm section built it up easefully, taking their sweet time as the piano colored it in blues. The guitar work pushed people out of the way, one at a time, all clearing a path for Austin to belt with a southern flavored abandon at the microphone. Knowles jumped right back into the action here, helping Griffin create some sparks, then some firecrackers, before setting off fireworks in the song with their gloriously colorful melodic phrasing.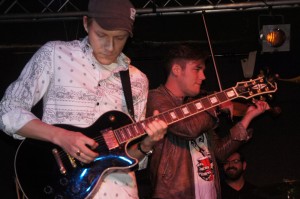 "Quit My Job" had a universal theme but was especially meaningful for people who have had to work in the retail business. Careful listening revealed a Black Crows influence in the graceful, southern fried unfurling of this piece. Then, Dave Austin And The Sound closed out their headlining set with "Sugar Mama," a number marked by irresistible grooves and raspy vocals. It turned the Brighton Music Hall into a huge dance party. Everybody was clapping, singing along, and boogieing down to this one.
Opening act Christa Gniadek flourished and impressed under the bright lights of the Brighton Music Hall. Her opening number "Stay" had a fresh, bulbous country tinged feeling. Her voice, sweet, pure, and also booming, had the audience in the palm of her hand from her first notes. Gniadek and her three band mates sure laid down a pretty lush sound on second number, "I Had You." Her vocal melody was incredibly pretty while her band was equally adept at filling in colors and tones. Her electric guitarist created rustic atmospheres with a minimalist touch while her upright bass player kept it chockfull of groove, locking in with her drummer, much like a classic rock band, while also keeping it rootsy fresh.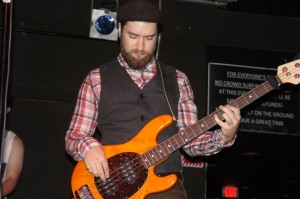 Gniadek wielded a mean country tinged harmonica, her lines adding a nice touch, inflected a bit with an old train whistle timbre, enough to keep the song feeling alive and real on "It's Not Right." And talk about a lush vocal, her voice on "No Way Out" found her layering this tune with something special. Words cannot describe her voice. She has to be heard.
"This Train" offered plenty of country grit in the electric and acoustic guitars while the drums and the upright bass provided a fun, foot stomping inspiration and involving shuffling beat. Next up, "You" was delivered with a wistful vocal that hit the emotional bulls eye. Gniadek closed out her set with the title track of her latest full length album, "Leaving Boston." Gniadek more than held her own against the electric mandolin and tom tom magic going on beneath her vocal line.
The Raleigh, North Carolina band Chatham County Line came on last to close out the night with their acoustic guitars, upright bass, fiddle, and banjo making all kinds of emotional statements. Mixing country, bluegrass, and other Americana roots, the quartet sounded organic, sweet, and completely real. These easy going southern boys cooked up some earthy tunes that appealed with their forlorn country tinged melodies.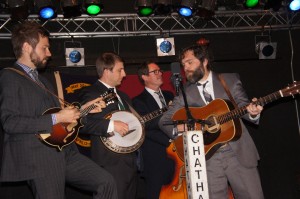 Songs off of this year's release, Tightrope, adorned their gritty, emotive set. "Girl She Used To Be" found their vocal harmonies over the top good, special, with a warmth that makes you feel what their song is all about. "Tightrope Of Love" offered plenty of speedy notes from their mandolin and banjo before they went into more up-tempo bluegrass stylings, speedy fun songs that made one feel like dancing a jig. John Teer's fiddle solo was chockfull of sweet, bouncy notes.
Those boys from Raleigh sure brought a lot of southern charm to Boston last Sunday night.
An amazing line up, last Saturday night at Brighton Music Hall showed what a varied offering of bands could do for an audience. The crowd was cheerfully supportive of Gniadek, dancing to DAATS, and foot stomping to the country charm of Chatham County Line. While the Raleigh boys are sure to be back in the northeast before too long, it's also a safe bet that the Boston music scene will be hearing a lot more from Dave Austin And The Sound as well as Christa Gniadek.