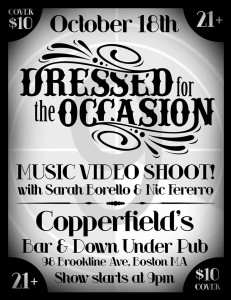 Dressed For The Occasion have released some exciting news for music fans.
Dressed For The Occasion are set to begin filming a music video for their first single The Simple Life off of their brand new album entitled, The Devil in Your Head, which is set to release in early 2015.
The band's first step will be filming their live performance at Copperfield's in Boston, Massachusetts on Saturday, October 18th. The band would appreciate a good turn out for their show.
You can listen to The Simple Life here: http://dressedfortheoccasion.bandcamp.com/track/simple-life
Here's some information about Dressed For The Occasion: ACHIEVEMENTS: -Recently opened on the main stage for classic rock band Foghat in New York – Nominated in 2013 and 2014 for A New England Music Award for both Best New Act and Best in State respectively. -Performed live at the 2014 New England Music Awards – Performed at the first annual Outside the Box Festival in the Boston Commons – Consistent radio play & performances on numerous radio and talk shows including Evolvement Radio, WTBU and 106.3 Frank FM – Toured the United States with the New Jersey based and legendary punk group Hudson Falcons
Their first full length album, "Suit and Tie" can be heard here: http://dressedfortheoccasion.bandcamp.com/album/dressed-for-the-occasion
Share on Facebook

Follow me on Social Media!