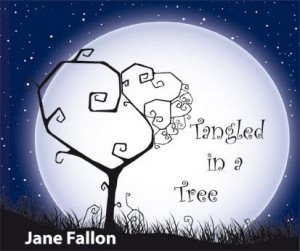 Jane Fallon puts a lot of grit into her fifth CD, Tangled In A Tree. Her songs are rugged adventure stories and she supports them with an almost strident vocal, edgy country twang, earthy acoustic instruments, and a rock and roll heart. Fallon has lived all around the United States, and she picked up song ideas from every area she had settled in. This life experience gives the singer-songwriter a variety of lyrical inspirations and a variety of song structures.
Opening track "Make It Right" finds Fallon calling on people to make the most of each moment with others that they care about. She applies her gentle, tender croon to drawing as much emotion of her message as possible, and there is a lot of heart here. Fallon's flowing voice matches the moody beauty of Michael Ronstadt's cello melody. The songwriting affects the listener's emotions without even trying. No maudlin sentiment. She just tells it like it is, reality, and that's enough to feel what this is all about.
"Humming Lake" is another contemplation of human bonds. Here, the singer-songwriter gets an extra lift from Bob Francis's mandolin injections. Fallon's smooth timbre and easeful approach contrast beautifully with the brittle, sweet mandolin notes.
"That's Enough For Me" is another tender number driven by a gritty acoustic guitar melody. Again, Fallon's whispery sweet voice contrasts well with the note picking action going on beneath her, making each sound beautiful, natural, and tender. This creates a warm home for her lyrical insights into the responsibilities of friendship.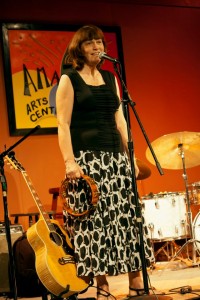 "Daddy Was A Cowboy" is a potential hit song on adult contemporary radio. Fallon is seriously assertive here, like a woman strong enough to have been raised by a cowboy. She contemplates all of the possible fates that may have befallen her cowboy father. Chirpy Dobro from Rob Carlson and synthesizer from producer Jeff Root give this a nice western, out on the range feeling. Over that, Fallon emotes the longing for a connection to one's father all children have, giving this tune a universal theme.
"One More Last Time" is another with country roots flavoring. Carlson is back with his tasty, rootsy dobro notes, each one percolating finely behind the vocal. Fallon wraps her voice around this gritty, western swing number with great aplomb. Listeners get a good dose of her wholesome attitude in her warm, assertive vocal projections.
Mourning love's loss, "He Believes In Love" is another tender, sweet acoustic number. Fallon's lush vocal during her chorus pulls the listener in like a strong, helping hand pulling you over a barrier. The tone she maintains throughout keeps the listener wading knee deep through forlorn emotions. It's all about a man who cannot have the girl he wants. She also balances an affectionate understanding of this man and his naïve view of love. There is a lot of contrasting emotions going on, and Fallon balances the ambivalence well.
"Snow Angel" is Fallon's fond recollection of growing up in New England, playing in the snow after a blizzard blanketed her world with white stuff. Guitar work from Kenny Selcer and Steve Gilligan give Fallon a tapestry of beautiful notes to waltz over, which she does oh so well, with her warm, affectionate vocal.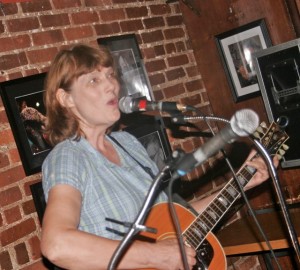 "Peace" is a contented person's plea for calm. Fallon maintains a fine tranquility in her song, asserting her message without asserting her vocal. Instead, she lets her sublime, low key vocal express what she calls for by calling for it peacefully. Sincerity and the warm wishes in this song carry it to a special place in the listener's heart.
"Travelin' Thru" finds Fallon using lovely sustains to emphasize the peripatetic lifestyle of people who drift around the world until they find their place in it. She creates special, magical moments in her chorus, stretching her timbre when making her point. Her guitarists, again, weave a special feeling in the backdrop of her song. They help her to make the listener feel what her song is about. Forlorn emotions abound as we imagine people living out the scenarios Fallon describes in her lyrical vision.
Another potential radio hit, "Waiting On Oblivion," lets Fallon rock it up a bit. She brings a feistier edge to her vocal assertions. She describes people who are suffering from desperate low self-esteem, delivering a vivid portrait of these people and their bleak surroundings. Her guitarists go electric here and serve up an edgy backdrop to a particularly edgy lyrical conjuring. A listener cannot help but feel this one.
"Foolish Pleasures" sounds like something from The Great Gatsby era. Its swing influenced motions give one that jaunty, bump in the step feeling, as found in music from the happy 1920s. Fallon moves her vocal line smoothly and adeptly around the melody line from the Selcer guitar. Her voice is as sweet and smoothly soft as a clarinet melody. This song is a treat for the ears in on so many levels.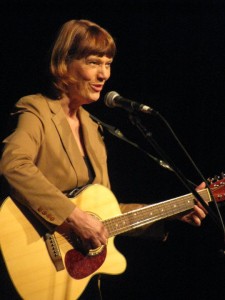 "Talk To Me" calls on people to talk to each other in person, as opposed to our modern options like texting, messaging, cell phoning, and e-mailing. Fallon sings in short bursts of energy as she playfully gripes about the people who do not address her in person. This gives her song a winsome charm. Never sounding angry or frustrated, she takes a humorous look at the family members and friends who seem to not notice who else is in the room when they're fixated on their communication devices. Mandolin player Bob Francis gives it a sweet bounce, reinforcing the gentle wit of the song.
Fallon closes out her album with "A Capella Ella," which, as the title implies, she sings without accompaniment. This lets the listener feast his ears on the natural beauty of her voice. Fallon also shows true discipline in the way she moves her voice around in this quiet number.
On sheer talent alone, Fallon is a force to be reckoned with. She could go far and do well with the right kind of marketing and management. The depths of her vocal, lyrical, and acoustic guitar talents cannot be described, completely, in words. She does some things so subtle that you just have to hear it to appreciate it. She is a true artist and her artistry shines through on many levels in every song on this disc.