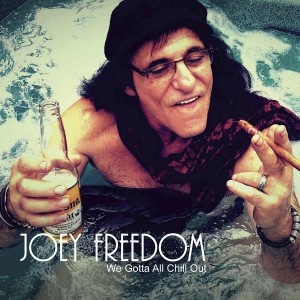 Worcester's Joey Freedom is at it again. He strikes punk rock gold on this new album, We Gotta All Chill Out. Writing songs for 55 years tends to make one good at. Taking the time to study what one likes and what works for an individual artist is another luxury Freedom has earned. Working with producer Clintone to bring his lyrical and musical visions to life was a wise choice. Clintone packs plenty of punch, playing all drums, lead guitars, bass guitars and singing all of the background vocals.
Title track "We Gotta All Chill Out" opens the album with Freedom's raspy rock and roll vocal and attitude coming out of the speakers in a let it loose abandonment. Influences from the 1970s abound. Everything from The Ramones to The Sex Pistols to Iggy Pop to Ace Frehley lead guitar jump out at the listener in one wildly beautiful mesh.
"Ain't No Money" is a gripe about today's recessionary times, when there's money for the rich and money for the military while the average person scampers about with none. Freedom injects plenty of attitude with each and every verse. A punk rock vibe, spearhead by a driving guitar line, feels as angry as the vocals. That guitar sounds like it will never stop screaming out its notes, like it's being tortured, starved for the right to expression.
Freedom has rollicking fun on "I'm Goin' Insane." An eccentric backbeat provides the motor for a meaty low end and feisty, punk inspired guitar magic. One can almost picture a guitarist pressing those higher, screaming notes out of his frets. This song is just pure rock and roll creativity. The rhythm section has its pulpy groove down to a science while Freedom arcs over it lyrically, vocally, musically. It's a musical adventure thrill ride.
A wiry guitar phrase pulls the listener right into the slow burn, smoldering "Grace." Freedom croons this one in a low key mellow groove while a guitar keeps a fire burning behind his voice. It's like someone making a wild, motivational speech in front of a bon fire. Freedom and his backing vocalist form a choir effect out of the song title, and that raises the beautiful rock and roll feeling into higher spiritual levels. A mighty acoustic guitar strum compliments the fiery electric phrasing and the whole thing makes one feel as good as after an old time church revival meeting.
"Til You" is an ode to a special someone who turned the singer's life around. It's cool how Freedom sings this love song in a punk rock crooning timbre. Snappy drum work punctuates the punk feel of this song marvelously. The low end is nice and pushy while Freedom contrasts the action packed music and vocal line with his warm, affectionate lyrical ode to his "you." There's a near comedic effect to hearing a love song sung in the style of those 1970s rockers.
"Lovin' Alone" grinds its way forward with grunge like guitars and a bluesy harmonica. The listener gets a sense of travel as that harmonica gives off beautiful but forlorn feelings of distance and movement. That Clintone guitar burns its way forward, poking itself through the cobwebby contemplation of world weary issues. This one could likely be the hit single on local radio stations. It's got lots of flash, soul, and personality. It's blues and punk at the same time without either genre upstaging the other.
"Happy" is a contemplation of being unhappy while having every possession imaginable. One can feel Freedom strive to have that extra something in his world that would make all the difference. This is an anthem dressed up in punk rock expressions of frustration. Instead of complaining about having the summertime blues, Freedom contemplates the ennui that many of his age group goes through after they've achieved everything they had set up to and feel there is nothing left to conquer. It's like an ode to a victorious warrior who has no battles left to fight or castles left to storm.
Freedom discusses what he loves most in this world in "Guitar Man." He must have been smiling in the recording studio when he expressed his lyrics about "Gibsons, Fenders, Marshall amps, the ones with big glass tubes." Needless to say, Clintone's guitar offers up a bon fire of hot feisty notes while Freedom sings this ode to the musical instrument that had changed his life and the lives of many, many others.
"Is It Gonna Be Different" moves along the smoothest low end groove. On top of that bass line, Clintone peels off a blisteringly hot guitar line then, in true simpatico, pauses to let Freedom emote in his cool, rock and roll rasp. Subtle shifts in Freedom's vocal tone pull the listener along and allow him to navigate the fun twists and turns. He's a tremendous narrator of his song's emotions while also matching the power of the wedge of live wire musical sparks going off around him.
Freedom closes out his album with a plea to the world for "A Lot More Love." Here, a fuzzed rhythm guitar forms the backbone of this song while Freedom emotes a beautiful croon about compassion in a world where it's sorely lacking. It's a great close out, with plenty of guitar lines spiraling ever upwards while low end notes and drum smacks keep coming on strong with a palpable patter. One could get as much spiritual salvation as rock and roll fun by the time this high flying anthem ends.
Freedom has done it again. He's taken all of his 1970s rock and roll influences and put them into deceptively strong song structures. Producer and multi-instrumentalist Clintone creates the closest thing to a rock and roll wall of sound to not only accompany Freedom but to challenge and inspire him to the finest heights of his creative, performance abilities. Let's get some of these songs onto local radio right now.