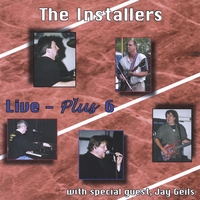 The Installers have had a fairly long history in Central Massachusetts. With the booming voice of singer Stephen Clarke and players who can match his power with their stomping musicianship, The Installers became well known for their engaging, high energy live shows. It makes sense that they recorded themselves in concert at The Bull Run in Shirley. Live – Plus 6, released in 2008, is a fine document of what The Installers have to offer a large function room full of blues and rock fans.
The Installers open with "Soldier Blues," a foot stomping number with a driving beat, brisk guitars and harmonica. Written by their bass player, Marc Rines, it moves like rock and roll, but it feels like blues, especially Shawn McCann's icy cool piano tinkling. Kevin Visnaskas' guitar work offers a lot of fast moving phrases that are loaded with electricity.
The band moves into the old blues classic "Texas Flood," with Visnaskas leading the way, his phrase working its way through the groove with the flexibility of a snake, delivering an emotive, engaging, twisty line. Clarke does a beautiful job finessing the peaks and valleys that his vocal melody line must travel. A voice full of character and richness, he makes you feel what the song is about.
Clarke leads the band into his own song "Who's Been Loving My Baby?" It's a snappy number. The rhythm section pumps out a steady groove. The guitar is both free and snappy. The organ swirls cover it all in blues gravy. Clarke is his usual belty, soulful self, singing it like he means it.
Taking things slow for "Our Love," Clarke emotes well about the relationship this number focuses on. Written by Rines, it's engaging, inviting. Listeners can feel themselves moving along with this one's upward glide, the song getting plenty of lift from the musicians who keep taking it higher and Clarke who puts forward his best tenderness.
"Phone Booth" is a fast, flowing riff fest. Listeners can almost picture Visnaskas's fingers slapping out his funky guitar riffs. The six string riffage leads the up-tempo action here, soon turning into a phrase sharp enough to cut glass. Making it rhythm and lead guitar at once is a magical balance that makes you want to move to this number. The rhythm section makes it happen with persistent punch in their groove factory, producing something that can move the dancers to the dance floor while moving the band in serious forward momentum. Keyboardist McCann takes a solo and spices up the song with his percolating organ boogie.
The boys go right into Robert Cray's "Playin' In The Dirt" with a confident swagger. Clarke pulls off the charismatic vocal thing, his hefty vocal letting out the appropriate amount of emotion to keep listeners glued to the tale. Boy, does that Clarke really give a lot in this one. Classy piano lines from McCann give a sense of the upscale nature of the song. It's not just a down and dirty blues song. It's also an elegant expression of the song's meaningful lyrics.
"Statesboro Blues," written by Blind Willie McTell, popularized by The Allman Brothers, and covered by almost every bar band in the world, gets a good workout here by The Installers. McCann's organ riffs, Visnaskas' feisty blues guitar boogie, with Rines and Jim Burn's chugging, locomotive groove, and Clarke's strong, soulful vocal emissions make this an emotional high point of their concert album. It stirs a strong emotional response from the listener.
The most fun song on this album is probably is Paul Anka's "She's A Lady," as popularized by Tom Jones. Clarke injects a joyful feeling into this rendition. McCann's organ work keeps it within its fun, pop mode while also keeping it earthy. The rhythm boys, too, keep this up-tempo number infections and danceable.
At this point in their live concert, Clarke introduces world famous guitarist J. Geils, from that band that we all grew up listening to. Geils unleashes his fine blues-rock guitar phrase on the Otis Rush classic "Homework," playing it like an artist and a force of nature. His melodic line is icy cool, full of expression, and he delivers it with a true craftsman's precision. It's a cool song historically, and this band, along with their very special guest, do it justice in the hip department. You can feel their swagger as this number jumps out of the stereo speakers.
"So Sharp" shuffles along with a snazzy beat that makes the listener want to do the boogaloo. One can also dig the stabs of guitar from J. Geils. Harmony vocals during the chorus give this a lively oldies feel. "Cruzin For A Love," too, feels like something out of a previous decade. Geils gives it a tasteful guitar phrase, one with a good feel for where the song is going.
Just when you thought you heard a full album of live music, The Installers' recording includes a set they played at the Mt. Henry Block Party, also in Shirley, Massachusetts. They nail the J. Geils' Band's "Southside Shuffle" with all the snap, crackle, and pop it demands. The Installers nail the harmony chorus, the guitar riffs, and the piano boogie.
Guitarist Barry Callahan is with the band on this set, offering more heft and variety to the six string department. T-Bone Walker's "T Bone Shuffle" benefits greatly from the two guitars rubbing their lead and rhythm lines briskly together. The extended guitar phrase takes the main melody line for a pleasant walk around the block, and, some jazzy organ riffs are another treat.
The Installers jump right into the jumpy J Geils penned number "Ice Breaker." With their brisk exchanges, each takes the spotlight a few moments, strutting their stuff. The boys rearrange "Looking For A Love" to make it their own, light, graceful touches from each player and Clarke's gentle application of his vocal power keep it in a special zone, pleasant, without getting too light.
The Installers build up the Greg Allman song "It's Not My Cross To Bear" from a down tempo blues to a mountain of sound. It starts out with Clarke easefully expressing the forlorn reality of the song with his tender application and the players gracefully supporting with nice, easeful touches. Listeners, though, can feel and hear the climb take hold. Clarke begins emoting with more force, projecting his voice over the gradual increases in instrumental intensity. It's a treat to hear these guys carry this prayer song so thoughtfully and caringly.
The boys close the album with a cover of J.Geils' Band's 1977 title track "Sanctuary." The guitars are crackling. The keys bump it along with persistent riffing. The rhythm section keeps it primitive and hip. Clarke's grittier timbre is well used here to capture what the original was all about.
Live – Plus 6 gives the listener a fine taste of what The Installers can do when they play in concert. Combining two live performances from two separate venues shows the consistency with which The Installers perform. They are a true live band, and this live recording gives many reasons to catch this band in their natural habitat, in concert.
https://www.facebook.com/pages/The-Installers/220754048667?fref=ts