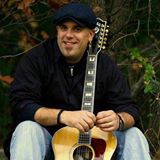 Sean Fullerton is an old school solo acoustic blues musician, and, after playing out professionally for 20 years, that solo approach works just fine with him. Fullerton is, aside from a musician, a recording engineer, a singer-songwriter who plays blues and rock and roll and his own original music, and a finger style guitarist. He enjoys his multiple jobs in music and the multi-dimensional aspect of it.
"It gets you involved in many different facets," he said, "especially when you're writing your own songs, you know how you want them to sound and be performed and recorded. You're developing everything from scratch, all the way up to the performance level. "
Fullerton primarily focuses on the music scene in Central Massachusetts, but he also shows up all over New England, Boston, beach gigs in Maine, Rhode Island, and the Cape in the summer months. During the winter months, he drives out to New York City to perform.
Certainly, his longevity on the scene helps but his old school marketing techniques get his name out there the most. "I still do the paper fliers, either mail them or deliver to a venue," he said. "Sometimes I'll still do little fliers on the corkboards of the music stores or put them on windshields on cars." Fullerton noted that Van Halen made their mark on the LA music scene by posting a thousand fliers at a time for each gig. "If the LA Lakers were playing a game at the LA forum, one of them would go and flier all the cars in the parking lot."
Fullerton happens to have some crystal clear photographs of himself and his guitar, almost lifelike in their detail. His friend Nikilette Walker, of Nikilette Walker Photography, who, in addition to taking care of his Facebook page, takes those promotional shots. Fullerton also knows how to work the media. He's been featured in many local Worcester area publications many times over. Fullerton has recently helped husband and wife musicians John and Noel Nickerson start their own publication, Love Shack Magazine.
"They just gave me my copies last night," he said. "It looks great. It's very well put together." Fullerton put his paid ad on the back page, another way he gets the information out there about his gigs, as the publication has 350 location drops.
Fullerton has had a love for the blues almost as long as he's been into rock and roll, which began at age 7, when he became a huge Beatles fan. "I just had the instinct to research," he said. "I was exposed to classical music early on by my mom. Recognizing that these were very old pieces of music, I just had the instinct, once I got into rock and roll, just to see how far back rock and roll went."
Initially, Fullerton, at age eight, went as far back as Elvis. As Fullerton got older and became a musician, he wanted to find out more about who wrote songs recorded by Elvis Presley. He discovered that "Hound Dog" wasn't written by Presley but by Jerry Leiber and Mike Stoller, the song writing team who had initially written it for a blues singer named Big Mama Thornton. Next, Fullerton's life changed when he found out that Cream classic "Crossroads" was originally written by Robert Johnson.
"I started doing research on that and found the Robert Johnson version," he said. "It just clicked in my head. 'Wow, there must be a lot of rock and roll songs that are based on blues music.' So, I started doing my research projects to find the original artists. I wasn't gung ho, at first, I just learned it more for learning sake. As I started to become a solo artist, I really wanted to play this stuff because this is obviously sacred music. Ideally, if it was up to me, my shows would only consist of my own songs, Delta country blues, and The Beatles, and that would be it. To me, that's all sacred music. You have to be playing it correctly, or, you shouldn't be playing it at all."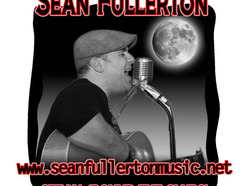 Fullerton gets his own songwriting ideas from his daily life. His song "In Line With Me" came to him when he realized he had to become a songwriter when he hit the coffeehouse circuit. "For the most part, people were doing their own songs," he said. "I thought I better get in line with everybody else. That's how the idea came about for the title. The message of the song is life is what it is."
Fullerton, when playing covers of others, prefers to tackle Robert Johnson songs. "To me, there's nothing better than one guy, one acoustic guitar, maybe a harmonica, and that's it," he said. "If you can encompass everything into that little mix, then you definitely have something going on. If you listen to Robert Johnson's stuff, there's rhythm guitar, there's lead guitar, all happening at once. And the subject matter is in his songs; there's like this darkness, not an evilness but a darkness in what's he's saying, as opposed to the sound. It's always been an appealing thing. It's this endless curiosity to find out what else he has to say. It's hard to describe." Fullerton feels blues invokes the image of nigh time with a full moon. "The full moon has become my official logo," he said. "It's on my business card and my shirts."
Fullerton's other favorites are Lightning Hopkins, Skip James, and John Hammond. Hammond inspired Fullerton to play harmonica. He also likes harmonica players like Little Walter, James Montgomery, and John Sebastian of The Loving Spoonful.
"I'd probably say, though, that my favorite blues singer of all time is Howlin' Wolf, and he's electric, but he's my favorite blues singer" Fullerton said. Yet, playing solo acoustic, is, for Fullerton, easiest.
"It's less stress that way, in my opinion," he said. "I can play what I want to play. Not that I'm a control freak. I just really love that one man, one guitar sound. That's what gets me off the most. I like music to breathe."
It's also harder to connect with an audience when he has to play songs he doesn't like because somebody in a band wanted it on the set list. "I know people enjoy what I play when I play the blues," he said. "I get told a lot I need to stick to the blues."
Fullerton uses a Resonator for his slide guitar work but his primary instrument of choice is his 12 string acoustic guitar. "It's not something that you hear very often, at least in live local music," he said. "I just prefer the sound of it, especially for a solo performer. It's got a nice full sound. I feel there's more you can do with it than you can do with a six string."
Fullerton said he looks forward to seeing old fans and meeting new ones out in the field.