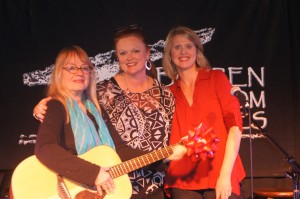 Headlined by Robin Lane, Last Sunday's presentation of Chick Singer Night at The Burren in Somerville, Massachusetts went off with hardly a glitch. Joining forces with the Burren's Sunday night music program was a smashing success. Turnout and enthusiasm was high at the Burren's backroom last night. Beautiful voices and lovely melodies rang out in a roomful of receptive ears. If that wasn't enough, the show was a benefit for Lane's organization Songbirdsings.org, a group that supports victims of trauma by teaching them songwriting.
First up, Laura Brereton, with a few support players like Raleigh Green, Katrina Peterson, and Ron Wilhelmsen, sang her song "House Of Cards" over a warm bass line, her lovely vocal floating right over it, like something out of a dream. Brereton soon brought up Wilhelmsen on harmonica, a player whose mellifluous notes blended seamlessly with the other acoustic instruments while giving it a mighty blues flavor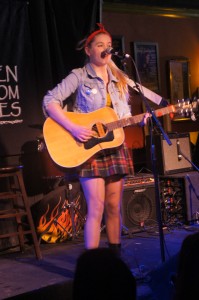 The most important thing about Brereton and her accompaniment was the assertive folk feeling they brought to their material. They really made you feel their messages with their gritty musicianship. They often chugged like a locomotive with a lot of nimble guitar picking and up tempo harmonica grist. Meanwhile, Brereton's voice maintained a fine balance between her high pitch and smooth timbre, contributing to the music's pure rustic feeling in every lyric her voice caressed. Brereton and her husband Green own Medford Music Studio in Medford, Massachusetts. www.medfordmusicstudio.com
Next up, youthful newcomer Gillian Pasley performed all by her own self with just her acoustic guitar for support. Her first number "Sit And Pray" was sung with a charming rapid vocal delivery. Pasley's pleasantly chirpy voice gave her a built in winsome quality. Her song "The Lonesome Violinist" found her singing in a more mellow pace while she picked supporting notes that rang out with a life of their own. Yet, it was her unique timbre that gave her an edge, making her stand out from today's pack of acoustic pop wannabes.
Pasley got more assertive in her final song, making it sound like an anthem during the chorus, a vocal yelp that got a very favorable response from her Chick Singer Night audience.
The audience members in their middle years got a blast from the past. Robin Lane, the memorable front person from the Boston band Robin Lane And The Chartbusters that went national in the 1980s on the strength of "When Things Go Wrong" and other hit singles, came up to headline the show. Lane opened her set with "Lost My Mind," showcasing that quality of largeness in her voice that made it easy for the younger members of the audience to picture her singing in arenas. Yet, there was also a timelessness in her voice, like a singer who could have a hit in any time period in modern music. She still has her silky smooth timbre that gives vibrant warmth to every lyrics that flows out of her.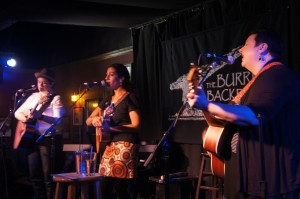 Lane told of a record company executive in LA who wouldn't work with her after she took her chewing gum out of her mouth and stuck it on her guitar so she could audition for him. This lead to a somewhat folksier number as she sang of having a hard life, in which she captured the essence of struggle. Her song "Prison Ladies," inspired by her more recent experiences working with trauma survivors in prison, found her singing with resolute soulfulness. Lane related that songwriting saved her life and so she shares the ability to heal through songwriting with others who are in need of healing.
We, from the Generation X years, still feel moved when Lane performs "When Things Go Wrong," and last night was no exception. Her duo performance, with only her acoustic guitar and a bass guitar man supporting, yanked the emotive qualities of the melody and lyrics and vocal right out of the song and delivered them with striking power. Lane could make you feel it in the Burren last night just like she could make you feel it in an arena with thousands of people beside you back in the Reagan era.
The next singer to take the stage was Lydia Harrell, also known professionally as The Lovely Singer. Sounding similar to the great early 20th century blues and jazz vocalists, Harrell sang with a clear, soulful croon, contrasting well with the brittle, sweet candy notes from her ukulele. Harrell sang with tremendous soulful depth to her keyboard supported song about older widows on "You Were Mine." Harrell's coos bordered on magic, like she was in an emotional connection with her audience, reminding them of the feelings they too have had. Harrell then brought the audience back to the swinging 1920s with another of her uke accompanied numbers. She maintained a delicate balance between her higher pitched vocal notes and the bright, brittle ones emanating from her new favorite instrument. An audience member might have though he just stepped into Jay Gatsby's backyard for another summer party.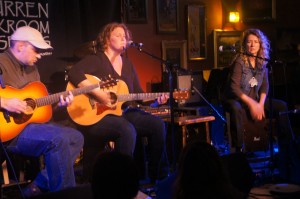 Up next, Chick Singer Night co-director Marcia Macres brought the audience through a display of strikingly different female singer personalities. Cerebral and contemplative performing keys and singing a Lincoln Park song, soulful and emotive during an Etta James number, and as sexy as Catwoman on "Love Me Like A Man" and "Black Lace Freudian Slip," Macres was every woman you're likely to see on a stage.
A band I'll be checking out soon, The Cicada Sessions, played real honest to goodness folk material. They played a set marked by beautiful harmonies and swaying coolness. These are strong women with strong voices singing a strong message. Allyson Casey sang particularly well over the hefty weave of folk instrumentation going on around her vocal. Listening to Casey, Melissa Morris, and Divya Kumar sing as one, you'd think there were angels in the room. They each have something special to offer, and when they sing together, there is a vocal force to be reckoned with, a folksy choir that one can listen to all day long. Oh, and they're not an exclusive girls only club. They let Nick Zaino play along on bass guitar.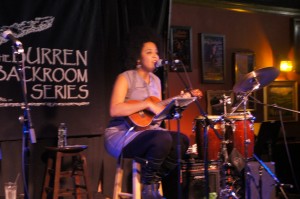 Last but certainly not least, the lovely Jennifer Truesdale, co-director of Chick Singer Night came up to close out the night. Some singers just have a way looking pleasant on stage. Truesdale is lovelier than the word lovely could ever define. She shines with a natural grace and pleasant manner that would make one think that anybody who didn't like her must need help or medicine. Truesdale belted well over sparse accompaniment from Joe Musella on acoustic guitar. Her sustains had a touch of class that you don't usually hear in such hard driving music. She handled well the Stephen Stills classic "Love The One You're With," making us forget the full band classic rock recording. She also pleased her audience with a pared down performance of her own original. "Take A Trip Inside My Mind."
It was another meaningful Chick Singer Night Experience. Using the Burren's Sunday Night Back Room Acoustic Music Series was a stroke of brilliance. It created a perfect setting for this unplugged version of Chick Singer Night and the ladies had someone with Tom Bianchi's uncanny skills working the sound board so things went smoothly and sounded fantastic. It was a great chance to hear great melodies and voices in a room with a vibe so perfect you'd want to go back there every week. It was also a great cause, supporting victims of trauma through songwriting. Every aspect of the event tied together well. Most in the audience probably left the room anticipating the next Chick Singer Night, which will be take place in the spring.
https://www.facebook.com/ChickSingerNightBoston?fref=ts