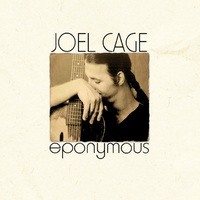 Joel Cage' s latest album, Eponymous, offers a whole smattering of styles and approaches that the singer-songwriter expands on in each song. Aside from having something unique to say in each song, Cage makes his mark by putting his songs together with fine craftsmanship. His unerring sense of what a song needs shows itself in each tempo, sustain, and instrumental accompaniment he chooses. Each tuneful work here is the audio vision of a painterly scene in the listener's mind. His songs are loaded with nuance because this former member of Southside Johnny & The Asbury Jukes still creates music as if he's writing for a full band.
Opening cut "Devil" is a foot stomping, Celtic influenced work of mischief and fun. A myriad of acoustic guitar notes, percussive swagger, and a lilting vocal melody dance around an incisive, piercing electric guitar phrase. Cage carries his listener through the jolly feeling of his bouncy song and lyrical humor.
"No Secret" finds Cage singing with a sprawling edge, a vocal melody that he casts out far and wide. His steady vocal clip sounds majestic, floating over some Hammond organ notes. The singer-songwriter builds a huge narrative arc in this one, and he carries the listener along on a gust of emotion and a heft of musical exuberance. Beneath the sweeping largeness lies a tenderness of his beloved that rides a sublime path that affects the emotions while the sounds carry one high.
Inspired by an electrical storm that fried his computer, "Another Place To Start" is about beginning from scratch or from a basic building block. Cage creates a sense of being in a fresh new time and place. Whatever came before doesn't matter as much when the new world he's in offers its own unique possibilities. The singer-songwriter puts a lovely cooing sound and mildly chugging percussion underneath his straight forward, low key vocal approach. This creates a sense of motion, like he's floating away blissfully on his cloud of hope while the world deals with its own troubles.
"Lost" feels like a journey. Cage does a fantastic job at making his listener feel he's at a crossroads where he cannot decided quite which way to go. He also knows that he must go in one of the possible directions, still confident any would be the right way. Gently crooning over his low key guitar strum, Cage creates a sense of pleasant drifting. This song works on its strength of delving into not having a specific destination, lyrically or musically. One can almost feel Cage putting this song together from scratch in that he's exploring his myriad of choices, lyrically, musically, and in life.
The pace picks up, jauntily, on "Already Yours." Peppy percussion, mobile bass lined, and sweet acoustic guitar picking create a feeling that one is moving forward, going somewhere, to a special destination. Cage finesses the easeful sublime chorus, makes it feel like something caressing the ear with its whispery lushness. His guitar playing here is masterful as well. Constantly picking quick intervals of notes, Cage contributes even more to his song's feeling of being on a journey.
"Perfect World" combines many fine elements to create a cohesive vision, perfectly complimented by Cage's mellow vocal application. His acoustic guitar picking underpins a string melody, allowing both instruments to color the emotional hopefulness of this song. Some lush harmony vocals shift the song into another, more heavenly mode, making the listener feel lifted along with the music. "Caisson" comes at the listener with rock and roll persistence. Piano strikes the listener with its spiky chords. Drum smacks push it along with muscle. Cage's mellow introspection comes across beautifully in his smooth, lilting vocal melody His gentle croon contrasts masterfully with the restless rock and roll accompaniment beneath him.
Cage gets into some flinty guitar picking style in the down tempo "Perfectly Flawed." His acoustic guitar notes push things along nicely while Cage injects his gentle, understanding personality via his vocal inflections. A floating cloud of soft horn like melody makes the listener want to drift away with this melodic confection. And a self-restrained tuba line gives this tune a natural fullness that cannot be ignored.
"Taketh Away" finds Cage in his most spiritual introspective zone. Singing about the ephemeral nature of all living things, Cage quietly unfolds his mournful truths over sturdy, tasteful banjo notes, a climbing acoustic guitar progression, and plenty of other tender instrumentation. His voice sounds like he's scaling his accompaniment rather than being trapped in lock step with it. This contributes cleverly to his concept of things once tangible suddenly becoming out of reach.
"Snowman" is a delightful commentary on winter time scenery. Cage makes you feel his white sheet of serenity with lyrical imagery and in the quiet confidence he sings with. His vocal sustains are lush, full, and they make one feel carried along with his tunefulness and with his ideas in this piece. Beneath the vocal and acoustic guitar lies another of Cage's inventive hefts of musical accompaniment, one that contributes to the feeling of being in motion in his tune.
"Got My Life Back Again" is a cheerful view of how one gets back to a good place after being in a place of boredom, disappointment, and pain. There's a clever circular motion in the music that makes one feel what Cage is singing of, getting back to the pleasant place one started out in. One could certainly benefit by listening to this song while feeling down about an upending event. Cage's self-assured vocal makes clear that this is a natural order of things and that things will always get better, or at least back to where one started. The musical instrumentation he wraps around his acoustic is another layer of redemptive joy.
"One Man Show" is one of Cage's band recordings, a track that he didn't want to leave collecting dust in the vaults. It's a sterling rock and roll number that makes one wish Cage would release an entire album of such material. It's introspective lyrics remind somewhat of Bruce Cockburn while the music is pure rock and roll. Cage belts like a man on a mission while harmonica man/organist Dave Johnston layer it with soulful gravy.
Cage closes out his fine Eponymous album with a stripped down version of his opening track, "Devil." His aggressive vocalizing and guitar strumming make this rendition feel as rugged as rock and roll. It's also a dandy in its arcing narrative, with Cage constantly taking the song to a higher place with his fierce expression. This action packed number could definitely be included in a film score. A listener cannot help but imagine drama taking place as this one exudes out of the stereo speakers.
Cage's Eponymous album offers a lot to his longtime fans, and it's a fantastic introduction to new fans. He sings with an earnestness that lays bare his emotional honesty and his well-crafted songs have plenty of instrumentation going on to keep one listening for all of the detailed notes, colorful chord progressions, and lyrical vividness.